Finding a best 2K monitor that checks out all the boxes of your requirements can be a very hard task to do. Which is why, this guide is there to help you out confidently pick the best option for you.
With the current and upcoming releases of latest processing units in the PC world including the Ampere and Navi GPUs and new technology support for the community bothered with color reproduction, these picks will be significantly helpful for many consumers.
Everyone would agree that 1440p is the sweet spot at the moment for gamers because it provides a non compromising experience without making a big hole in the pocket like 4K monitors. It provides optimum pixel density for getting sharp images in the screen size range of the monitors included in this list.
This list contains 1440p monitors suitable for gaming, color accuracy and multimedia or casual overall usage. So, it will be divided into the respective categories. The pricing may vary at the time of your purchase. Also, keep in mind that these are not arranged in any order which is why you should consider the importance of each one in their respective category.
Now that you have the correct perspective about it. Let's dive straight into the recommendations –
Top 2K Monitors – Best 10 1440p Monitors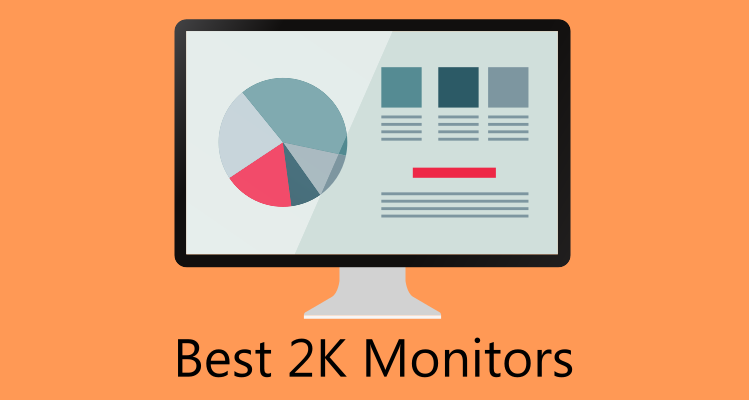 Gaming Monitors
Starting with the very captivate category of the pc world, many readers are generally excited for this division above the others. Also, the 144hz refresh rate would not be mentioned dedicatedly every time as a reason to buy because it is meant to have a higher refresh rate being a gaming monitor. So, let's see what are currently the best options in the market:
1. LG Ultragear 27-inch Nano IPS QHD Monitor – 27GL850 (Black)
Here is the Ultragear 27GL850 from LG, and there is a high probability that you have either heard or seen this monitor somewhere, because of how trusted and popular it is. And that is definitely not a false statement as this 1440p monitor provides amazing value for the price it asks.
Let's start with the design. I has a sturdy stand with excellent matte finish plastic avoiding any possible glare and a simple yet very beautiful design with red highlights covering the monitor body. The bezels are minimal and help in providing immersive experience. Although this is subjective but there is no RGB which is great because of distractions that might occur. You would not feel any need for a monitor arm for the adjustability features unless you want your table to be clean from any space that the base of this monitor occupies. As it provides enough height, tilt and pivot adjustments.
Moving to the panel itself, you get a 2K 27 inches 144hz Nano IPS panel with 1ms response time which is justified as it is achievable but in reality not that usable or important either, as you could use it with about 2-4ms response time and have no noticeable issues.
Other than that, the HDR10 still needs to evolve over time for mainstream usability. The peak brightness level is 350 nits along with the anti glare technology support enabling you to effortlessly operate in a well lit room even having direct sunlight. Also, the 1440p resolution looks great with 27 inch screen size providing appropriate pixel density for common usability. Contrast ratio is not as good but does the job of an IPS panel successfully.
For color editing stuff, this monitor has excellent 135% sRGB and 98% DCI – p3 coverage making this monitor suitable for content creators looking for something for gaming and productivity. You might need to color calibrate it if you are dissatisfied with the factory calibration. However, after some tweaking you will be good to get all your work done with that monitor. It has claimed 1.07 billion color depth which is what one would get from a 10 bit panel, however this is not a true 10bit and rather a 8bit + FRC panel. Still, this is a very good deal all together.
With dual HDMI, DisplayPort, Headphone Out and USB 3.0 (1Up, 2 Down) easily accessible ports, the 27GL850 won't let you down in this department.
You do see a G Sync sticker on the monitor, but it does not include any G Sync module/dedicated hardware meaning that you get VESA Adaptive Sync enabling both G Sync and Freesync compatibility without the G Sync Ultimate served by the brand in its elite tier.
If you are the kind of consumer who expects and heavily uses speakers in a monitor then you might be disappointed as you do not get any speakers in the monitor. Honestly, that would be too much to ask for the price as the brand has already packed a lot of hardware into this thing.
Summing that up, you do get a premium 1440p 27-inch monitor, both specs and quality wise for an appropriate price.
Pros
G Sync/Freesync Compatible (No dedicated G Sync module/hardware)
Nano IPS LED panel
1ms response time
HDR10 and excellent color gamut coverages
All height, tilt and pivot adjustments are supported with the stock stand
Cons
Slightly poor contrast ratio
Display wobbles easily sometimes (might vary with different units or batches)
No built in speakers
2. Asus TUF Gaming VG27AQ 27″ 2K Monitor
The next recommendation is from a very popular brand known for their excellent gaming components and devices. Here, you have the Asus TUF series gaming monitor which has matte black good quality plastic along with optimum base size which does not occupy too much space on your table or desk. Both the TUF and ROG series monitors from Asus are some of the best selling series in the market worldwide.
This stand allows you to raise height, tilt, swivel and pivot adjustments for the monitor. It feels really plush in terms of build quality. There are no RGB lights or coloured elements going around the body of this monitor which depicts some immersive and classic aesthetics. Moreover the edgy design at the corners of the matte plastic is really appealing.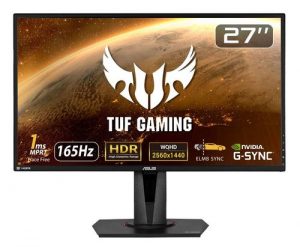 Coming to the panel, you get a 27 inch WQHD (2560×1440) IPS display with 165Hz refresh rate with 1ms MPRT response time. This monitor has very smooth transitions and anti flicker support. With the new Asus ELMB(extreme low motion blur sync) technology, you would not experience any motion blur issues once adjusted appropriately.
Peak brightness level of the VG27AQ is 350 nits, sufficient for a well lit environment. You get to see G Sync compatibility and not the G Sync Ultimate meaning both of G Sync and Freesync support is available in this monitor. Asus has provided a good contrast ratio of 1000:1 being claimed by the brand. On top of that, the Asus shadow boost technology enables you to look into those dark shadows and spot your enemies before them.
No marketing gimmick of billions of colors is done as this is a simple true 8bit panel serving 16.7 million colours which has no issues with the present generation and some upcoming years. You do get to see blue light filters for eye care and 99% sRGB coverage which makes it a good choice if you want to do some content creation or editing stuff for long hours.
Apart from all of this, Asus has included dual 2W speakers in this model which are obviously neither great and nor meant to be so, but they perform the job of simple speakers if you do not plan to get a dedicated set of speakers for your setup.
Keeping in mind the current market scenario where consumers do want the HDR modes regardless of its limitations and it's minor consumption in the real world due to which the brands have to take care of the supply for this demand. Therefore, this monitor has HDR support too. For ports, it has display port and dual hdmi but sadly no usb or audio connectivity options. However, the display port cable comes included in the box contents.
All inclusive, this is a killer deal with 165Hz refresh rate and the mentioned features for the amount Asus asks.
Pros
165Hz Refresh Rate
1ms MPRT response time
Asus ELMB(extreme low motion blur technology) support
HDR10
Flicker Free Technology
Ergonomic stand with full height, tilt, swivel and pivot adjustments without covering a lot of your desk
Dual built in speakers
Cons
Not a Nano IPS LED
No USB hub/connectivity option
3. Samsung 27-inch (68.4cm) WQHD Curved Gaming Monitor (LC27JG54QQWXXL)
Samsung has released some excellent monitors over the years and done a remarkable contribution in evolving and supporting the PC tech world. Here, you are looking at a monitor with glossy plastic and sharp elegant design which may create slight reflection issues but emphasize on the aesthetics. And yes you read that absolutely right, this is a curved display which is very subjectively influential as some demand curved panels due to aesthetics while others see it as a con for uniformity issues that you do not see in flat panels.
The stock stand is not that versatile and just provides tilt functionality along with covering a significant (not way too much) amount of space on your desk so a monitor arm (only VESA Mount of 75mm bracket) or a wall mount could be a good solution if this is what affects you a lot.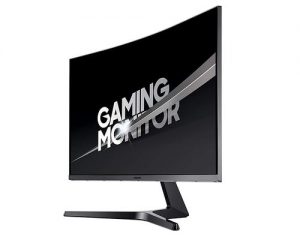 Being a VA or vertical alignment type of panel, you get deep blacks with a brilliant contrast ratio of 3000:1, but that comes at the cost of your wide viewing angles. However, viewing angles are not the best but still acceptable.
Samsung has provided a 27 inches WQHD panel with 144Hz refresh rate and 4ms of gray to gray(GTG) claimed response time. The peak brightness level is claimed to be 300 nits and 250 nits as minimum which is very sufficient for bright indoor conditions.
Apart from this, it includes the AMD Freesync support and no advertised G Sync compatibility. This is a 8 bit panel offering 16.7 million colours.
There are speakers at the back of this model which are average and could help you perform the basic tasks like while attending meetings or other activities which do not require any high clarity sound for basic functionality.
Coming to the gamut coverages, it gives 100% sRGB and 70% NTSC coverage which are good for a VA gaming panel. You do get a lot of color modes on this monitor, which makes it possible to get your preferred choice in one of them keeping diverse consumers satisfied.
Interestingly, you have 1 headphone jack, 2 different HDMI ports and 1 display port. And it may look like a headphone jack in a monitor does not make any difference but once you adapt to this convenient feature then you will realise how useful it is.
Unfortunately, you do not get to see any display port cable in the package and to be honest, that would have been way too much to ask for as this monitor is priced very fairly by the company.
All together, this is an amazing curved monitor for the price if you could live with the mentioned cons which are not deal breakers at all.
Pros
Amazing contrast ratio (3000:1)
Samsung's 1800R curve
Good brightness levels
Built in Speakers
Freesync support
Cons
Not the best viewing angles
Only tilt adjustment is available with stock stand
No DP Cable included in box
Professional/Productivity Monitors
As the category name suggests, this is totally focussed on the picture quality and that should not mean overly saturated vivid images, rather as flat and accurate as possible. So, you should expect high gamut coverages from this category and not high refresh rates. Now let's see what you get in here:
1. BenQ PD2700Q 27-inch DesignVue Designer IPS QHD 1440p Monitor
The first recommendation is from none other than Benq as it has such a good reputation and trust with the consumers that the professional editors do not ever forget to mention Benq in their top priority list. Starting with its build quality, you get a plastic frame with slightly thick bezels and aluminium finish at the base part. You get all of the height, pivot, swivel and tilt adjustments capabilities with the stock stand. The base portion does occupy some space on your table. In general, the build quality is nice for the price and does not in any manner feel cheap.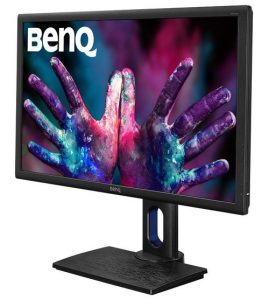 For the panel part, Benq offers a 27 inches WQHD 60Hz IPS display with awesome Technicolor color certification and 10bit color depth having more than 1 billion colors to work with astonishing precision in grading and editing stuff.
Other than this, you get 100% sRGB/Rec. 709 color space standard's coverage and Delta E ≤ 3 color accuracy which is truly amazing for accurate professional work and normal media consumption too. So, wide viewing angles and up to the mark color reproduction are definitely included in this deal regardless of the fact that it is not billed or claimed as a professional tool by the brand.
A lot of amazing features are packed with this monitor like the Dualview function, Darkroom mode, CAD/CAM mode and Animation mode. All of these make it tremendously convenient to operate if you do dedicated tasks which demand color accuracy, multi-tasking or technical illustrations. The peak brightness level of this monitor is 350 nits which is very sufficient for all the possible conditions of your room.
Connectivity options of the Benq PD2700Q include HDMI, DisplayPort, mini DisplayPort, USB 2.0 (1 x upstream, 2 x downstream) and unfortunately no headphone jack is provided.
Overall, this 27-inch 2K monitor has amazing value for its price and cons are very acceptable considering the other monitors. People having higher budget should look at reviews of 4K monitors.
Pros
Dual View function
CAD/CAM mode
100%sRGB and 100% Rec.709 color gamut coverages
Built in speaker
10 bit color depth support
Animation and darkroom modes
Cons
Slightly thick bezels
Speakers do sound tinny
2. LG QHD 27-inch IPS Display 3 Side Borderless 1440p Monitor (27QN600)
This is a color accurate monitor for those users who are on a strict budget to follow for their monitor. LG has given sturdy good quality plastic and metal build with their symbolic curved base design. The stock stand you get does not serve the height, swivel and pivot adjustments whereas allows you to use minor tilt adjustment. It is a 3 side borderless design which creates a very immersive experience. However, you do have the wall mount and vesa mount support(100 × 100mm) through which you can connect the monitor arm if you are planning to get one.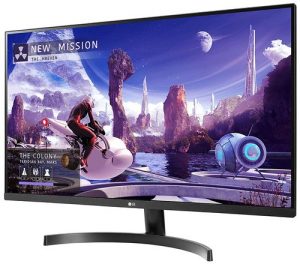 Keeping a simple and neat design is not all about this thing, it excels the expectations for the price. It offers 27 inches QHD IPS LED anti glare supported panel with 75Hz refresh rate, factory color calibration delivering 99% of sRGB coverage and wide viewing angles. LG packs ample brightness with 350 nits and 10bit color depth which is actually 8bit FRC giving 1 billion colors enhanced with the support of HDR10.
Apart from the above mentioned offerings, you get the AMD Freesync 2 aka Freesync premium support which helps you in achieving buttery smooth gameplay at the given 75Hz refresh rate. The color calibration makes sure you get the intended colors out of the box with this monitor.
LG offers limited but sufficient connectivity options in their 27GN600 with a DisplayPort 1.4, Dual HDMI, Headphone Out and Audio In.
Covering this up, if you need a 27-inch monitor for color accurate work with little but no professional gaming on a tight budget then this can be the best bet.
Pros
99% sRGB coverage
VESA Mount support (100×100 mm)
Factory color calibrate
10 bit color depth (8bit FRC) and HDR10
Amd Freesync with 75Hz
Ample brightness levels
Versatile connectivity options
Cons
No internal speakers
Stock stand does not offer many adjustments other than basic tilt
3. ASUS ProArt Display PA278QV 27″ WQHD 2K Monitor
Here comes the best option for color accurate tasks if budget is not an issue for you and you prefer a 27 inch 2k display. Asus has tried to take into consideration nearly all the aspects of color accuracy to make this monitor. The build quality of this model is really well with the very sturdy combination of metal and matte plastic for the frame. Its base is very good with square all metal design which does not occupy much of your desk space. You do get all of the height, tilt, pivot and swivel adjustments with the provided stock stand.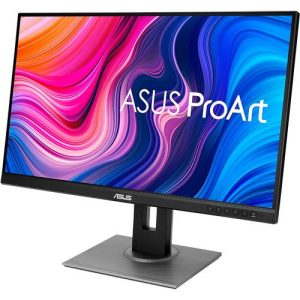 The design has considerably thin bezels other than the chin which is relatively thick but in general it's thin too.
Coming to the panel, the PAQ78PV has 27 inch WQHD IPS Anti glare panel having 75Hz refresh rate and 100% of sRGB and Rec. 709 color gamut coverage. It is Calman Verified with factory calibration for excellent Delta E < 2 color accuracy so that you do not compromise in any manner for professional color editing work. Asus has provided Adaptive Sync so that you eliminate any amount of screen tear. You also get the eye care technology which allows you to comfortably work for long hours.
As far as connectivity options are concerned, this monitor got it all covered with the Mini DisplayPort, DisplayPort, HDMI, dual-link DVI-D, audio in and earphone jack, plus four USB 3.0 ports. However, if you heavily use them then you do miss out on the built in speakers part.
Apart from that, this is truly the top of the line color accurate monitor for the screen size and resolution providing the best available option to you if it suits financial allowance.
Pros
100% sRGB and Rec. 709 wide color gamut coverage
Delta ∆E < 2
Excellent stand with height, tilt, pivot and swivel adjustments support
Eye care and Anti glare technology included
Easy to use external controls
Calman certified – Factory color calibrated for best color reproduction out of the box
ProArt allows many color presets
Cons
Weigh heavy and no built in speakers (subjectively influential)
Stand is a bit wobbly
Best Overall Monitors (Multimedia/Casual)
You must have got an idea about what type of monitors this category includes. This category does not dedicatedly emphasize single tasks like either gaming or productivity and it rather tries to serve as an all in one solution for the majority users.
1. Lenovo 27-inch QHD IPS Panel Near Edgeless 2K Monitor (Q27q-10)
Lenovo Q27q-10 monitor is absolutely capable of raising the home decor a step up with its minimalist and astonishing design producing captivating looks. It is a unique design from Lenovo with that tilted single sided stand along with its all metal build. So, you may assume that this is a weak stand for supporting the display but it is not the case as it's sturdy, tough and reliable. The frame is sort of borderless due to very thin bezels giving you an immersive experience. It's super thin at 6.9mm which is very elegant but this makes it a challenge to pack that much hardware into this monitor which Lenovo has successfully completed.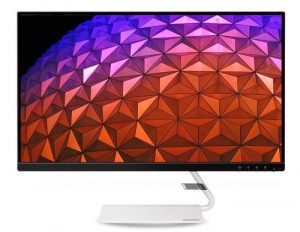 Moving to the panel itself, you get a 27 inches WQHD IPS with 178° viewing angle both horizontally and vertically. It has AMD Freesync technology, 75Hz refresh rate and 4ms response time for smooth basic gaming needs but that does not mean that you have to miss out on the color accuracy aspect, you get 99% sRGB color gamut coverage.
It has enough brightness at peak level of 300 nits making it appropriate for both indoor and outdoor environments. The display is anti glare type which eliminates reflections and with the TÜV Rheinland Eye Comfort-certification you can trust it to combat on-screen flicker and protect your eyes by minimizing strain. Also, it has a typical contrast ratio for an IPS i.e. 1000:1.
The Q227q-10 has limited but sufficient connectivity options, including the VGA, HDMI and DisplayPort along with audio port. You have the option of hooking up your laptop if you prefer that way with either mini DP to DP cable or HDMI cable. Its stock dual 3 watt speakers are not that loud and clear however they do the basic job of laptop speakers well, and those who prioritize this feature in the upper bullets would definitely love it.
Overall, this is a very good monitor and value for money monitor if you are looking for something that improves your setup aesthetics, can do basic gaming and productive tasks at ease, has speakers and gives amazing multimedia consumption experience; then you would not regret going with this one.
Pros
Very slim design
Aesthetically appealing
Ample brightness
Anti glare technology support
99% sRGB color gamut coverage
75Hz refresh rate and 4ms response time
Dual 3 watt speakers
Cons
Does not comes factory color calibrated
Stand does not support height, pivot or swivel
2. BenQ EX2780Q 27 inch QHD 1440p IPS 144Hz Gaming Monitor
This is truly an easy to recommend 1440p monitor as it checks it all for this spot. Please do not judge this monitor too early due to its 144Hz refresh rate and considering it in the gaming category. Let's start with the stand which is the only possible downside as it lacks height, swivel and pivot adjustments but if you are planning a monitor arm along it then this would be the best option to go with.
The stand design is basic but helps maintain a uniform pressure which eliminates any wobble that may occur. Its golden-brown highlights look really good in person. It is not the thinnest design but does not look oddly thick either. After all it has a lot packed in there so the moderate width is justified.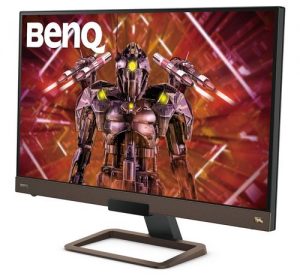 For the panel, you get a 144Hz 27 inch IPS display with 5 ms (GtG) response time, covering 95% DCI-P3 and is certified as DisplayHDR400. This has the AMD Freesync and HDRi technology support. All the eye care features including eye reminder, epaper mode, zero flicker, color weakness mode and low blue light mode are there so that your eyes are prioritised equally with the performance. You do get the 10 bit (8bit FRC) color depth in the deal.
And the ports include 2 HDMI, 1 DisplayPort and a USB Type C. If you sum that all up with those good sounding speakers then you'll realise the value this 1440p monitor packs.
Pros
144Hz Refresh Rate
5ms response time
Built in speakers (2.1 channel with dual 2watt speakers and 5watt subwoofer)
VESA Certified DisplayHDR 400
95% DCI-P3 coverage
Cons
Stock stand lacks major adjust abilities
3. Acer 31.5 inch 2560×1440 WQHD IPS Panel Monitor (EB321HQU)
The readers on a low budget but preferring for a similar spec list, are probably going to get their hands on this one. Acer has packed a plastic and silver metal frame which supports the panel very well and does not wobble at all. However, this comes at a cost of its height, swivel and pivot adjustments. Its big screen size may be the reason to buy for some as 1440p does not look as bad as 1080p on a 31.5inch screen, but on the other hand the pixel density is decreased by it. You can decide what you prefer and according to that consider it a pro or con respectively.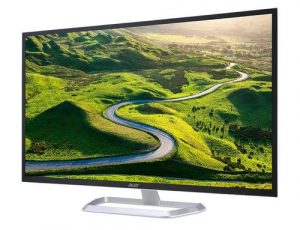 Acer installed a WQHD 60Hz IPS panel with 178/178 wide viewing angles and 4ms achievable response time. It has an impressive contrast ratio of 1200:1 and ample 300 nits of brightness. Eye care features include blue light filter and flicker-less technology to reduce eyes fatigue.
The connectivity options include a HDMI, DVI Dual Link Up and DP port with HDMI Cable as box content. Sadly, there is no built in speaker or audio port in this model.
After it all, this is an amazing value monitor for the consumers needing above mentioned features and are on a strict budget.
Pros
Acer Flickerless Technology support
Blue light and eye care support
300 nits peak brightness level
10 bit color depth (8 bit FRC)
Cons
Stand lacks versatile adjust abilities other than slight tilt
No built in speakers
Bigger screen size may be an advantage for some users, but it decreases the ppi (subjectively influential)