With the fast evolution of the tech industry, monitors with 4K resolution are affordable than ever. It is no longer an exclusively elite tier option. Today in this list you will get to see some very budget friendly options so that this high resolution pleasure is accessible to all of the readers.
Operating your monitor becomes joyful with the truly beautiful details displayed by 3840 × 2160 pixels. Apart from the very latest and limited 8K experience, 4K should be the way to go, without any second thought. This is because of the evolution in industry, making 4K content available and accessible. It is still the best in class experience for displaying some delightful visuals from your rig. The prices of the monitors listed may vary at the time of your purchase.
Now, let's see what are the best options for 4K monitors available in the market:
Top 10 4K Monitors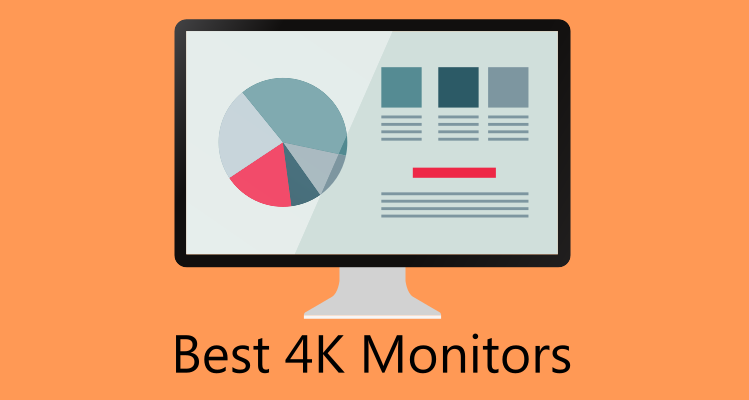 1. LG 27-inch 4K-UHD VESA Display HDR 400 Monitor (27UL650)
LG has made some remarkable reputation in the monitor market of India and overseas. The 27UL650 is an amazing monitor for the price. It has a bezel less design, white plastic at the back and silver curved stock stand. This stand supports height, tilt and pivot but no swivel adjustments. It supports VESA mount (100mm×100mm) which will allow you to mount it on your wall or connect a monitor arm. The design is modern, sleek and immersive. It's curved base helps it be sturdy and eliminates wobbles.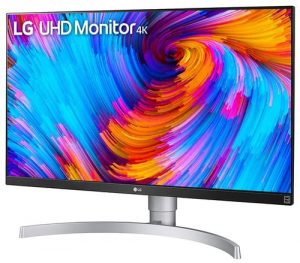 Moving to the panel, you get a 27 inch high pixel density IPS screen. This panel is certified VESA Display HDR 400 making sure that it is true HDR and not any gimmick. Maximum brightness levels of this monitor are amazing at 400 nits. There would not be any issues with brightness levels for sure. Also, this is one of the requirements to experience real high dynamic range.
For color accuracy, it covers 99% of sRGB color space making it a very good monitor for professional color grading and video editing. While some users find it difficult to calibrate their monitors, this model comes with factory color calibrated out of the box. This makes sure you get the intended color reproduction without any need to tweak the settings.
With the AMD Radeon Freesync 2 support, you would not experience any noticeable stutter or tear and enjoy smooth gaming experience. Other offerings included by LG are – reader mode for eye care, flicker free to eliminate flickering issues and black stabilizer to deliver deep black.
Connectivity options of the 27UL650 include 2 HDMI, 1 Displayport and 1 Headphone jack. All in all, it makes up a valuable 4K monitor for a reasonable price.
Pros
AMD Freesync 2 support
Stock stand provides height, tilt, and pivot adjustments
Base does not let it wobble easily
Fantastic color reproduction
Certified VESA Display HDR 400
Wall Mountable
Factory color calibrated
Cons
Stand lacks swivel adjustment
2. BenQ 27-inch 4K UHD 2160p IPS Monitor PD2700U
BenQ is an experienced and well known brand in the game of producing color accurate monitors. The Pd2700U has a very seamless and basic design. It does not feel cheap in person though. But majority of the body is made up with plastic. It's design could fit in any workspace, let it be your office or home. BenQ kept a functional approach with the design rather going all for aesthetics. As the stock stand provides height, tilt, swivel and pivot adjustments.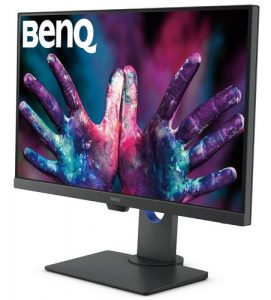 Inside this frame, sits a 27 inch UHD AH IPS. You get really amazing and natural color reproduction with this monitor. It has HDR 10 capability along with 10 bit(8 bit + FRC) to display beautiful range of colors. To show accurate colors out of the box, it comes factory color calibrated. And it covers 100% of sRGB, 70% Adobe and 75% NTSC color spaces.
These numbers on it's spec sheet are very capable to allow you perform some professional color grading tasks. With the help of anti glare coating (3H) and peak brightness of 400 nits, you would not be interrupted while operating. For an IPS monitor, a 1300:1 contrast ratio is excellent to produce vibrant and deep colors from each pixel. It is not meant to but can suffice your slight gaming needs with max 75Hz refresh rate and min 5ms response time.  Users looking for true gaming experience, can look at some good picks of 4K gaming monitor.
Having built in speakers is a huge plus. These are not the worst monitor speakers either and do pack some basic necessary punch. At the bottom of screen frame is a sensor for adaptive brightness level adjustment. However, if you want; you could manually tweak and play with it in OSD settings.
Additional features from BenQ include AQCOLOR Technology, Darkroom mode, Animation mode, CAD / CAM mode, Dualview function and KVM switch. These are not the features mentioned for marketing purposes. Instead, these are really helpful offerings which do come into play a lot.
The PD2700u includes 1 USB for KVM keyboard connection, 4 downstream USB 3.0, 2 upstream USB 3.0, 1 HDMI 2.0, 1 DisplayPort 1.4, 1 DisplayPort 1.4 (Input mini), 1 DisplayPort 1.4 (Output MST) and a 3.5mm Audio Jack. Now, that is some connectivity you get for the price.
Summing it all together, this 27-inch  monitor will serve well for creating, video & color editing and multimedia consumption. It is an easy to recommend 4K monitor for professional as well as general usage.
Pros
CAD / CAM modes
AQCOLOR Technology
Dualview function and KVM switch
Color accuracy suitable for professional tasks
Built in stand provides all necessary functionality
Dual 2W built in stereo speakers
Cons
Rectangular base occupies some of the space of your table
3. Lenovo L28u-30 28-inch 4K UHD IPS Monitor
Lenovo has brought up this model in market to compete in the affordable category of 4K monitors. It's really rich in its offerings. The design is a basic, simple and minimalist one. It has glossy plastic all around and could fit into any workspace or spot for casual entertainment. The pre installed stand only supports minor tilt adjustability. However, the VESA mount comes into play allowing you to mount it on your wall or connect a monitor arm. Bezel less frame is kept into consideration by Lenovo for this model.
The L28u packs a 28 inch UHD IPS Display with a static contrast ratio of 1000:1. With 300 nits of peak brightness you would not notice any issues. Being a flat IPS you get 178° wide viewing angles for both horizontal and vertical aspects without any color shifts.
You get 99% sRGB color space coverage making it recommendable for color accuracy. The 10 bit color depth helps display 1 billion colors and enhances the color reproduction. For gaming, AMD Freesync makes sure you do not experience any tearing. It's all boosted with 75Hz refresh rate and 4ms response time. TUV low blue light and eye care filters help you operate for long hours at ease. Because eye care should also be in a buyer's top priority.
In this model, the brand includes 1 HDMI 2.0, 1 DP 1.2 and 1 Audio Out (3.5 mm) port for connectivity purposes. All together, this UHD monitor is really a reasonably priced feature packed product, ready to serve the best experience within the budget. It is really astonishing to see an entry level 4K monitor pack so much features.
Pros
Wall mountable (100mm × 100mm)
10 bit color depth
Anti glare
Pretty nice for color accuracy and reproduction
75Hz Refresh Rate
AMD Freesync support
Cons
Stock stand lacks height, swivel and pivot adjustments
Average contrast ratio
4. Dell UltraSharp U2720Q 27-inch 4K UHD (3840 x 2160) LED Backlit USB-C Monitor
Here you have the Dell UltraSharp U2720Q, an ideal monitor for your workspace. The design is very classy and fits in very nicely in any regular workspace. However, Dell does not mean to cut out on the functionality aspect. The stock stand supports all adjustments including height, tilt, swivel and pivot. You could also use the VESA mount for wall mount or monitor arm. It feels premium and sturdy in person.
This 2160p monitor has a 27 inch Backlit LED IPS. You get a contrast ratio of 1300:1 making sure black does not look grey. Color accuracy and reproduction are nothing to worry about with 95% DCI – p3, 99% sRGB and 99% Rec 709 color gamut coverage.
It has 10 bit color depth to display 1.07 billion colors and factory color calibration to provide the intended picture quality. There is 350 nits of peak brightness along with anti glare coating, which makes it sufficient for places with direct sunlight and reflective objects.
The panel is boosted with standard 60Hz refresh rate and 8ms of normal response time. Unfortunately, you do not get to see variable refresh rate technology support in this model. This should also not be expected from this monitor as this is not meant to be a gaming monitor.
There are fast USB 3.1 upstream port, 2 USB 3.0 downstream and 1 USB 3.0 upstream ports, 1 DisplayPort, 1 HDMI, 1 USB type C and 1 Audio jack for connectivity purposes. Overall, it's a feature packed 4K monitor for your productive workspace. People looking for lower resolution option, might check reviews of 2K monitor.
Pros
Minimalist design and Rich connectivity
Impressive color reproduction and accuracy
Stock stand supports height, tilt, swivel and pivot adjustments
Wall mountable (100mm × 100mm)
Nice contrast ratio for an IPS
3H hard coating for anti glaring
Cons
No support for variable refresh rate technology like G Sync and Freesync
5. Acer CB282K 28 inch UHD 4K (3840 x 2160) IPS Zero Frame Eye Care Monitor
Acer has took a step to entertain the consumers with a strict and low budget to follow. This monitor has a beautiful silver metal stand and frame highlights. Although, the back of it is made with plastic which is justified for the price. The base does not occupy much of your desk space. Impressively, you get height, tilt, pivot and swivel adjustments support with this stock stand.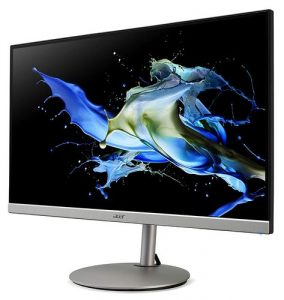 In the frame sits a 28 inch UHD W LED IPS panel. You should not worry about the impact on pixel density due to 28 inch screen size. As, 4K resolution is appropriate for even 32 inches big screens and even bigger if you sit relatively far.
It features 60Hz refresh rate and 4ms response time. These are supported with AMD Freesync technology to eliminate tearing and stutters. Appealing color reproduction is ensured by 10 bit(8 bit + FRC) color depth displaying 1 billion colors. For color gamut coverages, you get 90% DCI – p3.
It offers HDR10 support which is always a plus to have. Ample brightness at 300 nits for indoors with bright conditions. To avoid glares its coated with 3H anti glare coating. Playing with the settings of this monitor is pretty nice as buttons are easy to approach and OSD is easy to use too.
The brand involves a lot of additional features in their monitors like Comfy view, low blue light, flicker free and zero frame design.
For connectivity, you have 2 HDMI 2.0, 1 DisplayPort 1.2 and 1 3.5mm Audio Jack. These may sound limited but are sufficient. Summing it all up, it's a 28-inch 4K monitor packing significant value to make it absolutely worth the price.
Pros
10 bit color depth
Dual 2W built in speakers
AMD freesync support
Wall Mountable (100mm × 100mm)
HDR 10 support
Stand supports height, tilt, pivot and swivel adjustments
Cons
Static contrast ratio is average
6. Samsung 28 inch LED Backlit Ultra HD Computer Monitor (LU28E590DS/XL)
Samsung is also competing in the entry tier 4K monitor market with this model. This one is not the curved panel you usually see from Samsung. It has a appreciable design with the straight base occupying very low space of your desk.
The overall quality is reasonable with mixed use of plastic and metal. Bezels are not the thinnest you would see but does not disturb your immersion either. Overall frame is thin, elegant and provides classic office like workspace's aesthetics. Built in stand offers only tilt adjustment (forward 20° and backwards 2°). Along with this you get VESA mount support (75mm × 75mm), with the help of which you can attach a monitor arm or mount this panel on your wall.
You get a 28 inch UHD TN panel. The average color reproduction of TN technology is paired with the 10 bit color depth to provide an overall better experience. Peak brightness level is 370 nits, which is enough and sufficient for bright indoor environments. Typical contrast ratio of this model is 1000:1.
This monitor could be a good option for any gamer who wants to game on 4K resolution with low pocket allowance. It offers 60Hz refresh rate and 1ms response time. Low response time and input lag is combined with AMD Radeon Freesync technology. That ensures to provide smooth tear and lag free experience at 60Hz. You are not compromising much with viewing angles, as Samsung has provided 170° / 160° (H / V) angles without a lot of color shift.
Samsung packs all of their additional features with this monitor like flicker free, picture-in-picture and picture-by-picture modes, eye care & eco saving modes, etc.
Connectivity options consists of 2 HDMI, 1 DisplayPort and a 3.5mm Headphone jack. All inclusive, this deal has value for the money asked. Maybe it does not possess the best of some features but all of it is justified for the price. You should definitely consider and check it out once.
Pros
AMD Radeon Freesync support
10 bit color depth
1 ms response time
Very nice maximum brightness level
Flicker free technology support
VESA mount support (75mm × 75mm)
Cons
Built in stand could only provide tilt adjustment
It is a TN type of panel
7. LG Ultrafine 27-inch 4K IPS VESA HDR 400 Color Calibrated Monitor (27UL850)
LG has entertained the consumers looking for their productivity companion with this monitor. The 27UL850 belongs to the Ultrafine line up from LG which is one of their best selling series. It's design is simple and elegant. You get white plastic at the back and silver stock stand. This stand provides height, tilt and pivot adjustability. The frame is bezel less with some impressive immersion. This 27-inch 4K monitor would make your working time very engaging and joyful.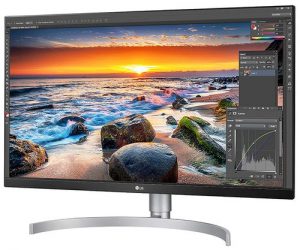 The frame keeps an 27 inch UHD IPS panel with peak brightness of 350 nits. High dynamic range capabilities are provided with HDR 10 and VESA Display HDR 400 certification. It covers 99% of sRGB color gamut and 10 bit of color depth to produce accurate and natural colors.
You could use this monitor for enjoying multimedia or even doing professional productivity tasks. It comes factory color calibrated to display the intended colors. LG has integrated some additional features like split screen, flicker free, anti glare coating of 3H and black level stabilizer.
This monitor has dual 5 watt built in speakers from Maxx Audio. They deliver pretty nice sound considering the fact that they are monitor speakers. The speakers perform the job well and are decently loud as well as clear. These will definitely satisfy the consumers who do not want to invest in external speakers and just want to satisfy the need.
You get 2 USB 3.0 (downstream), 1 USB 3.0 (Type C – 60W), 2 HDMI 2.0, 1 DisplayPort 1.4 and 1 3.5mm Audio Jack at the back of this panel. So, there is plenty of connectivity options to make sure nothing of what is essential today is left out. This monitor is a well deserving product to be among the best sellers from LG. Considering it all, it puts a lot of value on the table for you to at least consider it before finalizing your monitor.
Pros
Certified VESA Display HDR 400
Factory color calibrated
Dual 5W built in speakers by Maxx Audio
Impressive color reproduction and accuracy
Ample peak brightness levels
AMD Freesync 2 support
Stock stand offers height, tilt and pivot adjustability
Cons
Stand lacks swivel adjustment
8. Acer 28-inch 4K Monitor with AMD Free Sync Technology Stereo Speakers (KG281K)
The Acer KG281K makes it possible for everyone to get a 4K experience. You can categorize this model as an entry level 4K monitor. Acer has really done some impressive work on this one. Starting with the design it has basic frame with some red highlights at the back of base. It's base is very fine in terms of functionality, as neither it occupies a lot of your desk space nor it let the panel wobble easily. The pre installed stand could only provide slight tilt adjustment.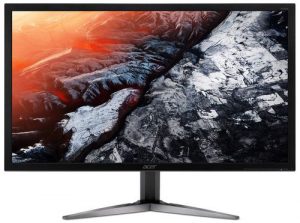 Moving to the panel, you get a 28 inch UHD TN screen. It is boosted with standard 60Hz refresh rate but impressive 1ms of response time. This low response time and input lag is possible due to it being a TN type of panel.
For better color reproduction you have 10 bit of color depth(without FRC) included to produce 1 billion colors from each pixel. This screen covers 72% NTSC color space and provides 300 nits of maximum brightness. Combining it with the 3H anti glare coating, there would not be any noticeable issues in very bright indoor conditions. It integrates a 1000:1 static contrast ratio.
The stereo speakers are a huge plus. There is nothing to complain about. It does the necessary job of built in speakers. Acer has packed 1 HDMI 1.4, 1 DisplayPort 1.2 and a 3.5mm Audio Jack in this model for connectivity.
At the price this monitor comes, it is a steal. Almost everything about this 4K monitor is justified for the price and you would be asking too much beyond that.
Pros
AMD Radeon Freesync support
Stereo built in speakers
1ms response time
Ample max brightness levels
10 bit color depth
Cons
TN panel
Stock stand does not support any height, pivot or swivel adjustments
9. Samsung 32-inch UHD Sleek Curved Monitor (LU32R590CWWXXL)
Samsung could not be left when discussing about the best monitors, and here is their LU32R590CWWXXL. Starting with the build quality, it's acceptable but not great due to the all plastic configuration. You do get aesthetically pleasing design. Pre installed stand does not support height, swivel and pivot adjustments. It does provide some minor tilt adjustability. A curved panel has been a selling point for many of Samsung's displays. Some consumers get in love with these curved monitors while others worry about the uniformity issues that might occur. So, it is pretty subjective.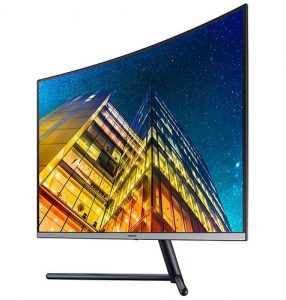 This model has a curved 31.5 inch VA panel with 1500R screen curvature. It supports 10 bit color depth. As color space has been given significant emphasis here, Samsung provided 73% NTSC, 103% typical sRGB and 76% Adobe RGB color gamut coverages. A standard 60Hz refresh rate is given with 4ms(Gray to Gray) of response time without any variable refresh rate technology involved. Being a VA type of panel, it provides contrast ratio of 2500:1. Viewing angles should not be discussed as it's a VA curved panel.
For connectivity department, you are offered 1 DisplayPort 1.2, 1 HDMI 2.0 and a Headphone jack. This monitor is a good option for casual browsing and media consumption.
Pros
Amazing color reproduction with 10 bit color depth and color space coverages
Curved with 1500R curvature (subjective)
Screen size 31.5 inch (subjective)
Cons
Stock stand lacks adjustability options
Brightness levels are average
10. Dell 24-inch 3840×2160 LED Backlit NonTouch Monitor (P2415Q)
The brand has focused on a design which will suit all workspaces and pack all the necessary hardware for modern requirements. Dell has given amazing value in this 24-inch 4K monitor. The brand has not neglected functionality to give those classic looks. The built in stand provides height, tilt, pivot and swivel adjustability. You also get to see a way for the cables to run from the built in stand. With the materials used being high quality, you would surely get that premium feel while operating.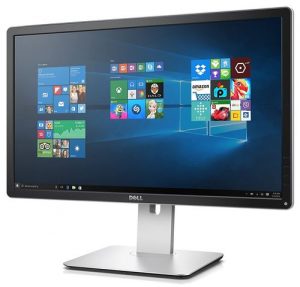 In the P2415Q, you are offered a 23.8 inch W LED, AH IPS panel. You could sit close to the screen and enjoy the crazy amount of details due to high pixel per inch in that 23.8 inch screen size. Bezels are not the thinnest you could find but are acceptable. With Delta E < 3, 99% sRGB and 72% NTSC color gamut coverage, this monitor could be an ideal pick for creators and editors. The display is bright enough at 300 nits as its peak level. It provides good color reproduction with 10 bit(8 bit + FRC) color depth.
There are no built in speakers with this model. Dell provides you rich connectivity options including, 4 downstream USB 3.0, 1 upstream USB 3.0, 1 HDMI 1.4, 1 DisplayPort for mini Input, 1 DisplayPort for Output MST, 1 DisplayPort 1.2 and 1 3.5mm Audio Jack. There should not be any need for aftermarket hubs with this monitor.
Collectively, it is a fantastic 24-inch monitor for someone looking for classic and feature packed productivity monitor. It would not let you down in any manner.
Pros
Very high pixel density
Brilliant color accuracy and reproduction
Built in stand provides tilt, pivot, swivel and height adjustment along with built in cable management
75Hz refresh rate
Anti glare panel
Rich connectivity options
Cons
Static contrast ratio could have been better