Mixer grinders are one of the most essential things in every Indian household without which an Indian kitchen is totally incomplete. If you are an Indian, you know prepping as well as cooking meals is a time consuming process in our households. Chopping vegetables, grinding whole spices, blending pastes or chutneys – these are an integral part of cooking meals at home. What can be better than getting all these functions done in a jiffy by just pressing a button?
That is exactly what mixer grinders do. They come with a variety of jars and blades packaged together that serve various purposes and improve the productivity in kitchen. But how do you choose the right one amongst the tens of various brands and product models? Don't worry! We have you covered. Here is a compiled list of some of the best 750-Watt mixer grinders that you can buy today based on their features and functionality. Check them out before you go and buy a new one.
Top 10 Mixer Grinder 750 Watt
1. Prestige IRIS Plus 750 Watt Mixer Grinder
Prestige is a well-known brand and has been dominating the Indian market with their range of kitchen appliances. We all know, for kitchen gadgets, brand value goes a long way and Prestige is one of those brands most people would put their trust on.
The Prestige IRIS Plus is an extremely versatile mixer grinder powered by a 750 Watts motor. It comes with a bunch of bundled accessories that can ease up your kitchen chores remarkably. There are three high quality stainless steel jars for various chopping and grinding functions. And a transparent plastic juicer jar for the juices and shakes.
All the steel jars come with a polypropylene lid to secure the contents of the jar while using the mixer. A polycarbonate dome-lid is also there along with other attachable parts. The blades of the jar are designed for optimum utility and the stainless steel blade system does an amazing job.
The juicer jar has a sturdy handle which is ergonomically designed for ease of use. A rubber anti-skid foot ensures enhanced stability and reduces shake or vibrations on using the mixer grinder. The mixer grinder body is made of supreme quality graded plastic and is quite tough to endure regular use.
The Prestige IRIS Plus runs on a very powerful 750 Watt copper winding motor of great quality. This makes this mixer grinder a small beast when it comes to chopping and grinding work. A knob for manual speed control is on the body which lets users easily set the speed as per their requirement and is quite a nifty feature.
To top it all, the Prestige IRIS Plus comes at a very competitive price tag. With all the features and functions, it is quite a steal! The immense brand value of Prestige, overall efficiency of this mixer grinder and an affordable pricing – all adds up to make this a great choice for anyone looking to buy a versatile mixer grinder for their kitchen needs.
Pros
Sturdy and Durable.
750 Watt Pure Copper Winding Motor.
Secure polypropylene and polycarbonate lids.
Brand value and affordability.
Cons
Might not be very efficient in grinding harder products which need a more powerful motor.
2. Philips HL7756/00 Mixer Grinder, 750W, 3 Jars
Philips is yet another popular brand in the Indian market when it comes to mixer grinders and other household appliances. This mixer grinder by Philips is quite a catch owing to its numerous attractive features and other bundled accessories. The Philips HL7756/00 comes with a powerful 750W turbo motor attached with durable couplers for longevity. The body is strong ABS plastic and three stainless steel jars come bundled with the mixer grinder. The blade system is also premium quality stainless steel that is tough and gets the job done with efficiency.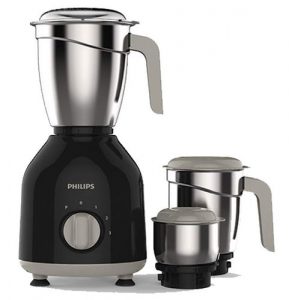 This mixer grinder comes with advanced air ventilation which is a unique feature. This allows the appliance and the motor to cool down quickly and reduces the wait time before you can use it again. Moreover, this acts as an added security and makes the motor much more durable for regular use.
The stainless steel jars have transparent lids that let you see the consistency without having to open the lid. A speed-control knob that mounts on the body also has a pulse control which lets users mix and grind quickly other than letting them control the speed.
The blade system is uniquely designed and the jars are leak-proof. That means there will be no spilling irrespective of whether you are using dry ingredients or wet ingredients. The body is quite sturdy and has an ergonomic design that increases its longevity immensely. To top it all, this Philips 750 Watt mixer grinder comes with a motor warranty of 5 years and a product warranty of 2 years. All this in a reasonable price tag along with the trust factor and brand value of Philips makes this device one of the most sought after mixer grinders available in the market. In our opinion, totally worth the buy!
Pros
Durable and ergonomic design – to make the product last long.
Specially designed Turbo motor with couplers and advanced air ventilation.
Specially designed blade system.
Leak-proof jars.
Cons
This product might be a little noisier than its competitors.
3. Butterfly Smart 750-Watt Mixer Grinder with 3 Jars
Butterfly is becoming a popular brand name owing to its modern yet durable ergonomic designs and noteworthy features. The 750 Watt Butterfly Smart mixer grinder is one of those mixer grinders that offer great value for money. A 750-Watt motor powers this appliance. It comes with the usual accessories like a wet jar, dry jar and a smaller grinding jar – all made of durable stainless steel.
The body design is quite stylish and modern and the high grade shock-proof ABS plastic body is quite sturdy, fits comfortably on your kitchen counter and is a great aesthetic addition to your kitchen as well.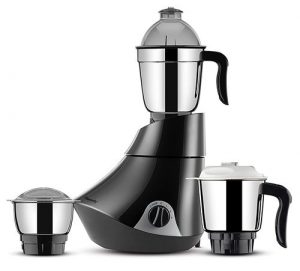 The stainless-steel jars are rust-free and extremely easy to maintain. They come with a leak-proof polycarbonate lid that attaches firmly and prevents any kind of spillage while using the mixer grinder. The lids are transparent and let you check the consistency and contents in the jar without having to open the lid repeatedly.
A sturdy handle on the jar makes it easy for you to carry it around or pour the content which is again a handy feature. A rubber footing at the bottom of this mixer grinder provides good support and prevents any movement or shaking while using the product.
The Butterfly Smart gives full user control when it comes to speed. The speed control knob with three varying speeds lets you use the appliance as per your needs . A 'whip' mode lets you tap into the highest speed setting. This feature is quite a catch if you want to quickly grind something or make those delicious shakes in a jiffy.
When you get all these features, along with a product warranty and a modern, aesthetic design – it is quite a valuable purchase. If you are looking for a 750 watts mixer grinder that is as efficient as its looks, Butterfly Smart is indeed a smart choice.
Pros
Modern, robust, and ergonomic body design.
Speed-control knob with high-speed 'whip' option.
Rust-proof and spill-proof stainless steel jars.
Competitive features within a budget.
Cons
The brand value might not be at par with the other competitors in the list.
4. Preethi Zodiac MG 218 Mixer Grinder, 750W, 5 Jars
Preethi Zodiac MG 218 is an extremely versatile multi-functional mixer grinder which boasts of numerous lucrative features and accessories. In addition to the usual three-jars setup that come bundled with such appliances, this product comes paired with five jars and additional attachments. The Preethi Zodiac draws its source from a powerful 750 Watt Vega W-5 motor and can grind hard or dry substances in a jiffy too.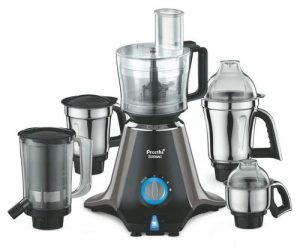 ABS plastic body with three-layer core insulation, a speed-controlling knob and rubber feet are also some of the noteworthy features that come along with this product.
The sharp blade system is specially designed and you can even extract pulp or juice with the 3-in-1 juicer jar seamlessly. The Preethi Zodiac is very well-designed, increases aesthetic value and is also the first ROHS compliant mixer grinder in India.
The speed control knob on the front is for easy switch between varying speeds as per your choice and requirement at the moment. This product has passed a number of tests with flying colors, or features as of here and holds great worth for money.
Pros
5 multipurpose jars to cater all kitchen preparation needs.
ROHS compliant mixer grinder.
750W Vega W-5 motor.
Durable and sharp multi-functional blades.
Cons
This appliance can be quite noisy owing to its loud and powerful motor.
5. Prestige Perfect Mixer Grinder, 750W, 3 Jars
Another impressive product from the reliable brand of Prestige. The Prestige Perfect mixer grinder is a wholesome product that works efficiently without burning a hole in your pocket. The Prestige Perfect is an elegant looking, sturdy, yet powerful mixer grinder.
The 750 Watt motor that powers this appliance is quite potent and does all kind of chopping, churning and grinding seamlessly. The body design is aesthetic and the high-grade plastic makes it a bit lightweight and convenient to move around. The motor has an overload protection, which means that this appliance will automatically power-off if there is a grinding overload.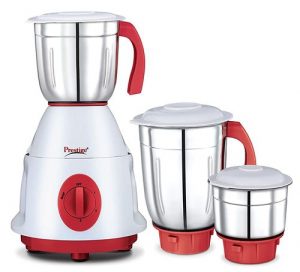 Three solid stainless steel jars come with the Prestige Perfect for various cutting, chopping, and grinding purposes. These jars have three razor-sharp blades made of stainless steel as well and are quite strong and reliable.
Polycarbonate lids help secure the jars and prevent users from spilling the contents in the jar accidentally. The handles attached to the jars are strong and have a good hold as well. This mixer grinder comes with a firm rubber shoe to hold it in place while using.
Among other notable features for the Prestige Perfect, a speed-controlling knob attached to the body lets users conveniently control the speed they want based on what they are chopping or grinding. The blade system does a great job at it and the transparent lid allows users to easily check for consistency without opening the closing the lid repeatedly.
There is also a product and motor warranty with this mixer grinder and above all, Prestige is a renowned brand on which a lot of people rely on. That is solely based on their range of appliances, how great they work and the overall value for money. Prestige Perfect can surely be a great option if you are looking to buy a mixer grinder for various needs, but are a bit tight on the budget.
Pros
Razor-sharp stainless steel blades.
Motor overload protection.
Speed-control knob.
Value for money
Cons
The build quality is not great and the body might suffer damage if not handled carefully.
6. Bosch Appliances TrueMixx Pro Mixer Grinder, 750W, 4 Jars
Bosch Appliances originated in India has been producing an impressive range of kitchen appliances that you cannot resist checking out. The Bosch TrueMixx Pro is one such versatile and extremely productive mixer grinder that runs on a 750 Watt 2-C Hi flux motor. This appliance sports highly durable stainless steel jars equipped with air breaker technology for consistent and uniform results.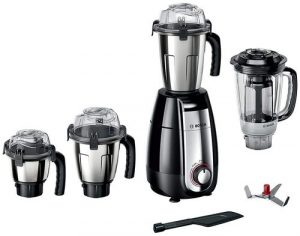 Perhaps the most interesting feature of the Bosch TrueMixx Pro is the Stone Pounding technology. Specially customized Pounding Blades with blunt and thick edges recreate the effect of stone pounding and help retain the original texture and authentic taste without losing any food or nutritional value at all. The active flow breaker in the jar also increases aeration for batters or similar needs.
To top it all, this mixer grinder also works fine for juice extractions or making shakes, smoothies, etc. The overall design is quite aesthetically pleasing and modern. It even enables users to use the product completely hands-free owing to the specially designed lid lock and the suction feet at the bottom to improve stability. For the price you pay, this product is a great buy!
Pros
Stone Pounding technology with pound blades.
Supreme quality stainless steel jars with Active flow breaker.
Ergonomic, modern and sleek design.
High performance multi-purpose use.
Cons
The motor is extremely powerful and gets heated fast. A pause for a minute or two every now and then can be a good way to keep the motor cool.
7. Crompton Ameo 750-Watt Mixer Grinder with 3 Stainless Steel Jars
Crompton Ameo is among those ultra-modern mixer grinders that boast of some very unique features. The build quality is quite commendable and the overall aesthetics and ergonomic design is perfectly suited to enhance the look and feel of your kitchen counter. Drawing power from a 750 Watt copper motor, the Crompton Ameo gives users a great performance and unmatched efficiency. Despite being quite powerful, the motor is installed with advanced motor ventilation to increase the air flow thus cooling it down quicker.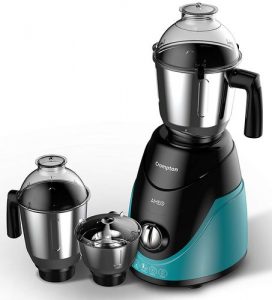 The three jars bundled with this appliance are made of high-grade stainless steel. They boasts of a maxi grind technology that increases efficiency of the product. Maxi grind means the blade system and the jar contours are designed in a way that encourages both radial and axial flow. This naturally eliminates much of the dead space giving a fast and uniform outcome.
The jars also come with anti-spill lids and sturdy jar handles that prevent any accidental spill while using the mixer grinder. To hold the appliance in place, and reduce shock or vibrations, the anti-skid rubber cushions come in very handy.
A chrome plated speed-control knob on the body allows users to swiftly switch between various speeds depending on how they want the desired consistency and the texture of the ingredients. There are three variable speed options along with a pulse for quick grinding at high speed. Other than that, another impressive feature that the Crompton Ameo boasts of is enhanced motor and machine protection.
This mixer grinder comes with added security to prevent motor blockage and also safeguards the appliance from low voltages or motor overload. Overall, the Crompton Ameo is quite a 'value for money' product and is worth a consideration if you are looking for an elegant, trendy, yet versatile and efficient mixer grinder within budget.
Pros
Enhanced air ventilation in motor.
Protection from motor overload, low voltage, and motor blockage.
Fine grinding with Maxi grind technology.
Sleek and robust design.
Cons
The build quality is not at par with its competitors and needs careful handling.
8. Bajaj Classic Mixer Grinder, 750W, 3 Jars
Bajaj Classic comes with the brand value of Bajaj and a bunch of exciting features. A 750-Watt Titan copper motor powers this mixer grinder enhancing the performance, efficiency and longevity of the product. This appliance comes with the usual three jars made of high quality stainless steel. The dome lid made of polycarbonate makes the jars spill free and unbreakable. The body is solid ABS plastic which makes the Bajaj Classic quite sturdy and durable for the long run.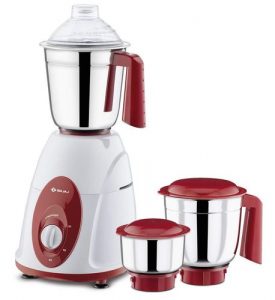 The jars sport special multitasking blades that provide superior chopping and grinding seamlessly. Backed up by a powerful motor, this makes the Bajaj Classic quite a versatile tool in the kitchen.
Tetra flow technology ensures the flow breakers on the jar do their job superbly and give you a much better consistency and uniform texture irrespective of the items or ingredients being used. This mixer grinder also has firm anti-skid rubber feet and ergonomically designed jar handles which makes using this appliance easy and hassle-free.
A noteworthy mention is the Nutri Pro technology that assures much better retention of original taste and nutrition values of the products being chopped, churned, or grinded. That is quite an attractive feature for many users. The Bajaj Classic mixer grinder comes with a five year warranty which is quite a catch for an electrical appliance. Overall, this mixer grinder is truly a classic example of value for money.
Pros
Multi-function stainless steel blades.
Tetra flow technology for better efficiency.
Nutri Pro feature to retain nutritional values.
5 year product warranty.
Cons
This product can be a bit noisier than other mixer grinders running on a similar power motor.
9. Philips HL7707/00 750-Watt Mixer Grinder with 4 Jars
Philips is one of the leading brands in India when it comes to kitchen appliances. The Philips HL7707/00, for example, is one of the best products in this compiled list owing to its horde or features and interesting accessories. Instead of the usual 3 jars, this 750 Watt mixer grinder comes bundled with 4 jars along with attachable accessories like a kneader, juicer, pulp extractor, and other chopping or grinding blades and attachments.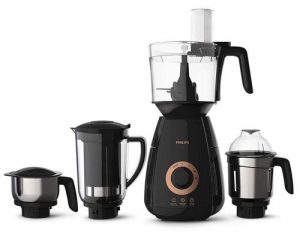 This mixer grinder appliance comes with a Gear Drive technology for food processing. This means it is a much advanced version of the regular mixer grinder and works similar to a food processor – doing much more than chopping or grinding.
The body is of solid high-grade ABS plastic and the jars and blade system is pure stainless steel. The blade system is also unique and sports a Power Chop technology which means specially designed jars, blades, and angles to enhance the efficiency and give you a much uniform consistency.
The jars are also leak free to prohibit any kind of accidental spillage while using the mixer grinder or while carrying around the jars. This Philips mixer grinder comes with a number of attachments but is extremely user-friendly and easy to get around with. These accessories are also safe to use in dishwashers unlike most other mixer grinders.
A three-speed control knob lets users take control of the speed based on their requirement and a pulse switch is also present. The anti-skid rubber feet help keep the appliance in position and reduce shock or vibrations while in use. The Philips HL7707/00 sports a robust ergonomic design that fits in sleek spaces easily.
Although the pocket pinch is slightly higher than most mixer grinders in this list, the functionality and features make the price seem like a steal. If you are looking for a complete kitchen appliance to help you with chopping, grinding, kneading, and a bunch of other kitchen functions, you can take our word for it and check out this product.
Pros
Gear Driven and Power Chop technology.
Trendy and elegant body design.
Leak-proof stainless steel jars.
Dishwasher safe.
Cons
Higher on the pocket pinch.
10. Butterfly Jet Elite 750-Watt Mixer Grinder with 3 Jars
Another 750W mixer grinder with noteworthy specifications from Butterfly joins this list. The Butterfly Jet Elite comes with three stainless steel jars fitted with polycarbonate lids and durable handles for ease of access.
The transparent lid gives easy insight into the texture and consistency of the ingredients being chopped or blended. The rotator blades in the jar are quite sharp and increases efficiency of the Butterfly Jet Elite to a great extent.
Just like other mixer grinders a manual speed-control knob with a 'whip' feature is on the outer body and works perfectly. Moreover, the Butterfly Jet Elite is completely shock free. A special ventilator is also present in the motor to prevent over-heating during long hours of use or too rigorous use.
The build quality is decent, however not as strong as the other mixer grinders. For regular household uses, this mixer grinder can be a great addition to your kitchen.
Pros
Spill-free and sturdy.
Multi-function sharp razor blades.
High quality stainless steel jars.
Aesthetic body design.
Cons
Lacks any unique feature like some other mixer grinders.
11. Preethi Blue Leaf Diamond Mixer Grinder, 750W, 3 Jars
Preethi Blue Diamond is another compact and holistic mixer grinder with a number of beneficial functions. The three high grade stainless steel jars are rust-free and the blades fitted are pure stainless steel as well for better chopping, blending, and grinding. The jar lids are flexible and sit air-tight on the jars to prevent leakage as well as to prohibit any external impurities to enter the jar when not in use.
The Preethi Blue Diamond mixer grinder is made of good quality ABS plastic and is shock proof thus reducing any kitchen accidents. Moreover this appliance has enhanced protection against motor overload or any kind of fluctuations in voltage.
The three-speed knob for manually controlling the necessary speed of the mixer grinder also has a pulse feature. This allows the user to switch between various speeds quickly and also to set the pace of grinding as per your needs constantly to help you reach the desired texture and consistency.
The Blue Diamond by Preethi delivers efficient performance and comes at a very reasonable pocket pinch. The brand reliability and the user-friendly functions make this mixer grinder a great addition to this list for someone looking for a good 750W mixer grinder within a restricted budget.
Pros
Flexi-lid technology.
Three-speed knob with pulse.
Shock-proof and Rust-free.
Affordable.
Cons
The noise level for this mixer grinder is quite high.
There are innumerable mixer grinders by various brands easily available today. But choosing the right one based on your needs, the product quality, brand value and other variables is crucial. Hopefully we have been able to provide all necessary details to help you make a well-informed choice.