Keyboard and mouse may be a great option for precise multiplayer games with a lot of action and quick moves. Anything that is slower-paced or a 2-D or 3-D platformer will benefit greatly when you use a controller. Racing games take great advantage of controllers as the acceleration is variable with the analogue triggers in a controller.
A Gamepad/Controller is the best choice for those who want to enjoy their games laid back and relaxed. Controllers also come with vibration feedback immersing you more in the game world as the developers intended to. A gamepad is a must when you play 2-D platformers as it is extremely difficult to play with a keyboard as they most prominently require 8 direction controls.
Controllers have become very affordable over the last few years. With a lot of options in the market here we bring you the best options you could buy.
Top 10 Gamepad – Best Gaming Controller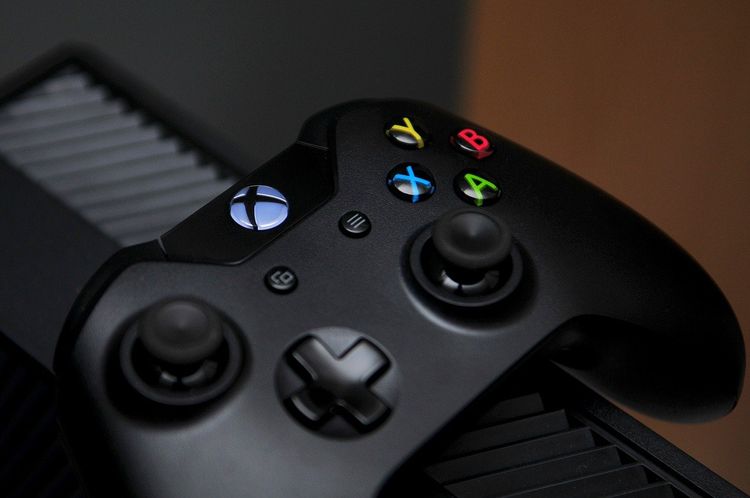 1. Redgear Pro Wireless Gamepad
Redgear as a budget peripheral manufacturer has stepped into all the sectors at this point. The redgear pro wireless as the name suggests is a wireless offering from the brand. It is arguably one of the most popular and well-rated controllers in the Indian market.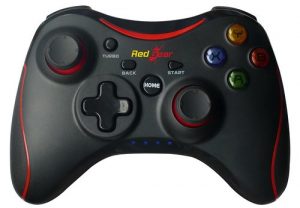 The pro wireless comes with a pretty good design with a lot of grooves and textures for comfortable use. The controller has red accents all around which might not be everyone's cup of tea. The X, Y, A and B buttons are illuminated as an added touch.
The controller supports both X input and D input. It connects via a 2.4 GHz dongle provided by redgear in the box. It has an XBOX controller style layout. There are a total of 11 buttons. It also comes with a turbo button which helps with repeated fast actuation in intense situations. There are two rumble motors on either end of the controller handle for vibration feedback.
Redgear states that the battery lasts for about 10 hours. The battery size is 550mAh and is rechargeable via micro-USB. The gamepad is supposed to give around 2 hours of battery life with a 30-minute charge. The connectivity range is about 10 meters. The gamepad supports windows 7/8/8.1 and 10.
The redgear pro wireless is one of the best choices for a wireless gamepad without breaking the bank. It has useful features and comes with good wireless connectivity sealing the deal.
Pros
2.4GHz wireless connectivity
Illuminated buttons
Turbo function
10Hrs battery life
Cons
Micro-USB for charging
Only windows support
2. Cosmic Byte C3070W Nebula 2.4G Wireless Gamepad for PC/PS3
Cosmic byte is a pretty popular peripheral manufacturer that specializes in gaming accessories. They are quite famous for their headphones, mice and especially gamepads. The nebula is a wireless controller that comes with a decent set of features with an ergonomic design.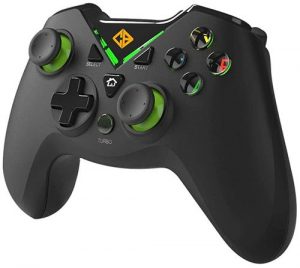 The controller comes with a rubberized texture on the top for a better grip. The green accents go quite well with black colour. The XYAB buttons are once again illuminated for visibility in dark.
Nebula wireless comes with an integrated dual mode. It means that the controller comes with both X input and D input compatibility. The layout is XBOX controller style. It uses a 2.4Ghz dongle for wireless connectivity. It comes with dual vibration motors on either side for the rumble effect. There is a turbo button for quick-fire function.
The nebula wireless also comes with support for a phone bracket. The separately sold phone bracket can be attached with the controller for mobile gaming. It is handy as the controller comes with support for PS3/Android and Windows.
The gamepad comes with a sizeable 600mAh battery. It is supposed to bring about 12hrs of battery life on a stretch. It also comes with a micro-USB charging cable in the box. Cosmic byte also provides an OTG for mobile phone connectivity. The Nebula wireless is a great choice for people who want a good-looking controller with an ergonomic form factor and a good set of features.
Pros
PS3 compatibility
Rubberized grips
12 hours battery life
Ergonomic design
Cons
Only 8 meters range
Micro-USB for charging
3. Quantum QHM7468 USB Gamepad with Dual Vibration
Quantum gamepad is an extremely low-priced controller that is supposed to do just the basics right. It is designed like a PS2 controller with wired connectivity. The build quality is acceptable for the price. It comes with quite flimsy plastic covering. It also looks pretty old. The layout is similar to the ones in PlayStation. It has symmetrical sticks with D-PAD on the top.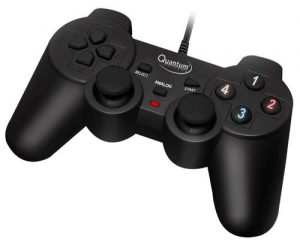 The connectivity is via USB cable. The cable measures pretty long at 1.5 meters. It being very basic gives it an advantage of begin light. This game controller weighs only around 240 grams which is very commendable. It also comes with dual vibration motors which is very much appreciated for a controller of this price.
The font on top of the buttons is not that clear. The D-Pad though as quantum says is tactile feeling with good response. The controller uses ABS plastic material. It also comes with a soft-touch finish. The gamepad supports PS3 and windows.
The Quantum QHM7468 is a great choice for someone looking to get into gaming with a gamepad. It is extremely basic in functionality and does what it's supposed to. It is also a good choice for people on a tight budget.
Pros
Extremely affordable
Lightweight
Soft-touch finish
PS layout
Cons
Worse build quality
Unclear font
4. RPM Euro Games Laptop/PC Controller
RPM euro is a controller that comes with the PS2 controller layout but with a different and more comfortable design. The controller doesn't particularly stand out as good looking.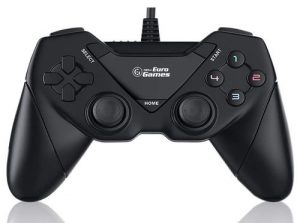 It looks pretty generic with a blacked-out design. The palm grips are coated in a slip-resistant coating. The controller is quite compact.
The connection is via USB and it eliminates a need for an in-built battery. It directly results in lesser weight as the controller weighs in at just around 215 grams. It makes it a joy to hold over long gaming sessions. The cable is also long enough at 1.7 meters. The controller supports both X input and D input for gaming. The controller also has dual vibration motors for the rumble effect.
It does not require any additional drivers for functionality. The controller supports both windows and PS 3. It comes with a total of 10 buttons and a couple of analogue sticks and triggers.
The RPM euro controller is a good option for those who want a basic controller to get into gaming but with a more ergonomic design. It also comes in at the lower end of the price spectrum making it a good option for many.
Pros
Low price
215 grams weight
Ergonomic design
Supports both windows/PS3
Cons
Average build quality
Reliability is a concern
5. CLAW Shoot Bluetooth Mobile Gamepad Controller
CLAW is an Indian company that focuses on making generic consumer electronics. Shoot from claw is a quite functional gamepad with a good design that comes at a very reasonable price.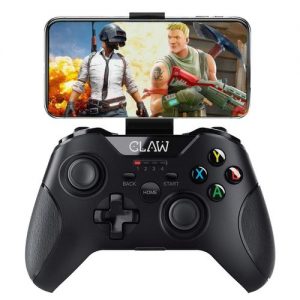 This is one of the only controllers in the segment that comes with Bluetooth support. The design is very similar to XBOX one controller It comes with an additional turbo button and rubberized textured grips.
The controller can connect via Bluetooth with mobile devices whereas it uses 2.4Ghz connectivity with Windows devices. The vibration feedback that is present on windows devices is not supported with mobile devices.
Claw shoot also comes with a mobile phone holder in the box for connection with mobile devices. It can connect with
Bluetooth and comes with app support. The app can be used to map the buttons to on-screen controls. Battery life is also quite good with a 400mAh battery that is rechargeable and can last up to 8 hours.
The CLAW shoot wireless is one of the best choices for a controller that comes with both Bluetooth and 2.4Ghz connectivity.
Pros
Bluetooth and 2.4Ghz connectivity
Rubberized grips
XBOX controller design
Phone holder
Cons
Only 8 hours battery life
Micro-USB for charging
6. CLAW Shoot Wireless 2.4Ghz USB Gamepad Controller
Claw Shoot wireless 2.4GHz is pretty much the same as the one previously mentioned. Let's run down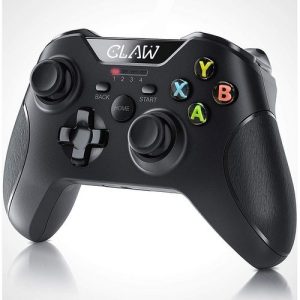 on its main differences from the Bluetooth version.
This only comes with a 2.4Ghz connection with a dongle. This means that this 2.4Ghz variant does not support mobile devices. It also misses out on mobile phone holder as an in-box content. It supports only Windows operating system devices.
The 2.4GHz version is a better choice if you don't plan only plan on gaming with your PC/laptop as it also comes in at a reasonably cheaper price. But if you need Bluetooth spending a bit more might be worth it.
7. Live Tech Yo!Man Wireless Smart Gamepad
Weird name aside the man wireless is a multifunctional controller that can connect to multiple operating systems. The controller has a design that is more function over form. It comes with an integrated mobile phone holder latch that can be folded down to the frame. The layout of the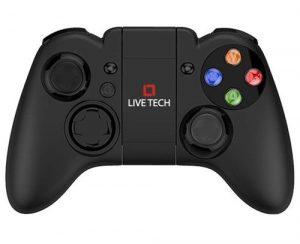 controller however is like XBOX 360.
It connects to the devices via a Bluetooth dongle. The connection is pretty stable and responsive. One of the best features of this controller is its support for different devices. It has support for PS3, PC, Nintendo Switch and also Android and iOS phones. It comes with vibration motors for rumble support. There is also a turbo function present for rapid fires.
The controls can be mapped to mobile devices using the mobile app. It supports controls for different genres of games such as racing and fighting. The battery size is 400mAh and is rechargeable. The company promises around 10 hours of battery life with the controller. The gamepad though does not support iPhones with software over IOS 13.4 which is pretty sketchy.
The live tech yo man is a great choice for people who need a single controller that can connect between multiple devices.
Pros
Multi-platform connectivity
Inbuilt phone holder
Bluetooth connectivity
10-hour battery life
Cons
Sketchy iOS support
Does not support MediaTek devices
8. Ant Esports GP300 Pro V2 Wireless Gaming Controller
Ant Esports is a pretty popular budget player. You might have come across this brand if you have ever searched for any gaming peripheral. The GP300 is a good quality wireless controller that comes with a PlayStation controller layout. It comes with symmetrical analogue sticks and a pretty ergonomic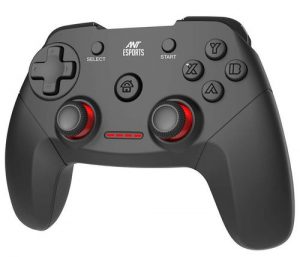 design. It comes with red accents but they are pretty muted and is not obnoxious.
The connectivity is via a 2.4GHz dongle and is wireless. It has support for Windows, Android and PS3. The mobile can be connected by using the dongle with an OTG adapter.
Ant esports claims that it has a magnetic induction trigger. This might result in better longevity when compared to triggers that function with a spring. The joysticks are also coated in anti-slip coating even against water.
The gamepad does not need any drivers with support for both X input and D input. The rechargeable battery size is pretty large at 600MaH and Ant promises around 12 hours of battery life. OTG connector for mobile phones comes inside the box.
The Ant Esports GP300 is a great choice for those who prefer a PlayStation controller layout but for PCs and Android phones.
Pros
12 hours battery life
Included OTG adapter
Advanced trigger mechanism
Multi-platform support
Cons
Connectivity issues
Micro-USB for charging
9. GSH Wireless Controller
GSH is a quite unknown peripheral brand. The GSH wireless is a pretty good wireless controller with a PS2 style layout but at a lower cost. The design is quite generic with red accents all around and over. It has red accents from analogue sticks to palm grips.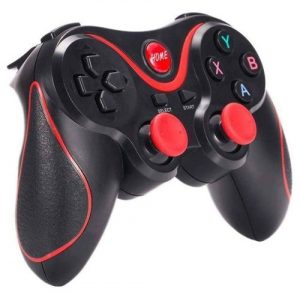 The connection is over Bluetooth which is appreciated at a low price. The wireless range is typical at around 10 meters. It has support for android, windows and TV boxes.
The controller comes with a mobile phone holder in the box. It also comes with smart power-saving modes for extended battery life. Bluetooth being a medium also helps with battery life as sips lesser power.
The battery size is on the lower side at 400mAh. The battery life though should be pretty good as it comes with smart features and Bluetooth connectivity. It supports smart tv boxes which makes it a great selling point for casual users.
The GSH wireless is one of the more unique controllers with Bluetooth and a PS2/3 style layout. If you are in the market for any of those the GSH controller is a great choice.
Pros
Bluetooth connectivity
TV box support
10-meter range
Android support
10. Logitech F310 Gamepad
Logitech does not miss out to make its entrance in any segment of gaming peripherals. The F310 is Logitech's entry-level offering with extremely basic features. Even that makes it a deal for most people as more and more people are seeking the reliability of Logitech branding. The design is simply put old. It has the same layout as a PS2 controller but with XBOX action buttons.
The connectivity is via a USB cable but it is quite long at 1.8 meters so that should not be a problem. It comes with both X input and D input mode. There is a switch on the bottom of the controller to switch between those modes manually.
The controller surprisingly comes with software support. It comes with 10 programmable buttons and a programmable D-Pad. The F310 is also very light as it comes with very few components. Most importantly the F310 does not have a vibration motor for rumble feedback. It also supports only windows connectivity.
The F310 is an extremely basic controller design with decent functionality. It is targeted towards people who need a wired controller with Logitech branding for reliability. Backing that up is the slew of around 10,000+ reviews with a very high rating.
Pros
Programmable buttons
Software support
D-Pad
Reliability
Cons
Old design
No vibration motors
11. Logitech G F710 Wireless Gamepad
The Logitech F710 is the elder brother of the F310 as it comes with a few additional features that the F310 misses out on. The design is the same as the F310 but with little tweaks. For starters, the F710 is a wireless controller. So, it does not come with a wire and has the X input and D input switcher in its place.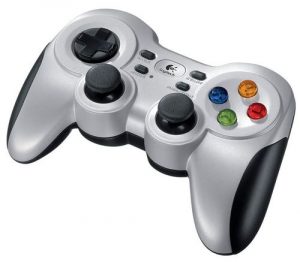 F710 uses a 2.4GHz connection for wireless connectivity. It is made possible with a dongle that Logitech provides out of the box. The palm grips are contoured and have a rubber coating for additional grip.
Let's talk about the most important difference with the F710. F710 comes with vibration motors for rumble support. The D-Pad is also very good as it is circular and it makes it easy to use in 8 directions. Logitech provides 3 years warranty with the controller which is best in the segment. It works with swappable batteries. It requires 2AA batteries for function.
The F710 is a good step up from the F310. Choosing it is very straight forward. If you want a wireless controller with Logitech branding the F710 is your best bet.
Pros
2.4Ghz wireless
Swappable batteries
Input switch
Reliability