Choosing a gaming mouse is one of the most important things for a good gaming experience. For competitive gamers, a good mouse can be the factor of losing or winning. Other accessories in gaming have more or less similar design principles. A gaming mouse on the other hand can have a lot of shapes with a lot of customization be it in design, the sensor used or the switches themselves.
There are different genre of mouse ranging from wired to wireless mice. Wireless gaming mice are a whole different ball game. A wired gaming mouse could be a better choice for budget-conscious buyers and who do not care about cables.
Gaming mice come with inherent advantages over a regular mouse. They come with faster sensors, higher DPI count, higher tracking rate i.e., measured in IPS. Gaming mouses also come with a lot of additional buttons for extensive customization. And it also comes with some sweet RGB effects for gamers.
Gaming mouses are pretty much the most difficult to choose from. There are a lot of options and a lot of shapes and sensors. As always here we help you to buy the best options from the market. That being said let's look at the best gaming mouse you can buy.
Top 10 Gaming Mouse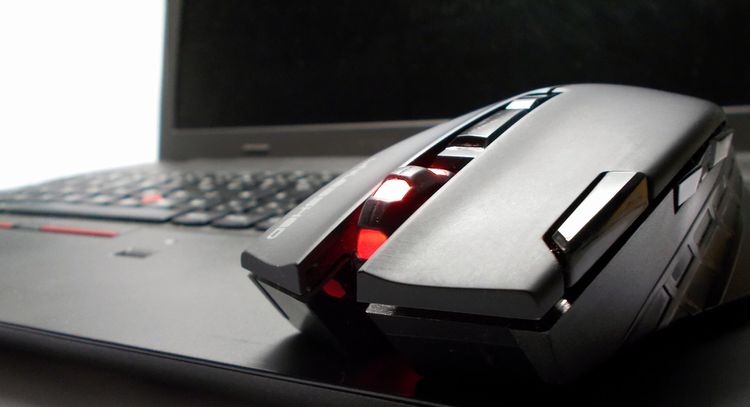 1. Logitech G502 Hero High Performance Wired Gaming Mouse
Logitech unarguably is the most popular and established in the gaming peripheral market. They especially specialize in the keyboard and mouse space. The G502 is a long-running model with quite a few iterations. The G502 is well known for its extensive customization and features.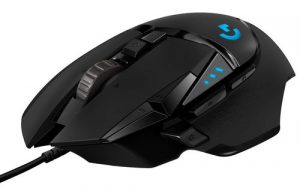 The design is catered toward people with larger hands. It has a very angular but comfortable design with a lot of ergonomic grooves and thumb rest. It is made for right-hand users. There are 11 programmable buttons with a customizable scroll wheel.
The G502 uses Logitech's own HERO 16K sensor with 16,000 DPI. This helps in a wide range of adjustments and extremely precise movements. The sensitivity can be adjusted from 200 DPI. The primary clicks are quick and are mechanical. The scroll wheel has left and right tilt.
The mouse comes with Logitech light sync for programmable RGB support. The scroll wheel has a two-step adjustment. One for smooth scroll and another for a more tactile one. The mouse also has adjustable weights where you can add additional weight to the bottom of the mouse. There is a quick shift button where you can temporarily adjust the DPI by pressing the button.
The G502 is an excellent all-round choice for gamers and also for people who need a lot of additional buttons in their mouse. It is truly an excellent choice from Logitech. Just keep in mind that it is catered more towards right-handed users.
Pros
Ergonomic design
16K Optical sensor
11 programmable buttons
Mechanical buttons
Software support
Cons
Large form factor
Heavy weight (121g)
2. Razer DeathAdder Essential Right-Handed Wired Gaming Mouse – RZ01-02540100-R3M1
Razer DeathAdder is an icon in the competitive gaming space. The DeathAdder is one of the razer's most popular products. It is this way due to its excellent ergonomic shape. It is praised for being comfortable with even long sessions of gaming.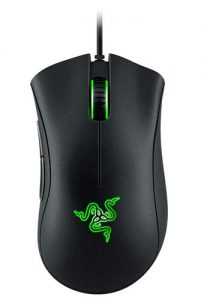 The Deathadder essential as the name signifies is a more essential version of the full-blown version. It comes in the same shape as the former but with a downgraded sensor. The shape is great as it accompanies the hand with structured grooves. It too is focused on right-handed gamers. Two additional buttons can be configured.
Razer uses a 6,400 DPI sensor with the mouse. It is good enough for casual users as well as gamers alike. The clicks are rated up to 10 million times. The right side of the moue is bulged outwards to comfortably rest the pinky finger whereas the left side is slightly depressed to accommodate the thumb. The mouse is also pretty lightweight making it easier for flick shots.
The mouse comes with braided cables for extended durability. The DeathAdder is a good choice for people looking for a comfortable gaming mouse that does the basics well without any additional features.
Pros
Excellent shape
Lightweight
Braided cables
10 million clicks lifespan
Cons
Basic feature set
Only for right handed users
3. Lenovo Legion M200 RGB Gaming Wired USB Mouse GX30P93886
Legion from Lenovo is their gaming brand that has quite a lot of offerings ranging from laptops and desktops to headsets and mouse. The M200 is a budget offering from Lenovo that has a gamer design with quite some attractive features. Lenovo states that the mouse is focused on beginners and amateur gamers.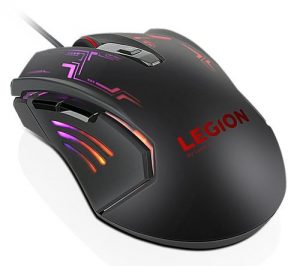 The legion M200 has an ambidextrous design that would suit both right and left-handed users. The aesthetics though are certainly polarizing. It has a lot of blue and red lines painted all over the mouse. The mouse has an additional DPI switching button and a pair of buttons on the left side.
The M200 uses a basic 2400DPI sensor. It can switch between 4 levels using the DPI switch on the fly. 7 RGB colours can be used in a circulating effect. The mouse does not come with any sort of software support.
The M200 comes with braided cables which help with durability. The movement speed is decent at 30 IPS. As there is no setup required you can just plug and play with this mouse.
Legion M200 is a good choice for those looking to buy a basic gaming mouse. It is also a great choice for beginners getting into gaming.
Pros
Ambidextrous design
7 RGB colours
DPI switch
No setup required
Cons
2400 DPI sensor
Only 30 IPS tracking
4. HyperX Pulsefire Surge HX-MC002B RGB Gaming Mouse
HyperX is known for making some pretty great gaming accessories that cater to a wide range of audience. The HyperX pulse fire is an ambidextrous offering with a great sensor and a decent set of features. It is also quite lightweight making it a good choice for quick-paced games.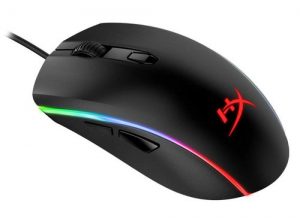 The pulse fire uses the pixart 3389 sensor with a whopping 16,000 DPI. The DPI can be adjusted between different levels with the Ngenuity software. The mouse uses Omron switches and it is rated at 50 million clicks for durability. There are a total of 6 programmable buttons. The tracking is excellent and is rated at 450 IPS.
The software can be used to control RGB light effects and customize macros. The RGB light strip goes all around the mouse and HyperX states it as the 360-degree RGB. The mouse has larger than average skates at the bottom for easier gliding. The cable is also braided for extended durability.
The HyperX pulse fire surge is a good mouse with an excellent sensor and good software support. It also has very extensive customization support with RGB and macros.
Pros
Ambidextrous design
Pixart 3389 sensor
Omron mechanical switches
450 IPS tracking
16000 DPI
Cons
Quite heavy (100 gms)
Only 6 programmable buttons
5. Redgear A-15 Wired Gaming Mouse with RGB
Redgear similar to redragon is a budget gaming peripheral manufacturer. The A-15 is a very affordable gaming mouse with impressive specs that might attract a lot of buyers. It comes with a semi honeycomb design while managing to cost very less.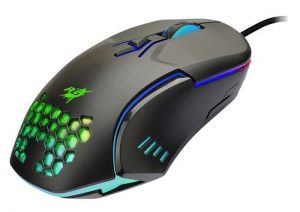 The mouse comes with a quite different design with inward grooves on both sides. It also has RGB lights everywhere to amp up the presence of the mouse. Even though it has a honeycomb shell the mouses is heavy at 125 grams and has a quite large size.
The A-15 comes with a 6400 Dpi sensor that offers pretty decent tracking. It has a metal plate at the bottom for easier glide. Redgear also states that it has extra-durable switches for durability. A-15 also comes with software support for the customization of the RGB LED. The mouse does not come with a braided cable.
The A-15 is on the top of the list on the affordable gaming mouse list. It comes with a good set of features and a good enough sensor for beginners and budget gamers alike.
Pros
Semi honeycomb shell
Attractive pricing
Software support
6400 DPI sensor
Extended RGB lighting
Cons
Heavy weight (125 gms)
Durability is a concern
6. Ant Esports GM300 RGB Wired Gaming Mouse
Ant is a well-known budget gaming manufactures that is quite famous for making budget headphone and keyboard offerings. The GM300 is a budget mouse with RGB support and a high polling rate.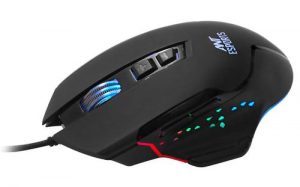 The design is pretty reminiscent of the Logitech G502 with a wide-body and a thumb rest. It is a pretty large mouse and is focused on people with bigger hands. The design is quite ergonomic and should result in a comfortable experience over long use.
The GM300 uses a decent sensor with 4800 DPI. It offers a tracking speed of 60 IPS. The polling rate though is excellent at 1000Hz with a 1ms delay. The DPI can be adjusted between 4 levels with the DPI +/- buttons behind the scroll wheel. The mouse has extensive RGB as the name suggests. But it can display only up to 5 colours. The mouse is targeted more towards FPS and MOBA games.
It comes with 7 programable buttons. The 1.5m cable is braided and comes with a magnetic ring. The GM300 is a good budget choice with customizable RGB and an excellent polling rate. It also comes with an ergonomic design making it a good choice for longer use times.
Pros
Comfortable design
1000Hz polling rate
Braided cables
1ms delay
7 programmable buttons
Cons
4800 DPI sensor
Limited RGB colours
7. Zebronics Zeb-Transformer-M Optical USB Gaming Mouse with LED Effect
Zebronics as all knows it as provides one of the cheapest offerings in any genre of products it competes at. The Zeb transformer M is one of the cheapest gaming mice offering you can buy. It manages to pack in a decent set of features while managing to keep the price low.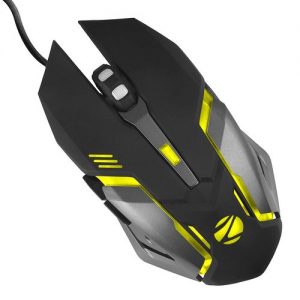 The Zeb Transformer M has a quite futuristic design with a lot of sharp lines and a floating scroll wheel. The design looks quite premium. The clicks too feel quite good with two additional buttons on the left. The design is ambidextrous and can be used by both left and right-handed users.
The mouse also has a braided cable for extended durability. There are a total of 6 buttons that come pre-programmed. It has support for up to 7 colours that are reflected all over the mouse body. The optical sensor has to support up to 3200 DPI and should provide decent tracking. The DPI can be adjusted using the DPI switch. The mouse also has a metal plate at the bottom for smoother tracking.
The USB connector is also gold plated for better connectivity. The Zeb transformer M is a solid budget offering that comes with a comfortable shape and a good enough sensor.
Pros
Futuristic design
Good button feel
Braided cable
Adjustable DPI
Ambidextrous design
Cons
Plastic quality
3200 DPI sensor
8. Dragonwar ELE-G9 Thor Wired BlueTrack and Blue Sensor Gaming Mouse
The Dragonware thor is a budget mouse that also comes with an included mousepad in the box as a package. Even though the mouse is a pretty basic gaming offering it also comes with a mousepad for free making it a good combo for a lot of people.
The ELE-G9 Thor is a pretty large mouse and is made for people with larger hands. It comes with a quite ergonomic design with a thumb rest and extension for the pinky finger. It is a mouse tailored for right-handed users and left-handers are out of luck with the G9 thor.
The mouse has a decent 3200 DPI sensor with pretty good tracking for causal use. The switches are built to be extra durable for the hardcore users out there. The mouse also comes with a turbo fire button which helps in activating the same button quite a few times. It is especially useful in shooting games for a quick-firing session. The additional buttons can also be assigned for macro functionality.
The cable Is braided and the included mouse pad is good in quality. The ELE-G9 thor is a good choice for those looking to buy a combo of good quality mouse and mousepad.
Pros
Included Mouse pad
Braided cables
Turbo fire button
Ergonomic design
Macro functionality support
Cons
3200 DPI sensor
Limited feature set for the mouse
9. HP Gaming Mouse G200 (7QV30AA)
The HP G200 is an ergonomically designed mouse with a lot of grooves and angles for a more comfortable experience. It also comes with a pretty good set of features to go by making it a good choice for gamers and casual users alike.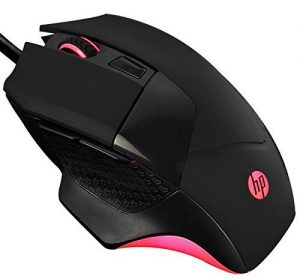 The HP G200 is similar in design to the Logitech G502 but has a slimmer body and more support for the fingers. This mouse is also catered more towards right-handed users. It also comes with textured sides making it slip-resistant.
The G200 uses an Avago sensor with 4000 DPI. It offers pretty good tracking and has an adjustable range from 500-4000 DPI. The switches used are mechanical and has a life span of up to 20 million clicks. The scroll wheel is also textured making it easier to use.
The mouse has full key programming support for desired key mapping. The breathing LED makes it look pretty cool in dark environments. The G200 from HP is a good causal gaming mouse that has a very ergonomic design and good lighting. It is a great choice for people looking to buy a comfortable gaming mouse for their hands.
Pros
Ergonomic design
20 million clicks life span
Textured scroll wheel
Easy to hold
Full key programming
Cons
4000 DPI sensor
Only for right handed users
10. Redragon M808 Storm Lightweight RGB Gaming Mouse
Redragon is a budget peripheral manufacturer that specializes in gaming. The M808 embraces the current trend of honeycomb shell. It supposedly decreases the weight of the mouse by a lot as the mouse shell has a lot less mass. It also has a pretty attractive and clean design to go with.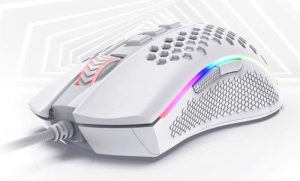 The M808 has a quite ergonomic design with slight grooves for more comfortable holding. The white colour with RGB accents at the right places makes it look very attractive. The scroll wheel has some RGB accenting for an added touch. The honeycomb shell though it looks cool might lead to dust accumulation over time.
The M808 uses the popular Pixart 3327 sensor with 12,400 DPI. The DPI range is adjustable from 100 up to 12400. The mouse weighs in at only 85gms. The mouse comes with 7 programmable buttons as it comes with software support. Redragon uses a very light mouse cord for easier movement. RGB colours in the mouse can be customized using the software.
The acceleration of the mouse is 30G and has a tracking speed of 200 IPS. The M808 is a good choice for people looking to buy a good-looking mouse with a great set of features.
Pros
Honeycomb shell
Weighs only 85gms
Pixart 3327 sensor
12,400 DPI
Excellent design
Cons
Durability is a concern
Not an ambidextrous design