Is it a challenge to select the laptop under 80000 which is made for your needs?
If yes, then you have arrived at the right destination.
Purchasing the perfect laptop for 80000 might not be as easy as it looks. Although you have your budget and desired specs in mind, still you should first check out the market as the latest trends have a lot to offer in this price segment.
In addition, this decision is subjective and highly depends on your purpose of buying – casual browsing, for online meets, students looking to code, content creation or professional gaming. It is also possible that you prefer an overall best value pick over these, but do not stress out as this list has got everyone covered.
Top 10 Laptops Under 80000 – Best Laptops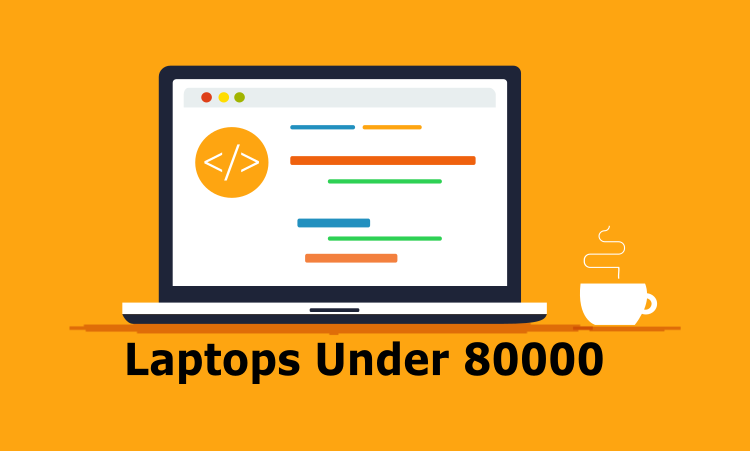 This list is divided into categories like Best Value for Money, Best for Portability and Convenience and Best for Gaming which target different users so that is how everyone gets benefit from this. It is not arranged in any order and each laptop has equal importance in their category. Prices can vary at the time of your purchase. Every laptop pick from here is best in terms of value, so this is not to be mentioned again in each category.
So, now that you have a vision to correctly understand this list let's dive into it.
Best Value for Money Laptops in 80000
The title of this category describes itself well. Whether you need something to just browse and watch online videos or you are a student or professional, this category deserves to be checked by everyone as you might just get your next electronic companion here.
1. ASUS ZenBook 14 14-inch FHD Thin and Light Laptop UX425EA-BM501TS
Asus is here with the latest Zenbook 14 with its price well under 80000. The brand really nailed nearly all points due to which it's here in the list. Let's start with the build quality; it is all metal chassis that give sturdiness. This Zenbook laptop has 14 mm thickness and 1.17 kg weight, both of which are brilliant for portability and convenience too. It's back is professionally designed with basic branding and classy look.
Coming to the display, you get a wonderful 14 inch FHD 16:9 ratio IPS panel along with anti glare coating to avoid reflections. The company claims a 300 nits of peak brightness level for this display which depicts that it has enough brightness levels for outdoor conditions as well as indoor ones.
You get 100% sRGB support and wide viewing angles. It's a good looking display for all purposes, even color correction/grading stuff. The keyboard is a full size one with backlit support with very less key travel at just 1.4mm, and the offered trackpad is glass covered with number pad 2.0 support. Both together give tactile and precise feedback with no issues.
For the processing power, this laptop has the latest 11th Gen Intel Core i5-1135G7 processor that will surely not let you down in any manner. It comes with the integrated Iris X graphics which can help you in applications requiring good graphics processing. To get blazing fast speeds and sufficient storage option in this Zenbook, it comes with a 512GB M.2 NVMe PCIe 3.0 SSD.
The only downside for some users is that this has only 8 GB RAM support and cannot be upgraded beyond this. It may be an issue for some but most will be unaffected as it will suffice your normal usage. To attend meets and use face lock, you get the HD built in camera with face recognition feature and this camera is one of the best you could find in this price bracket.
Looking forward to the battery, this laptop has upto 22 hours battery life as per the company's claim. But when tested in person, it came out to be about 12 hours under normal usage which is crazy as you do not see it easily even in higher price segments. This laptop also supports wifi 6 which is great for present as well as future.
All in all, this can be the perfect laptop in 80000 if you are satisfied and can live with the mentioned cons.
Pros
Latest 11th Gen Intel processor
Precise trackpad
Amazing battery backup
Impressive camera quality with face recognition
Loud and clear speakers
Cons
No 3.5 mm jack (though there is a type c to 3.5 mm convertor provided along the laptop)
8 GB RAM (un-upgradable)
2. Dell Inspiron 5300 13.3-inch FHD Laptop D560214WIN9S
The next laptop on the list is from Dell Inspiron line-up. This one is for those who are on a strict budget to follow and need something that can compete with the modern market and last some years. Starting off with the design, it's an all metal design with majorly aluminium that makes it very sturdy and premium. Portability is not a challenge with that 16 mm thickness and 1.08 kg weight making it extremely light-weight and thin for the features it comes with.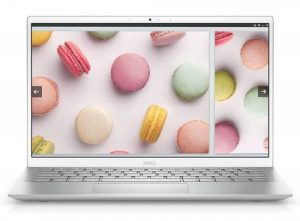 It has a small and easy to carry form factor with the 13.3 inch screen size. The panel is a FHD IPS WVA display supporting anti glare technology along with 300 nits of peak brightness claimed by the brand. For sRGB coverage, you get 95% of it which is pretty good for daily tasks.
This laptop has 10th Gen Intel core i5-10210U processor that will make sure you always get enough raw power. It is paired with 8 GB RAM which can be upgraded in future if the necessity arises, upto 16 GB. It does not include a dedicated GPU but has Intel HD Integrated graphics to meet your everyday requirements.
To store all of your media and work files it has 512 GB SSD with rapid read and write speeds to give you smooth and snappy experience. Coming to the battery, this laptop packs four cell-battery with 53Whr to provide you up-to 11 hours of battery backup with less demanding applications.
Overall, it is an easy to recommend laptop below 80000, that does not disappoint or fail in any approach.
Pros
Aesthetically brilliant
Well built body
Fingerprint reader
Anti glare technology
Cons
8 GB RAM (upgradable/fixable)
No dedicated GPU
Best For Portability / Convenience
This category is for the readers looking for laptop to be with them on the go for long hours daily.
1. New Apple MacBook Air – Silver
To keep it very short, it has the same reliability with better specs compared to the last version. Apple has maintains a deep trust and reliability among its customers that they know their products are going to last long and be worth the asked price. This model possesses a very thin frame and light-weight body but that does not mean it has cheap plastic. It includes the metal chassis which majorly has aluminum in it. This laptop feels the most sturdy and premium you can get within this budget.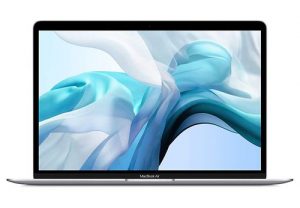 Moving forward to its display, you get the retina display in this laptop which comes with a very high resolution(2560 × 1600). High resolution makes pixel density very high(227 pixels per inch) that enhances its sharpness and clarity providing you clearer texts and amazing picture quality. The 13.3 inch screen size is sufficient and beautiful with that 16:10 ratio.
Apple did an amazing job by installing the quad core Intel i5 10th generation processor which makes it perform considerably better than the previous generation of MacBook air. This processor will gives a boost to all productive tasks on the go. There is no dedicated GPU with this laptop but here is a catch; you can plug your external GPU with the provided thunderbolt 3 port if you specifically need those benefits which come along. For most people, it is sufficient enough for daily needs.
For RAM, it offers 8 GB of memory which will serve you well with all your purposes. The backlit magic keyboard and force touch trackpad will surely give you the best typing and tracking experience you could get for this budget. You also get a fingerprint sensor which enables the touch ID of Apple that is accurate and a plus to have.
This model comes with 256 GB of storage with fast speed SSD and this is not to be mentioned that MacBooks are well known for their fast processing and delivering smooth experience to its users.
To fuel this up, it has amazing 11 hours of battery life to back you up for long hours on the go.
And at last, let us not forget that something very important about these ultrabooks, and users who are habitual to its environment find it difficult to switch to windows operating system.
Finally, it's a latest MacBook and you should not doubt yourselves while choosing a MacBook for yourself.
Pros
MacOS
Aesthetics
Build quality
Touch ID (fingerprint sensor)
Quality of Built-In Camera
Nice battery life
Cons
8 GB RAM
Webcam still 720p (but does the job)
Colors look slightly muted
No anti glare display support
2. Microsoft Surface Pro 7 VDV-00015 12.3 inch Touchscreen 2-in-1 Laptop
Our next recommendation is from Microsoft which is attempting to compete in the ultrabook market and made its successful shot. This is a 2-in-1 convertible touchscreen laptop that eases portability but still maintains the spec sheet pretty well. The build quality is wonderful, the back side follows the true to form paradigm. At just 770 grams it is among the lightest laptops you could get, and with the 9 millimeters thickness you cannot disagree that there is simply no competition of the Surface Pro in these terms. It has extreme versatility that would help you keep it as a touchscreen tablet making all of it an effortless handling along you, whole day long.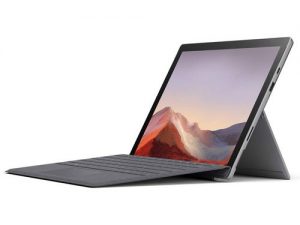 The display on this laptop is trying to compete with the best selling series, with 12.3 inch screen size and very densely packed pixels (2736 x 1824) that provides sharp and clear images. It does not compromise in the color reproduction either, being an IPS it has good color reproduction with wide viewing angles support.
Nevertheless, this cannot be compared to a tablet because it is a powerhouse when it comes to processing. With the quad core 10th Generation Intel Core i5-1035G4 processor you get in the deal, all your tasks can be executed without any issue.
In the memory department, you have 8 GB DDR4 RAM to feed you smooth experience. It has 128 GB fast speed SSD for storage which is sufficient for on the go activities but is still less for today's needs. This has a number of solutions though, with aftermarket external storage harddrive available.
All together, this laptop will serve absolutely well to those who need an electric companion for their business and productive work while travelling.
Pros
Brilliant display
Good battery life
Extremely light-weight
Sleek design
Clear and loud enough speakers
Two Colour options are available
Cons
Average camera quality
Heating issues arises sometimes
Additional charges for active pen and official keyboard
Less storage
3. HP Envy x360 Convertible Touchscreen 13.3-inch FHD Laptop 13-ay0045AU
This laptop in the list has extreme value packed in the deal and deserves to be in the top laptops for portability and convenience. The HP Envy x360 convertible has a very solid build that looks and feels professional as well as premium. Being 16 millimeters thick and 1.3 kg heavy, this laptop under 80000 makes it very easy to carry it with you.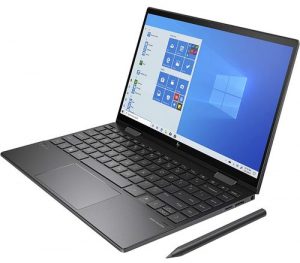 Moving towards the display, it offers 13.3 inch FHD IPS multi-touch enabled edge to edge glass with Corning Gorilla Glass NBT so that you can feel free with accidental bumps and scratches. You get absolutely enough brightness with this convertible, at 300 nits of peak brightness level with Bright-View Technology. To give you amazing color reproduction this display has 72% of NTSC coverage. So, now you must have realized how good this display is, for normal usage and even editing stuff.
Processing power is not an issue, when you have a powerful processor like the Ryzen 5 4500U with six cores. This processor surely deserves appreciation as it performs brilliantly regardless of which heavy software you choose to use with it.
The 8 GB RAM in this touchscreen convertible is sufficient but it is soldered which removes any further upgradability options. With 512 GB fast read and write speed SSD, you should not worry about storage and look for external storage devices.
As per company claims, it has truly amazing battery life of upto 16 hours. In practical operations, you can manage to squeeze about 11-12 hours with normal usage.
You also get an active pen in the box which is great as some companies charge a hefty amount for these extras. Not to forget about those high speed ports including 1 SuperSpeed USB Type-C (10 Gbps) and 2 SuperSpeed USB Type-A (5 Gbps).
Overall, it's an amazing convertible which has versatility, performance and battery to give you an uncompromised experience on the move.
Pros
Ample storage options
Solid 360° hinge
Active pen included
Bang & Olufsen speakers
Good battery backup
Powerful processor
Cons
8 GB RAM (un-upgradable)
No dedicated GPU
4. ASUS ZenBook Flip 14 UM462DA-AI701TS FHD Touchscreen 2-in-1 Thin & Light Laptop
Our last recommendation of this category is Zenbook Flip 14 2-in-1 touchscreen laptop. This laptop with price of less than 80000 has some of the best looking design which makes it tough to ignore. Build quality is as expected from Asus, and it stands on the expectations. It is 19 millimeters thin and 1.6 kg light-weight.
You have a 14 inch 16:9 ratio FHD IPS nano edge touchscreen display, having 90% screen to body ratio. For color reproduction it has an amazing 100% of sRGB color gamut coverage with wide viewing angles that are very important when you are having a 360° hinge.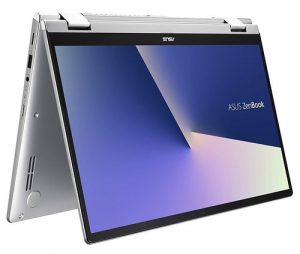 After that, Zenbook offers Ryzen 7 3700U second gen quad core processor. This processor has amazing computational capability and will surely keep up with you for your everyday requirements. You do not get a dedicated GPU in this laptop but, you do get an integrated Vega 10 that will deliver what's needed for basic gaming needs.
Other than that, you get 8 GB of un-upgradable RAM which is subjectively influential but definitely enough for normal usage. For storage, this convertible has 512 GB of blazing fast speeds SSD. It assures to provide lag free and fluid experience for all your everyday requirements.
The battery life could have been better but it is not bad in any manner. It provides upto 9 hours of backup with 43WHr 3 cell-battery.
After all, this convertible laptop will prove out to be a fruitful decision, and it is an all in all a worth deal. People having slightly lower budget can browse through recommendation for laptops under 75000.
Pros
Ryzen 7 processor
Enough storage
Ergolift 360° hinge
Harman Kardon audio
Cons
8 GB RAM (un-upgradable)
No dedicated GPU (vega 10)
Best Gaming Laptops Under 80000
Attention readers, all of you are finally here, with the highly anticipated and interesting category of this list, and the one most of you are always excited about. This category is surely last but not in any manner least. Here, dedicated GPU is a necessity, so it would not be mentioned in pros of these laptops. Without any further due let's get straight into it.
1. Asus ROG Strix G15 G512LI-HN094T Gaming Laptop
The first one is the Asus ROG Strix G15 and the Asus ROG does not need any description to introduce it. The ROG Strix are the best selling premium gaming laptop series from Asus. It has earned consumers trust over the years by standing on their expectations.
Starting with the design, the company has claimed it is a BMW inspired design still if you do not consider this fact and look at the design, you will love its aggressive and stealthy composition.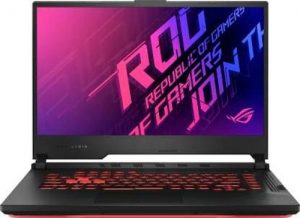 As gaming laptops need heavy and beefy hardware components for performance and space for better cooling systems to avoid heating issues, these things affect their thickness and weight significantly. The thickness of this gaming laptop is 25.8 millimeters and it weighs 2.3 kilograms. Portability might be a little challenging but at the end of the day you are surely not buying a gaming laptop if portability is your first priority.
Coming to the display, you get a 15.6 inch FHD IPS display having 250 nits of peak brightness level which is sufficient and 1000:1 contrast ratio that will help you get richer and deeper blacks. If you are thinking that Asus will make you compromise with color reproduction and viewing angles then you are absolutely wrong. It is offering 45% NTSC color gamut, 67% sRGB and 50% Adobe RGB color gamut coverage which will give you an estimate of how good this display will look in person.
And let us not forget the main highlight from a gamer's perspective, the 144hz refresh rate which is spectacular and makes this laptop recommendable for professional gamers. Once you update yourself from a standard 60hz display to a 144hz panel then you would not want to go back to the 60hz ever. It is such a significant upgrade and you will realise this when you experience it physically.
The keyboard on this laptop took a lot of developer's attention and has a lot of features some of which are AURA sync RGB along with just 2 mm key travel, highlighted wasd keys and one zone RGB lighting technology that makes it fun to operate it. With the precision trackpad, you get a very accurate and uniform response whenever you use it.
Moving to the processor, the G15 has 10th Gen Intel Core i5-10300H processor can perform intensive tasks at ease. And when combined with Nvidia GeForce GTX 1650 ti, you get a killer combo that can process enormous data and lets you enjoy the full potential of the 144hz display with most games. The laptop has three side narrow bezels too, in order to create immersion for you while you operate.
To pair it up, there is 8 GB of DDR4-2933 MHz RAM which is upgradable upto 32 GB if you want in future. The upgradability option is a huge plus although pre-installed 16 GB could have been better and hopefully last for a couple of years. But 8 GB is not that bad for an average user anyways. If you need an upgrade then you most probably have a valid reason to upgrade it and in that case you have a higher option for you. So this is subjectively influential con in my opinion.
On storage front, 512 GB of high speed SSD is there. Aftermarket external storage drives are always a solution for those who find this 512 GB low, but for most of you out there, it is sufficient.
At last, this laptop truly is a champion and rightful laptop to be in this list.
Pros
144hz refresh rate
BMW inspired design (claimed by company)
Good color reproduction
Tactile keyboard
Precise and uniformly responsive trackpad
No considerable overheating issue
Cons
8 GB RAM (upgradable upto 32 GB, though)
Heavy-weight (2.3 kg)
Average speakers
2. Lenovo Legion 5i 15.6 inch Full HD Gaming Laptop 82AU00B6IN
Lenovo with it's Legion 5i has to offer something special within our price bracket of INR 80000, let's find out what it is. Starting off with the build quality and design, it has a standard looking design which looks better than the funky edgy designs that brands include to tell that it's a gaming laptop. It comes with 23 millimeters thickness, and it weighs 2.3 kg.
With sturdy build and premium feel, design is all inclusively impressive.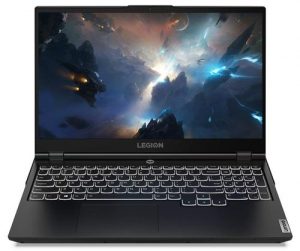 The Legion packs a 15.6 inch FHD IPS wide viewing angles display having support for anti glare technology. You get a 120Hz refresh rate display which is hard to spot for an ordinary user and will feel like a 144hz one as there is not a very huge difference between the two. The other thing is that the 5i delivers an awesome keyboard and precise touchpad that will make it a pleasure to use it. You get a full-size backlit keyboard with 100% Anti-Ghosting and soft landing switches with very good 1.5 mm Key Travel.
The quad core 10th Gen Intel Core i5 (i5-10300H) processor with  Nvidia GeForce GTX 1650 ti having 4 GB of GDDR6 memory, provides superb processing power that will utilise the full capability of the 120Hz screen. You will surely love to game on this laptop with the all 4 sided narrow bezels creating best possible immersion.
You get 8 GB of DDR4 RAM which is upgradable upto 16 GB for anyone who need more RAM for their requirements. To store all the modern day necessary files, this laptop has 1 TB of the hard disk drive and 256 GB of SSD for fast read and write speeds for operating system and other files which you store in it. External storage drive should not be a priority as the laptop suffices the needs well.
Battery life is average for a gaming laptop. However it does not disappoints and gives about 5-6 hours with normal usage.
All inclusive, it is a well built and feature rich gaming laptop making it a purchase you would be satisfied with.
Pros
120 Hz refresh rate
Ample storage
Special and effective cooling system
Harman Kardon audio for speakers
100% Anti ghosting keyboard
Anti glare panel
Cons
8 GB RAM (upgradable upto 16 GB)
Average battery life
3. Acer Nitro 5 FHD IPS 144Hz Display Thin and Light Gaming Laptop AN515-55
The last recommendation in gaming laptop under 80000 category is for Acer Nitro 5. The Acer Nitro Gaming laptop series has been a very popular series for gaming laptops in Indian laptop market. When it first came out, the laptops were out of stock most of the times and people were very happy with their purchases as they got gaming laptops for reasonable prices. This one is not different, it has many features to offer at a reasonable price. The design looks edgy and boldly displays that it is a gaming laptop. The black and red finishing look great in person. It has 2.3 kg weight and 24 millimeters thickness. The build is significantly tough and feels what a 80k laptop should feel like.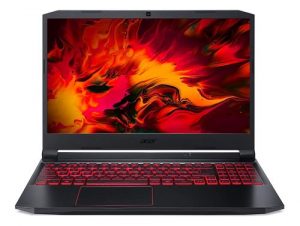 The laptop has 15.6 inch FHD IPS display with peak brightness level of 300 nits which is great. This panel is Acer ComfyViewTM LED-backlit TFT LCD which features 144hz of refresh rate and provides you professional gaming experience. For color reproduction, the screen has 45% NTSC color gamut coverage. With 80% screen to body ratio, this gaming laptop has the capability to make you forget the world for the time you game on it.
The RGB keyboard has very responsive and tactile feel and that trackpad performs accurately as well.
With Intel Core i7-10750H processor inside, this laptop can handle all your productivity task which demand high CPU power. The Nvidia GeForce GTX 1650 ti GPU having 4 GB memory with that CPU can easily give you a combination which is capable to serve ultimate gaming and content creating experience.
To support it, the Nitro 5 has 8 GB of RAM which is upgradable upto 32 GB. So if you want to do heavy 4k video editing and rendering then you can upgrade it.
For storage, this has a appreciable 1 TB of 7200rpm hard disk drive and 256 GB SSD, both of which give you ample storage option for modern requirements.
There are enough ports well for all your needs and they perform really well. Summing up, this laptop is worthy to be in this list and offers some great specifications for the mentioned price bracket.
Pros
144hz Refresh Rate
Powerful i7 processor
Huge high speed storage
Anti glare display
Screen has good brightness
Coolboost technology
Cons
8 GB RAM (upgradable upto 32 GB)
Average webcam
So, you have reached the end of this write-up.
Hope you have found your next work laptop in this list.