A Mixer grinder is one such imperative electrical equipment that every Indian household needs in their kitchen. Indian cuisine is quite widespread and uses a horde of different spices and elements. The extensive flavour profiles and multi-course meals call for special tools to speed up the process ten folds. Gone are those days when people spent hours in the kitchen for meals.
Mixer grinders simplify the prepping process immensely and help cook things up in a jiffy. In today's world, time is money, and investing a small amount in a suitable mixer grinder can save a lot of time in the kitchen for you every day. These days, many brands offer many variants of mixer grinders, each boasting of multiple features. They come in all kinds of price range to suit all needs and budget as well.
Buying the right mixer grinder for your needs can be tricky, particularly with so many options to choose from. We have compiled a list of the best mixer grinders under the pocket pinch of INR 2000 that you can buy today!
Top 10 Mixer Grinders in 2000
1. Bajaj Rex Mixer Grinder, 500W, 3 Jars (White)
The brand Bajaj does not need any special introduction. They have been pioneers in producing mixer grinders that have dominated the Indian market for a while now. The Bajaj Rex is one of those mixer grinders that you can easily get under INR 2000 but packs a punch of excellent features along with the immense brand value.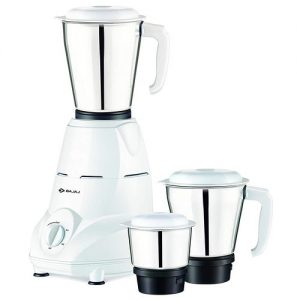 The looks and aesthetics are decent, and the Bajaj Rex needs zero installation – you can plug the device into a power outlet and start using. This mixer grinder comes with three standard jars made of durable stainless steel and sturdy handles to carry the jars. The blades are also high-quality stainless steel, and with a powerful motor of 500W powering them, they work efficiently.
The overall build of this product is right, and there is a speed controlling button for manually setting the grinding speed as well. The Bajaj Rex is quite mighty, well-designed, and overall a great choice at this price. To top it all, warranty by a trusted brand like Bajaj only makes this deal more irresistible.
Pros
Multi-function blade system made of durable stainless steel.
Elegant and rust-proof body design.
Powerful motor with motor overload protection.
3-Speed Control manual knob.
Cons
This product can be noisier than the others in this range.
2. Bajaj GX-1 Mixer Grinder, 500W, 3 Jars
Bajaj is a brand name synonymous to mixer grinders in India. They have made a name for themselves and have dominated the market in this domain for a very long time with their stellar products. The Bajaj Gx-1 is one of the best multi-functional mixer grinders available in the market from the budget category. It sports a sleek white design made of ABS plastic and comes with three customized jars. These three different jars are a 1.25L liquidizer to churn veggies, a dry jar of 0.8L capacity for grinding, and a small 0.3L jar, which comes in handy for scouring pastes or chutneys.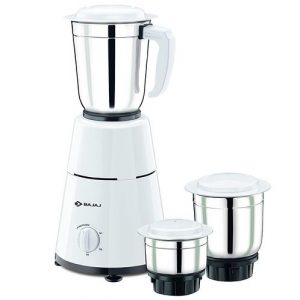 The Bajaj Gx-1 comes equipped with a 500-Watt motor, which is perfect for kitchen use. The build quality is excellent and sturdy, while the non-slip rubber attachments provide a firm grip on flat surfaces. The jars come with an overload protector, and the mixer has a shut-off feature that prevents the jars from overflowing. If we overload the jars, the machine automatically turns off – which is a fantastic feature at this price range.
The Bajaj Gx-1 also sports a three-speed setting knob, which lets users control the speed manually. The jars host multi-function and unique blade systems in a flow breaker design. This means that the blending or grinding is uniform and consistent, so users won't have to open n check for the same as with other similar machines. To top it all, this product comes with a 2 year product warranty and coming from a brand like Bajaj, this holds immense value.
Pros
Customized jar and jar accessories for complete mixing/grinding needs.
Flow-breaker design for the jars and multi-function blades.
Powerful 500-Watt motor.
Sleek and portable, yet durable design.
Cons
Produces comparatively higher noise than others for a 500W mixer grinder.
3. Cookwell Bullet Mixer Grinder, 500W
Cookwell Bullet is a 500-Watt mixer grinder with a sleek, compact, and elegant design that can fit anywhere in your kitchen easily. The build quality is excellent, and with a powerful 500W motor and sturdy stainless steel blades, it does the job of chopping or grinding quickly and with ease. This product is extremely well-designed and hosts a bunch of features that many of its competitors at this price range cannot offer.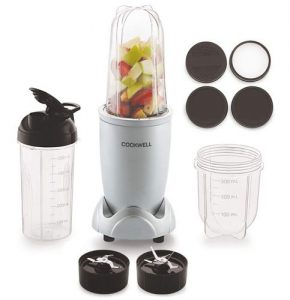 The Cookwell Bullet works as a juicer and chopper, making this a one-stop solution to all chopping, cutting, and blending needs. It does not take much space, and that is the beauty of its aesthetic design. The juicer/blending jar also comes with an air-tight lid or sipper for you to carry or use them anytime for juices or shakes. An assortment of caps, lids, rings, and sprinklers come with the bundle, which helps easy storage and usage.
Cookwell Bullet is one of those versatile mixer grinders and juicer that every kitchen needs. It can serve multiple functions, does not take much space, and has an elegant design to add to your kitchen's look and feel. The price tag is entirely within budget, and to top it all, Cookwell provides lifetime pickup and drop for repairs from your location Pan-India. What else can you ask for under a pocket pinch of INR 2000?
Pros
Sleek and slender design.
Multi-purpose jars for chopping, mixing, grinding, blending.
Eleven attachments to serve various functions.
Lifetime pickup and drop for repairing services.
Cons
Not air-tight, so there is a chance of spilling.
No motor overload protection.
4. La' Forte La Vite Cherie – Compact Powerful Mixer Grinder Blender, 3 Jars and 2 Detachable Blades
La' Forte La Vite Cherie is a powerful yet compact all-in-one mixer, grinder, and blender. This product is taking the Indian market by storm, owing to its powerful motor and horde of impressive features. This mixer grinder cum blender boasts of 11 attachments for every kind of use, and the copper motor of 380W might sound less powerful than the other products in this list, but that is not the case. This mixer grinder/blender is just as capable, and in fact better equipped than some other mixer grinders in this price range.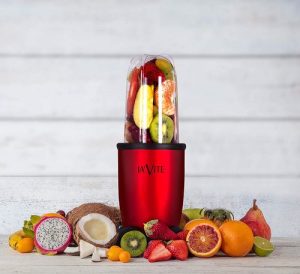 La Vite Cherie is exceptionally efficient and does its job with finesse. The jars, blades, and lids, everything is specially designed and detachable. They make the body out of non-toxic high-grade plastic and are 100% BPA free. This makes this product extremely eco-friendly, as well. Moreover, the product is exceptionally user friendly, and you can easily set it up. It's slender. The space-saving design makes it an excellent fit for every household.
This mixer grinder is extremely easy to clean and is dishwasher-proof too. Moreover, all of these features, a powerful motor, durable food-grade plastic body, and other specifications make the La Vite Cherie an irresistible product if you are looking to buy a mixer grinder in this price range.
Pros
Compact and sleek aesthetic design.
Easy to set up, use, or clean.
Super-fast blending and grinding powered by a 380W copper motor.
Bunch of attachments: a free recipe book with the package.
Cons
The build quality is not supreme and might feel less sturdy than its competitors.
5. Butterfly Hero Mixer Grinder, 500W, 3 Jars
From another trendy brand for mixer grinders, Butterfly Hero is a stylish, nifty, and very efficient one. This mixer grinder has a 500-Watt power-packed motor and comes with three durable stainless steel multipurpose jars for all the chopping and grinding. The Butterfly Hero also equips a motor overload protector, which automatically turns off the power in case of a grinding overload. This ensures safety as well as longer durability for both the motor as well as the overall device.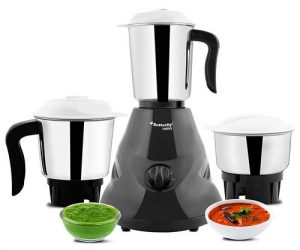 The Butterfly Hero sports an aesthetic design is sleek and can easily fit in today's modern kitchens as well. The mixer grinder also comes with unique rubber feet to hold its position firmly and minimize vibrations. They equip the mixing and grinding jars with high-quality stainless steel blades in a special design that gives higher rpm for more efficiency.
This product also comes with a speed control knob with three different speeds that you can manually set depending on the need. There is also a 'whip' option for this mixer grinder that provides ultimate grinding at the highest speed setting. An affordable price tag paired with a one-year product warranty and two-year motor warranty makes the Butterfly Hero 500W a much sought after choice.
Pros
Motor overload protector for product safety.
Speed control knob with the 3-speed setting.
Aesthetic and modern design with sturdy material.
High-quality stainless steel blades.
Cons
The speed control knob is not premium quality and can turn faulty.
6. Lifelong PowerPro 500 Watt 3 Jar Mixer Grinder
The Lifelong Powerpro is a budget, three-jar mixer grinder that runs on a 500-Watt motor. Needless to say, it is powerful enough for any house-kitchen needs of chopping or grinding. The three jars are multi purpose and the well-designed blade system effortlessly helps you chop or grind both dry and wet products.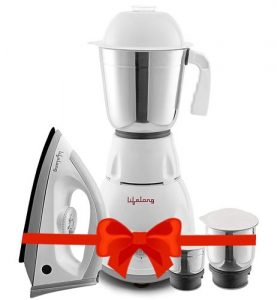 The Powerpro by Lifelong comes equipped with strong and durable handles for the jars that help you easily use them or carry them around. A manual knob with a three-speed setting allows users to set the speed depending on their use. An anti-skid rubber foot is present at the bottom, helping the mixer grinder sit firmly on a kitchen counter or other flat surfaces.
Other than this, one of the most exciting things is the price-tag. The Lifelong Powerpro is an efficient, durable, and potent product that comes at a little pocket pinch. And that is not it! You get a complimentary dry iron powered by 1100W complimentary with this mixer grinder. It is a steal of a deal, and there is no other brand offering such high-quality functional products together in this price range. Both the products are quite good in terms of quality and durability and have fascinating features which are hard to resist with such a nominal pocket pinch.
Pros
Durable yet lightweight.
Anti-skid rubber feet for stronger grip.
Stainless steel jars with a one-year warranty.
A reset button and motor overload protection for enhanced product safety.
Cons
The motor design makes the Lifelong Powerpro quite a noisy one amongst its competitors.
7. Solidaire 550-Watt Mixer Grinder with 3 Jars (SLD-550-B)
Solidaire is not a very common brand, and you may not have heard of it before. But it is slowly making its mark in the domain, and many satisfied customers vouch for its quality and features. Going by the features and specifications it hosts, it is entirely worth a look. The SLD-550-B comes with a powerful 550 Watt motor capable of heavy-duty chopping and grinding, making it one of those mixer grinders that come in small packages but pack a blast. It hosts one of the most powerful motors in comparison to other mixer grinders at this price range.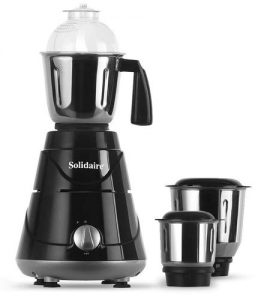 The design is sleek, slender and does not call for much space in your kitchen. The aesthetics are pleasing, and the overall look and feel are quite good. The Solidaire mixer grinder comes with three-jars made of stainless steel, and each of these jars has a sturdy handle. It lets you use the jars with convenience and also enables you to carry them around. This product also has a pair of special vacuum shoes made of rubber, making it firmly sit on a surface and ultimately reduces movement or vibration.
The multi-function blade system is quite impressive, and the Solidaire mixer grinder comes with attachments of three very different kinds of blades to serve every purpose seamlessly. A multi-speed knob is there for users to manually control the mixer grinder's speed as per their necessity. The body is of durable ABS plastic which is safe to use and is non-toxic. At this price point, the Solidaire 550W mixer grinder boasts of features are really commendable and totally worth the value.
Pros
Powerful 550 Watt motor for heavy-duty grinding.
Sleek, elegant, and compact design which does not take much space.
Good quality stainless steel jars and blades for longevity.
Multi-speed knob for manual control and multi-function blade system.
Cons
This product is much heavier than most other mixer grinders at this price range.
8. Bajaj Pluto Mixer Grinder, 500W, 3 Jars
Bajaj crops up once more in this list with the Bajaj Pluto 3-jar mixer grinder. It is an extremely reliable brand and produces some of the most durable, efficient, and popular mixer grinders in the Indian market. Bajaj's product is no different and boasts of good build quality, impressive features, and assures efficiency. The Bajaj Pluto mixer grinder comes with the usual three other jars, and a reliable 500 Watt motor with motor overload protection powers this device.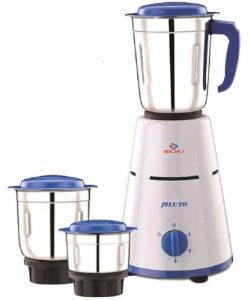 The Bajaj Pluto sports high-quality multi-function stainless steel blades for all chopping and grinding purposes. The build quality is quite impressive overall, and the body is of sturdy ABS grade plastic. A manual control knob on the body lets users easily switch between three speeds depending on the requirement. The knob also has a loaded incher to it, which enables momentary or quick use.
Overall, with the brand value of Bajaj and with these exciting features, the 500W powered Pluto is quite a steal at its price. If you are looking for a reliable, powerful, and long-lasting mixer grinder on budget, check out Bajaj Pluto.
Pros
500W motor with overload protection.
Speed control knob with incher for quick functions.
Build quality and aesthetics are commendable.
Lightweight but sturdy.
Cons
Too noisy and the knob is not of premium quality, making it susceptible to damage easily.
9. Inalsa Jazz 550-Watt Mixer Grinder with 3 Jars
Many of you haven't heard of Inalsa, but they manufacture some of the best mixer grinders and compete with other top brands in India. They have made a name for themselves with the amazing range of products they have launched over the years. The Inalsa Jazz is a 550-Watt powerful mixer grinder that is portable, sleek, and extremely versatile–perfect for kitchen needs. They come paired with three jars of 1.2L, 0.88L, and 0.4L capacity for chopping, grinding or making chutneys and pastes.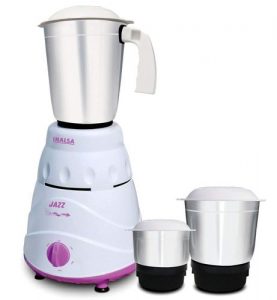 The blades are high-quality stainless-steel, and the Inalsa Jazz comes with high-grade nylon couplers with inserted metals. This means finer chopping, easy and quick grinding, and durability to sustain for a long period of time without needing a replacement. This product's quality is noteworthy for its price tag, and these features ensure that the wear and tear over time is much lesser in this mixer grinder. The anti-skid footing is also a notable feature for this machine as it enhances grip on kitchen surfaces and gives it a sturdy feel when using.
The Inalsa Jazz also comes with a three-speed setting knob for simple manual control. You can easily set your speed depending on the ingredient and how finely chopped or grinded you want them. Another impressive feature that comes along with this machine is that all the jars come with easy-to-grip handles. They are firm in quality and let users carry around or use the jars with utmost convenience. Overall, the Inalsa Jazz is one of those versatile yet sleek mixer grinders you would want to check out.
Pros
Robust quality stainless-steel jars with pp lids.
Strong anti-skid feet.
Powerful 550-Watt motor.
Highly efficient stainless-steel blades.
Cons
The knob quality is not sturdy and can break if handled carelessly.
10. Orient Electric Kitchen Kraft MGKK50B3 (500-Watt)
Orient Electric is one of the top names today and is quite notable for its range of slender yet powerful mixer grinders. The Orient Electric Kitchen Kraft MGKK50B3 has an ergonomic design and comes with a powerful 500-Watt copper motor. The thick plastic jars are sturdy, durable, and have an easy-grip handle for convenience.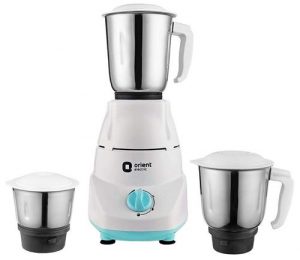 The High-quality nickel blades for delicate chopping and grinding make this machine super-efficient. The copper motor comes with overload protection to prevent any wear and tear in heavy load situations. This mixer grinder also comes with a three-speed knob control for manual speed setting and has a flow-breaker design for smooth and consistent grinding.
The high-quality materials make the Orient Kitchen Kraft stand out in terms of reliability and efficiency. As a cherry on top, Orient Electric also provides a 2-year product and motor warranty along with this machine. The horde of features, supreme build, material quality, and an extended warranty at this budget range all paired together make this a superb choice.
Pros
Supreme quality copper-winding 500-Watt Motor.
High-quality nickel blades for chopping.
Overload protection for the motor with auto switch-off.
Sleek yet durable and robust build.
Cons
Orient Electric has just a few service centers across the country. So, check on that before you purchase one if that is of importance to you.
Choosing the Right Mixer Grinder for 2000
Choosing the right mixer grinder for you at this price point is more about your specific needs and what you will use the product for. Whether you cook occasionally or need a mixer grinder for regular use will matter while making a choice.
Whether you will use the new mixer grinder mostly for chopping or grinding or you ideally need that additional blender or juicer as well depends on your preferences. All the products listed here are of reputable brands, have commendable specifications, and are amongst the most beneficial choices that we could list in terms of value for money.
We have compiled all the necessary information for you in one place. Make sure you know the basics before you buy a mixer grinder to get the best deal! Go through the specifications, features, pros and cons along with other benefits listed here to make a well-informed choice and ensure you are getting the best value for the price.