Today's 12-inch laptops offer a winning combination of speed, style, power, and comfort like nobody's business. Despite the small display, they can cope up with a lot. So, let's explore the best options in the 12-inch laptop product category. You can also see list of 13-inch laptops if you want to go for little big screen size.
Top 10 12-inch Laptops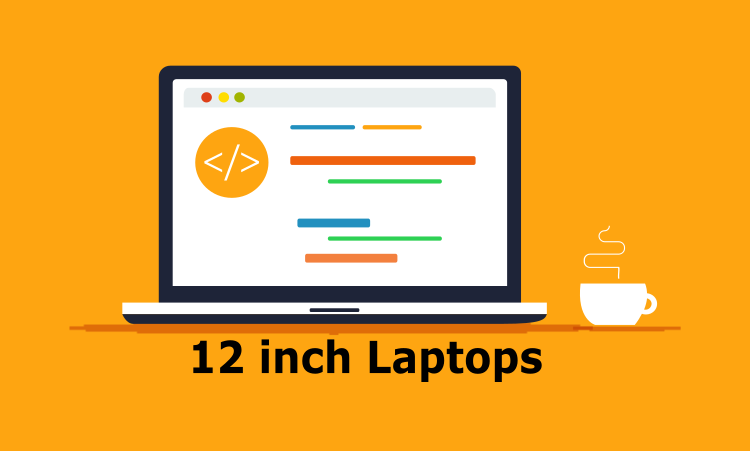 If you have lost all admiration for your aging laptop, feel free to ditch it for the New Lenovo 130S HD Laptop.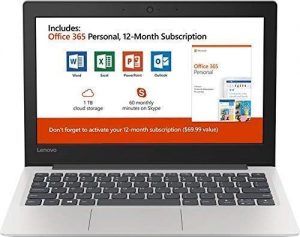 Now, this isn't the most charismatic laptop on the face of this planet. But then, this laptop stands out on its own because it doesn't cost a bomb like other feature-rich, expensive laptops.
For a humble price tag, you get a reasonably good processor, decent display screen, and a long battery life, which should tell you that the item description of this laptop is not full of fluff.
So, the laptop will work out well for its intended purpose, of course, without requiring you to spend big bucks on it.
Laptop Highlights
Unlike other affordable laptops, the Lenovo 130S 11.6″ inch laptop is quite powerful under the hood. It features Intel Celeron (2 core) processor, webcam, 4 GB memory, and 64 GB SSD. It also comes with Office 365 Personal included.
Moreover, the laptop has adequate ports on the sides for data transfer. Furthermore, this laptop is built relatively well to stand up to daily use for several years and beyond. Yes, you can use the heck out of it for long.
The laptop even has a nice fit and finish to it.
Keep in mind that this machine won't overheat, even when you test it to its limits. Therefore, you can dare to use this laptop all day long for web browsing, office projects, email checking, and so on.
The keyboard and trackpad may not be very spectacular, but they work just fine for casual computer use. Also, you will have no issues configuring this machine to your personal needs.
Moreover, this laptop doesn't weigh as much as a truck's spare tire. Therefore, it's easy to travel with.
Pros
Portable laptop for daily use
Runs on Windows 10
Stable Wi-Fi connection
Speakers are good
Solid one-year warranty
Cons
Won't meet all your gaming needs
If you are after a well-performing laptop that doesn't come at a steep price tag, you can keep the Life Digital Zed Air Ultra laptop in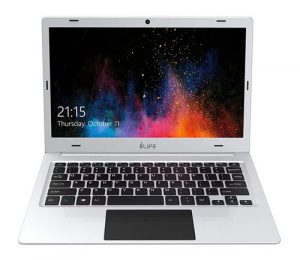 mind. It's portable, fast, feature-rich, and elegant, all at the same time. The built and the sound quality of this laptop are spot on as well. Coming to its use, it's perfect for surfing, watching YouTube videos, office work, and school projects. Seriously, it will do everything that's expected out of a budget-friendly laptop of its nature, of course, without any issues.
Laptop Highlights
It has this 1.1 GHz Intel Celeron N3350 4th Gen entry-level processor, which is perfect for non-demanding laptop activities. And, it houses a 2 GB LPDDR3 RAM and 32 GB SSD card. The memory space is expandable too, in case you want more out of this laptop.
The best part is that this laptop consumes very little power during use. Not to mention that it has an ultra-slim bikini model-type look to it, and it comes with Windows 10 Home system included in it.
Besides this, it has an incredible battery life. On a full charge, it provides enough juice for 8 hours of non-stop performance.
Above all, the viewing angle of this laptop is far better than other comparable laptops out there. Basically, you can say that this 11.6-inch laptop is a low-price leader in its price spectrum. Therefore, you would be over delighted to own it.
Pros
Nice working speed
Doesn't lag on booting
Battery charging is fast
Best laptop in its price range
Very good technical support team
Cons
Lacks an anti-glare display
Keyboard is not built with backlight
This Dell laptop comes tantalizing close to being one of the best 12-inch laptops sold in the market nowadays.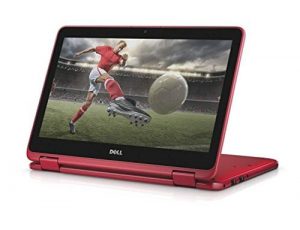 Available in bright red color, you will love every bit of this laptop. Visually, it looks very beautiful. Looks aside, it's also feature-rich, enabling it to meet a user's requirement for both entertainment and productive tasks.
Seriously, this laptop won't lag like other similar models, even when you are multitasking. It works really well for watching movies, playing basic games, and office projects.
Laptop Highlights
Weighing only 1.38 kg, this machine comes with a Core M 6Y30 processor, 4 GB RAM, and 500 GB hard drive. And, it uses the Windows 10 operating system, which is, of course, easy to work with. Considering the overall product specs, you can expect apps and other programs to run smoothly on this laptop.
Better still, its mechanical functions won't slow down the laptop with age, which is truly wonderful. Frankly speaking, laptops with similar configurations usually sell for more. Dell can easily get away by hiking the price of this laptop.
Seriously, Dell hasn't compromised on the speed or the memory power. At the same time, they have kept the cost of the laptop reasonable enough to suit most value-seekers budget.
Keep in mind that this laptop is not housed in a cheap plastic body, which should tell you that the makers has built this laptop to last long.
It's lightweight too. As a result, it is easy to carry around. Moreover, the battery on this thing doesn't drain quickly. For light to medium use, you can't go wrong with this Dell laptop on any given day of the week.
Pros
Fastest laptop in its price range
Good for office or study purpose
No heating or noise issues
Convenient laptop for frequent travelers
Cons
Camera quality is not that great
Not recommended for heavy graphic games
If you are unhappy with your last laptop, you can take a look at the ASUS Chromebook C202SA-YS02 Laptop for an appropriate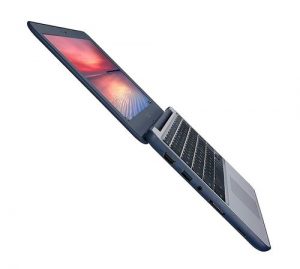 replacement. This 11-inch laptop has the looks, name, quality, and product specs to die for. It will work smoothly without hanging in between and at a high speed too.
Better still, the battery on this laptop will stay charged for 8-9 hours without any issues. Of course, the main highlight of this product is its low price. Truth to be told, this ASUS laptop is a steal at its price point. As long as you are not comparing it with a high-end laptop, your happiness won't come to an abrupt end.
Laptop Highlights
Speaking about the laptop's performance, it comes fully equipped for light and moderate use. It features the Intel Celeron N3060 processor inside of it, which is known to be quite power-efficient. And, it has 4 GB RAM and 16 GB flash storage in it.
The chromebook also comes with an anti-glare display to cause less strain on your eyes. Moreover, this laptop is rugged enough to survive a drop and other mis-handlings. The keyboard on this laptop is spill-resistant too.
Keep in mind that the laptop weighs only 1.2 kg, despite its rugged and water-resistant construction.
Above all, this thing tilts 180 degrees, which makes typing so much easier than usual.
The laptop is also boxed nicely at the time of delivery to prevent possible cosmetic damage during transportation. Upon unboxing, the first thing that you will notice is the nice aesthetics of this laptop. It truly has a nice fit, finish, and overall looks to it to please just about any future laptop shopper out there.
Seriously, it will look good even when it's put side by side to other expensive laptops out there. People who find all the above item description appealing can blindly go for this laptop without missing a heartbeat. The ASUS Chromebook C202SA-YS02 laptop is truly built to please its intended demographics.
Pros
Fast and lag-free operation
All the included ports work properly
Water-resistant keyboard
Nice grip design for easy handling
Lightweight body
Cons
Doesn't come with built-in Office 365
If you need a reliable laptop for your daily tasks such as Internet surfing, document editing, office presentations, word processing,
and so on, the Lenovo Yoga 300 80M0007KIN Laptop should be a no-brainer choice.
Seriously, this laptop is good enough to help you go through your work day with great ease than usual. At its core, it has 2.16 GHz Intel Pentium Quad N3540 processor, 4 GB RAM, and 500 GB storage space, which is considered to be the best product specs at this laptop's price point.
Laptop Highlights
This laptop can be used both as a tablet and laptop because of its special folding screen. This laptop variant from Lenovo also comes with Windows 10 included. Keep in mind that it hardly slows down due to multitasking.
The overall functioning is totally smooth, exactly as advertised by Lenovo. Moreover, this laptop is light enough to be easily carried around for business meetings or other purposes.
Not to undermine the fact that it maintains good battery life for long hours at a stretch. Consequently, it won't give up on you in the middle of an important meeting. It also charges quickly, which means that you can charge it fast during a break. Better still, it has the best-in-the class keyboard for joyful and comfortable typing. Seriously, you couldn't have expected a better laptop in its price range.
Pros
Switches on/off pretty quickly
Touch sensitivity is very good
Good battery backup for the price
Durable enough for daily use
Product's price won't hurt your wallet
Cons
Doesn't come with a laptop bag
This laptop from Samsung is good enough to make you a Chromebook fan. Although you might have to stretch your laptop budget a
bit for this little 11.6-inch beauty, it's totally worth whatever extra money that goes into it.
It is both fast and user-friendly. Whether you are streaming videos, checking emails, or browsing the web, it will work relatively fast without any hiccups. The laptop is very well-made too. Of course, it won't survive repeated drops. But then, it will last long, upon proper care. Seriously, there are no cringe-worthy flaws in this product.
Laptop Highlights
Credit to the Intel Celeron N3060 processor, 16 GB memory space, and 2 GB RAM, this laptop performs better than other equivalents out there.
Better still, it looks nice, and it's highly portable, making it a perfectly suitable laptop for anyone who dislikes lugging around a heavy machine for routine use.
The best part is that it has quite a few shortcuts as well. The battery life is outstanding too. No joke; you will be able to type on this laptop for half a day, and still have one-third of the battery life left.
Keep in mind that the laptop doesn't have unnecessary bells and whistles, which enabled the makers to keep the cost of this laptop low.
At the same time, this machine has everything included in it to meet your everyday needs of web browsing, shopping, keeping up with your social media presence, and so on. You will truly love the simplicity of this Chromebook laptop. Seriously, you won't find an easily comparable product in its price spectrum. Samsung has really nailed it with this well-made electronic gadget.
Pros
Starts/shuts down quickly
Solid body and components
Outstanding battery back up
Familiar and good brand
Cons
A little pricier Chromebook laptop
The ASUS VivoBook E203NAH-FD049T Laptop is small, inexpensive, and a worthwhile laptop. This affordable laptop is highly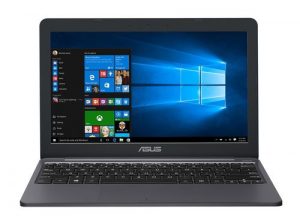 suitable for minimal tasks, such as typing, web surfing, storing, etc.
Despite the low cost, it is not terribly slow. Moreover, this laptop won't hang during operation as you often see with other low-end laptops out there. The battery life is also reasonable, considering the cost paid for the laptop.
Not to mention that ASUS is a highly trustworthy brand in the market. So, you can trust them to not launch a piss performing laptop.
Laptop Highlights
This 11.6-inch laptop makes use of the Windows 10 operating system, which, of course, is better than the earlier versions. Inside of it, it has Intel Dual-Core Celeron N3350 Processor, which is highly suitable for non-demanding computing tasks.
The built quality is nice as well. Moreover, the starting time of this laptop is not that bad. In fact, it is far better than other cheaper models. Furthermore, it doesn't heat up, even if you were to use it for extended hours at a stretch.
This laptop is not super lightweight like other high-end models. As expected, there will be certain trade-offs for the low asking price. That said, the laptop weighs only 1.81 kg, which is light enough for easy carrying. The viewing angles are also decent on this laptop.
Better yet, the laptop stays pretty silent during operation. Of course, it's not one of the best laptops available nowadays, but it's definitely the best among its peers. It truly comes with good specs for day to day operations.
Pros
Works smoothly with decent speed
Heating won't be a problem
Fan sound is also minimal
Supports Wi-Fi and Bluetooth
One-month free-trial of Office 365
Very good laptop for the low price
Cons
Not suitable for complicated work
The Dell Inspiron 11 3168 11.6-inch Laptop is one of the best laptops in the mid-priced laptop range.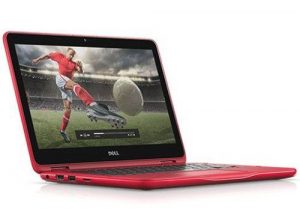 It works fine for surfing, watching videos, shopping, and other leisure activities. Of course, you can also use it for extensive office work for long hours because the battery life is around 5-6 hours.
Moreover, the laptop is graced with good specs to function fast without hanging several times in between. It boots up in less than 20 seconds. Furthermore, this laptop is light enough for student's use. Obviously, office goers will also love the compact built of this laptop. Not to mention that the attractive red color of this laptop simply adds icing to the cake.
Laptop Highlights
The laptop looks and feels great. Talking about its specs, it has 2.56 GHz Intel Pentium N3710 processor, 4 GB RAM, and 500 GB hard drive.
Plus, it comes with MS Office 2016 pre-loaded in it. Keep in mind that laptops with similar configurations sell for far more. Also, this laptop doesn't produce much heat, and it consumes less power than its equivalents.
It breezes past most tasks you throw at it without making them seem too hard. Although it's not a dedicated gaming laptop, you can also play some basic games on it without encountering any issues.
The laptop is carefully packed at the time of shipment. The phenomenal packing will ensure zero damage to the laptop during transit, which is, of course, wonderful to be aware of.
As you can tell, Dell took care of every aspect of this laptop, including product delivery. The folks at Dell truly deserve a salary raise for coming up with such a well-made laptop. After all, how often do you find such a well-made laptop that doesn't cost a fortune? If you have any queries, the guys at Dell also respond very quickly.
Pros
Beautiful and appealing looks
Nice keyboard and trackpad
Can handle basic games too
No lagging or heating issues
Good amount of positive reviews
Better than different brands
Cons
Slightly expensive mini laptop
Makes a beep sound when it's turned on
Conclusion
Hopefully, you are all sorted now. As you can tell, we have included the best 12-inch laptops available in different price ranges to help you choose a laptop that best suits your specific needs.