Not long ago, shopping for a 13 inch laptop used to get a lot of stares at a showroom. Worse yet, the 13 inch laptop product category didn't even exist in most online portals out there. Of course, things have changed now. The demand for 13 inch laptops has boomed, causing them to sell like hot pancakes nowadays.
So, if you are looking to replace your dinosaur-sized laptop with a sleek, modern, powerful, and compact unit, you should definitely set your eyes on our selection of the best 13 inch laptops. In fact, anyone with even a passing interest in a mini laptop shouldn't ignore this post. If you are interested to try out bigger size laptop, check list of 14-inch laptops or 15-inch laptops for more choices. There are also 12-inch laptops for people who are interested in smaller laptops.
Top 10 13 inch Laptops : Best 13.3 inch Laptop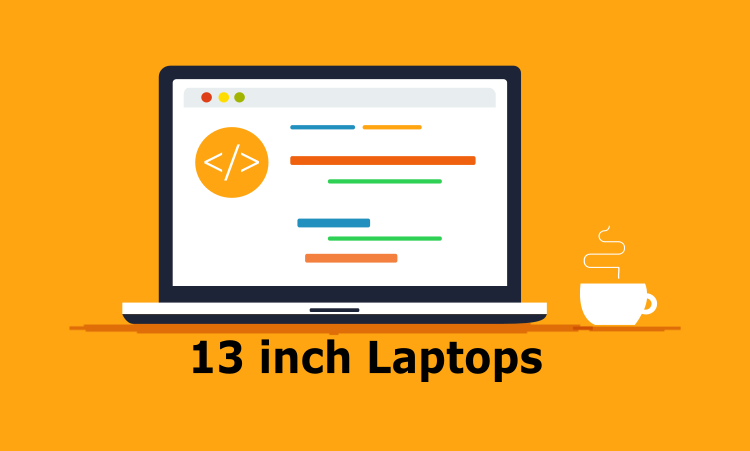 1. Lenovo Yoga C640 Convertible Laptop
This is one of the most interesting mini laptops that we are going to discuss today. To begin with, it's a convertible model, which you can tell by reading the product title itself. The obvious benefit of a hybrid model is that you can go from a laptop mode to tablet mode and vice-versa in a jiffy as per your mood/convenience.
Also, the makers have given this laptop a very clean look. At the same time, the built quality is solid enough for Lenovo to proudly put its name on it.
Additionally, this laptop offers a full HD 13.3-inch display, and it's both pen and touch-enabled. At 1.33 kg, the Lenovo Yoga C640 laptop is also lighter than other comparable models. It does have a webcam on the top, and a fingerprint reader as well to boost your privacy. Basically, this laptop is both feature-packed and easy to carry on the back.
Product Highlights
Even though it's a compact laptop, it has adequate RAM (8 GB) to support heavy-duty tasks. Another highlight of this laptop is the backlit keyboard, which works like a charm, causing it to be a worthwhile choice for those who write a lot.
Also, the battery on this thing lives up to the promise of 15 hours of performance at one charge, which is pretty impressive, given the size of this laptop.
Not to mention that this laptop is powered by a 10th Gen Intel Core i5 10210U processor, which means that you can run a lot of programs on this laptop without taxing the processor.
Furthermore, this touchscreen laptop comes preloaded with Windows 10, and it carries a one-year warranty against manufacturing defects.
Pros
It has top firing speakers. The audio-quality is definitely there.
The storage goes up to 512 GB SSD, causing it to be a fast laptop.
It lets you speak to Alexa and Cortana for hands-free operation.
Quite a few ports grace the sides of this portable laptop.
It comes with a clean and nicely written user manual too.
Cons
Lenovo should start offering more color options.
The price may seem a bit high for some of us out there.
2. Dell Inspiron 5370 Laptop
If you want a real workhorse, housed in a small body, you should take a shot at the Dell Inspiron 5370 laptop. As per the product configuration, this 13-inch laptop will work well for both personal and business needs.
It's thin, fast, light, and built to last long. Better still, it boots quickly every time, the overall operation is smooth, and the keyboard is a joy to type in.
Also, the laptop screen has an anti-glare coating on it to cause less stress on your eyes, allowing you to work for longer than usual, of course, with reduced eye strain.
The Wi-Fi reception of this laptop is spot on as well.
It's really built to serve all mini laptop purposes. Truth to be told, you will mostly like everything about this laptop. Maybe, you will even go on the streets recommending this laptop to others.
Product Highlights
Powered by Intel Core i7 – 8550 U processor, 8 GB RAM, and 256 GB hard drive, the Dell Inspiron 5370 Laptop is resource-rich in almost all areas of use.
It weighs only 1.4 kg, and it offers a 13.3 full high definition display. Better still, the laptop has MS Office 2016 Home & Student installed in it by default.
The good news is that this preinstalled subscription will last a lifetime. The battery backup is not so great, but it's decent, offering you 6-7 hours of use from every charge.
As we all know, Dell is a fantastic laptop brand. And, the Dell Inspiron 5370 Laptop doesn't spoil the company's image. In fact, it adds a new feather in their cap. Whether you are a Dell fan or not, you should definitely consider adding this laptop to your shopping cart.
Pros
The Dell Inspiron 5370 laptop has original Windows 10 in it.
This laptop has a very premium look to it. It's surely handsome.
Given the product specs, there will be no slowness/heating issues.
As advertised, the fingerprint reader is pretty fast and accurate.
The backlit keys make it easy to work in low light conditions.
It comes with a free subscription (15 months) of McAfee Antivirus.
Cons
It's not the best laptop for graphic-intensive games.
The edges of this laptop are a little sharper than usual.
3. HP Spectre Touchscreen Laptop
The HP Spectre Touchscreen laptop is thin, light, fast, attractive, and powerful, all at the same time. As marketed, the laptop has the latest components in it, such as the 1.1 GHz Intel i5-1035G4 10th Gen processor, 8 GB RAM, and 512 GB SSD storage space.
Seriously, it won't skip a beat when performing usual work or personal activities on it. Also, this unit weighs only 1.27 kg, which means that you won't have to lug a lot of weight around. The battery life is splendid too. It won't have trouble lasting the whole day.
Even though it's a recent release, there's already a lot of sales taking place for this 13-inch laptop, which should tell you that this HP laptop has garnered a lot of attention in a short amount of time.
Product Highlights
The HP Spectre convertible laptop has a refreshed exterior design to it, which gives it a stunning appearance. Seriously, the look of this laptop is something to die for.
Also, this HP laptop has a lot of nice touches to it, which tells us that the attention to detail is actually divine. For instance, the makers have shifted the power button on the back corners, where it's easily accessible, yet out of the way to avoid accidental pressing of the button.
The charging power is also situated at a nice location so that it doesn't come in your way. The pen is included in the deal as well, which is excellent for inking or drawing on the screen. For the most part, it's a near-perfect laptop, which is such a rarity nowadays.
Pros
Given the configuration, the laptop is not terrifyingly expensive.
For a convertible model, the hinges are good enough to hold long.
It's stocked with Windows 10 operating system by default.
It has a backlit keyboard, as you would expect at its price point.
Despite the compact product design, the laptop doesn't run hot.
Cons
It lacks space to store the pen on the laptop itself.
4. Apple MacBook Air Model
If you have fancied owning a premium mini laptop, the Apple MacBook Air Model should definitely be on your cards. This latest toy from Apple has quality and temptation written all over its body, as you would expect from an Apple brand. The hardware of this 13-inch MacBook is spot on to deliver a remarkable performance. It's also lightweight for easy carrying.
For its sleek look, the battery life is incredible as well. It will easily last for 10-12 hours on normal usage. The sound quality of this laptop is awesome too. Not to mention that this MacBook is packed nicely for item safety.
Everything considered, you will truly get a terrific sense of pride from the ownership of this luxury product.
Product Highlights
The Apple MacBook Air features i5 processor, 128 GB SSD, and 8 GB RAM. Although the processor is a bit old for today's time, the laptop works like a champ without heating or slowing down. The software on this thing is perfectly optimized for normal day to day work and office tasks.
Seriously, the operating system never crashes, and the performance is always flawless. Also, the keyboard is a delight to type on, even in the dark.
Moreover, the touch pads are very smooth and responsive, exactly how you would expect from a premium brand.
Furthermore, the laptop has a solid metal body construction to it. This Apple laptop will truly last long, if properly cared for. In all seriousness, it can easily qualify as your primary laptop.
Pros
This laptop can meet the needs of office and college projects.
The screen quality is not mediocre like other comparable brands.
It has a warranty of one year, which starts from the day of delivery.
The majority of the laptop experts have praised this product.
This MacBook has been in high demand ever since its launch.
Cons
It's not the best laptop for hardcore gamers.
5. Microsoft Surface Pro 6 12.3-inch Laptop
The Microsoft Surface Pro 6 12.3-inch laptop is fast, smooth, good-looking, and stylish. It also comes with an awesome display, touchpad, and keyboard.
The overall built-quality of this 12.3-inch laptop is top class as well. Of course, it's great for mobility too, since it weighs less than 1 kg. Better still, it comes with Windows 10 activated by default.
Moreover, the battery on this thing holds up well for eight-plus hours without any fuss. The looks and design of this laptop are also better than other laptops in its price range.
As you can tell from the product attributes, it's one of the best 8th generation laptops available nowadays. Therefore, it should come as no surprise to learn that other brands have tried to copy some of the elements of the Surface Pro 6 laptop.
Product Highlights
The Surface Pro 6 laptop ships with 1.6 GHz Intel Core i5-8250U processor and 8 GB of RAM to meet the needs of productivity seekers.
It features a hinged kickstand on the back, which allows you to place the laptop at any angle you desire. Unlike other models, the kickstand on this laptop is stable enough to eliminate the chances of the laptop getting knocked over by a kid/pet.
Like other well-made thin laptop, this unit has sufficient USB-C inputs. If you can afford, you should definitely get the Microsoft Surface Pro 6 12.3-inch laptop without missing a beat.
It is truly an excellent choice for anyone wishing for a 'tablet-cum-laptop' because this laptop has the operational powers of a desktop PC in the form of a handheld tablet. The experience of using this laptop is truly divine.
Pros
The laptop works at a lightning pace for non-gaming activities.
It comes with a front-facing camera to enable video calls.
Both the Bluetooth and Wi-Fi connectivity are up to the mark.
It looks gorgeous. Of course, the performance is stellar too.
Given the configuration, it's truly capable of handling most tasks.
Cons
The 128 GB hard drive may not be enough for some users.
The touchscreen works better without any screen guard.
6. HP Envy 13-ah0044TX 13.3-inch Laptop
The HP Envy 13.3-inch Laptop can prove to be an excellent companion for our everyday needs. Routine tasks aside, it can also accommodate a bit of video editing and gaming because it comes with a dedicated 2 GB graphics card along with an Intel Graphics card. It boots up fast too. Credit for this goes to the 256 GB SSD storage.
Moreover, this laptop comes with an 8 GB RAM, which enables this laptop to deliver a nice performance boost.
With HP Envy laptop, you can play, work, or entertain yourself without any difficulty. Not to mention that this laptop is thin and lightweight enough to be easily hauled around without any difficulty.
Above all, the laptop feels really premium in the hands. Seriously, you can tell how well-made it is just by holding it in your hands.
Product Highlights
For starters, this laptop has the latest 8th Generation Intel Core processors in it for solid performance and smooth operation. Also, the laptop is both beautiful and sturdy. Clearly, the makers didn't compromise one thing for another.
Moreover, the battery on this laptop offers more than seven hours of screen time with mixed usage. It charges quickly too.
And, it has Full HD IPS display along with top-notch speakers, which allows you to immerse yourself in the world of entertainment like nobody's business.
Look, feel, and performance-wise, this mini-laptop is really a bomb. Clearly, this powerful laptop excels in all areas of use.
Seriously, it has the sign of success written all over it. Therefore, this mini laptop from HP has quickly become a crowd favorite.
Pros
The fingerprint response is fantastic, to say the least.
The built quality of this laptop is equally good as a MacBook.
Other clones of this laptop are pretty expensive.
Feedback from past users has been highly encouraging.
Cons
The laptop runs a bit hot when you are charging it.
7. ASUS ZenBook 13 UX333FA-A4116T Laptop
If you are after a well-equipped, compact laptop that doesn't cost a fortune, the ASUS ZenBook 13 UX333FA-A4116T Laptop is definitely worth looking into. At 1.19 kg, it's really small and light.
As small as the laptop is, it's still feature-rich. It offers you a 13.3-inch screen, and it has a comfortable typing angle to it.
Better still, the makers have incorporated an 8th Gen Intel Core i7-8565U processor in this laptop . And, it has Windows 10 already installed in it. Obviously, it has a few ports for inputs and outputs too.
For wireless connection, you get dual band 802.11ac Wi-fi and Bluetooth 5.0. Additionally, this laptop works pretty fast for day-to-day surfing, watching shows, editing documents, etc.
Product Highlights
Slim and beautiful, the ASUS ZenBook 13 laptop looks very futuristic. Of course, the product specs are praise-worthy as well.
Right from the Wi-Fi connectivity, touchpad, speaker, Face IR, and battery life, everything is worth admiring, especially for the product's price point.
Compared to the other competitors in the same price segment, this laptop also offers 512 GB of storage space as opposed to 256 GB.
Not to mention that this laptop is very comfortable to use because of its compact and portable body. It also stays cool during use. Clearly, the makers aren't playing with our feelings by providing a top-notch laptop at a reasonable price.
Pros
The fantastic display makes it easy to adapt to a small screen.
Comes equipped with a backlit keyboard.
The unique Number Pad boosts one's typing speed.
Makes hands-free computing a breeze.
The battery can keep the laptop alive for ten-plus hours.
Cons
The shift key on this laptop is a little smaller than usual.
Final Words
Portable laptops are great, but not every shrinking laptop out there will work best for your individual needs. So, take your time to screen all the recommended 13-inch laptops to your heart's content to pick the right laptop for your specific needs.