We are going to address the elephant in the room right off the bat. Should you get a 15-inch laptop? How well does it fare against a smaller 13 or 14-inch laptop or a slightly larger 17-inch laptop model?
15″-15.6″ (a couple of extra inches doesn't make much of a difference) laptops hit the sweet spot between portability and power-packed performance.
Most mainstream 15-inch units are lightweight enough to lug around on business trips and the screen is big enough to thoroughly enjoy your favorite movies and shows.
Now, the question is, how do you find the best 15-inch laptop with great specs, solid built and a high-quality screen without shooting your budget through the roof?
That's where we come to your rescue. We have rounded up top models after comparing and contrasting the features of countless models side by side. We have also vetted hundreds of user reviews before drafting our final list. In short, we have taken care of the hard part. If you are looking for smaller size, do check out list of 14-inch laptops.
And here's our takeaway:
Top 10 15-inch Laptops – Best 15.6 inch Laptops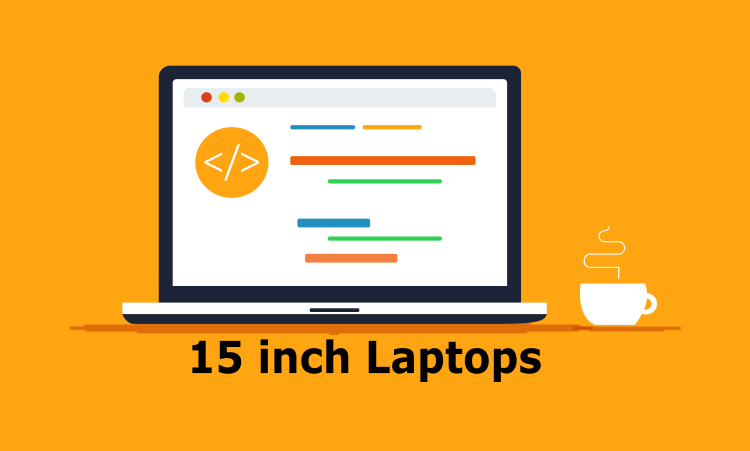 Dell Vostro 3581 15.6-inch HD Laptop
If you are on a shoestring budget and want a no-nonsense 15-inch laptop for day-to-day tasks such as office or college projects, web browsing, photo editing, watching movies or playing light games, Dell Vostro perfectly fits the bill. Make no mistake, the processor (7th generation i3) doesn't have enough juice to carry out CPU-intensive tasks like video editing or running graphics-rich games.
The laptop employs 4 GB DDR4 RAM which consumes less power than DDR3 while ensuring a faster data transfer rate. 1TB HDD is sufficient to store a massive amount of data. We liked the inclusion of the optional M.2 SSD slot. If you want to experience real speed and buttery smooth performance, you should seriously consider installing an SSD.
There is a built-in slot to add a dedicated processor graphics unit, up to Intel UHD Graphics 600 which is fine for smoothly running low demanding games like Minecraft.
It comes with all the basic connection ports including Gigabit LAN port, a VGA port to hook up to your smart TV as well as a DVD writer. For a laptop priced under 30000, the screen quality is pretty decent. For fast and hitch-free connectivity, it features Bluetooth and 802.11 standard of WiFi.
With Dell Mobile Connect, you can pair your Android smartphone or iPhone with your laptop in a breeze and seamlessly use your phone's app, messaging and other functions on your laptop screen.
The Li-Ion battery packs enough punch to ensure a runtime of 6 hours give or take, depending on the use. Vostro is also equipped with a special feature called Peak Shift to automatically switch to battery power at certain times of the day while the device is connected to the power supply.
This feature might sound trivial but it does help extend the lifespan of the laptop's battery. Maximum 6 hours of backup is not much. But then again, given the price-point, we can't complain much.
Pros
4 GB DDR4 RAM.
Built-in slots of SSD and discrete graphics chipset (up to Intel UHD 600).
Multiple connectivity options.
Smoothly carries out non-CPU intensive tasks.
Good for low demanding games.
Cons
Not designed for CPU-heavy tasks.
HP 15 Core-i3 15.6-Inch Full HD Laptop
This is one of the best 7th generation laptops on our list. Period. It is powered by core i3 and 8 GB DDR4 2400 RAM (expandable up to 16 GB) that can efficiently perform small to moderate computing tasks without constantly slowing down.
It utilizes Intel 620 HD graphics card. So if you want to play graphics-rich games like PUBG, Batman: Arkham City or GTA on medium settings, that wouldn't be a problem either. 1TB HDD is more than enough hard disk space for storing abundant data.
Plus, there's an M.2 slot for upgrading to an SSD which will make your laptop run almost 15-17 times faster. If you are planning to run feature-rich video editing software like adobe premiere, sadly, that won't be possible without constant lagging.
However, photo editing, browsing, office work, and streaming videos is a breeze with this laptop. Another area where this laptop shines is the sound quality. The dual speakers along with HP audio system delivers well-balanced beats peppered with punchy bass and excellent tonal clarity really spruces up the movie-watching experience.
Moreover, the laptop weighs merely 2.04 kgs and is skinny enough to fit in your carry-on bag without gobbling up essential luggage space. Coming to the connectivity, it features two 3.1 gen USB ports, one USB 2.0, one HDMI and a LAN port along with a CD/DVD Writer and a headphone/microphone jack.
It pairs with Bluetooth Peripherals such as Bluetooth headphones, speakers, keyboard and mouse in a snap. The battery backup of max 13 hours at this price-point makes this 15-inch laptop a steal, no second guessing about that. The sleek and stylish black chassis is a bonus, on top of all these.
Pros
Less than one minute of booting time.
Preloaded Windows 10 and trial version of MS Office.
13 hours of battery backup.
Intel 620 HD GPU smoothly runs moderately hardware-demanding games at 60-80 fps.
Great speakers.
Compact and Lightweight.
Cons
The battery removal process is a little tricky. That's it.
Dell Inspiron 3567
This slim and lightweight laptop sports an attractive price tag and is primarily geared towards students and general office tasks like making PPT presentations, emails, preparing documents and stuff. It is powered by 7th gen i3-7020U processor which is basically a dual-core processor with CPU cores clocking at 2.3 GHz speed.
The number and types of ports in this model are identical to the HP laptop reviewed above. It uses a rather outdated Bluetooth 4.1 but a modern Wi-Fi 802.11ac for lightning fast internet connectivity. The bold black casing is made from plastic to keep the weight in check. Despite having a plastic frame, the unit is just as sturdy as any other laptop in this price range.
Just make sure not to smash your laptop against any hard surface. For a low-budget model, the hardware quality, especially the hinges and design of the keyboard are surprisingly top-notch. Typing on its keyboard is a true delight, thanks to the instant tactile feedback and smooth key travel.
The model gets its processing power from 4GB DDR4, 2400 MHz RAM and integrated Intel HD Graphics 520 which is adequate for lite games like Minecraft, GTA 4, and Overwatch on medium settings. Remember that HD 520 is not a game chip, so attempting to play graphics-rich games can drastically reduce the lifespan of your CPU.
Moving on, the 15.6″ Full HD Anti-glare Display with TN panel has a 1920 x 1080 pixel resolution and a pixel density of 142 ppi which is above-average at best. Photographers who are very picky about resolution and color output while editing photos might not be that impressed by the display.
However, you won't be bothered by the general lack of "oomph factor" of the screen if your applications are limited to movie watching and occasional light gaming. It's equipped with 1 TB SATA HDD which is standard for most 15-15.6″ inch laptops and an optional SSD drive, allowing you the option to multiply the speed and performance of your laptop.
The battery backup of the 40 Wh battery ranges between 3-5 hours. Overall, it's quite a capable slim laptop for students, office workers and general users with certain limitations which are obvious, considering the price.
Pros
Sleek and sturdy design with textured lid and strong hinges.
High-quality tactile keypad.
Carries out basic computing tasks without being sluggish.
Good for playing low-demanding games.
2 RAM slots and an SSD slot.
Cons
Low battery backup.
No slot to add a graphic card.
HP 15-DA0326TU
This silver color beauty is one hell of a looker. We dare say it's one of the most stylish looking laptops on our list so far. The glossy metallic finish on it lends it a plush vibe. It's 15.6″ FHD WLED display has a decent color gradation and brightness. If you are specifically looking for an affordable laptop for photoshop editing and binge-watching shows and movies, this one won't let you down.
The screen has an anti-glare filter which ensures a bright and clear view, even in brightly lit spaces. You don't have to tilt your screen or shrink your eyes to see your screen in broad daylight. The laptop weighs merely 2.2 kgs and sports a conveniently slim casing. So travel-friendliness is one of your top priorities, HP 15-DA0326TU might be the answer.
The unit draws its speed and efficiency from 7th Gen Intel Core i3-7100U processor and 4GB DDR4 RAM paired with Intel HD Graphics. This particular combination of specs is just about adequate for casual gaming. It's an ideal budget model for non- CPU heavy tasks like web browsing, office-oriented tasks, and other day-to-day computing tasks.
It is available in two versions, one with and another without preloaded MS Office. Both versions are preloaded with Windows 10 to get you started working right away. If you seek more control over what your laptop can or cannot do, HP 15-DA0326TU allows you to boost its performance and flexibility by the means of dual-booting.
With dual-booting, you will be able to smoothly run both Windows 10 and Linux Mint OS (recommended) on the device. 1TB HDD, which is standard for lightweight, travel-friendly models of this particular segment, allows for enough drive space to store all your data while dual-booting. If you notice your laptop slowing down because of all the upgrades, simply switch to an M.2 SSD and enjoy flash quick speed.
This laptop uses a 3-cell Li-Ion battery which yields 5-7 hours of backup on an average. While the battery life isn't that impressive, HP's fast charging feature makes up for it to some extent. With fast charge, you can charge your laptop up to 50% in roughly 45 minutes.
Now let's come to the quality of the keyboard. Great key travel and quick tactile response makes typing on this keyboard an incredible experience for both general users and PC-gaming enthusiasts. We also loved the beautifully balanced and crisp sound quality of the dual speakers. They are not best-in-class. But you need to remember that you only get what you pay for.
The laptop comes with Wi-Fi and Bluetooth 4.2 for quick and fuss-free connectivity. Both work without any issue. The TrueVision HD Webcam quality is spot-on, making video calls a truly enjoyable experience. Along with a CD writer, it comes with two USB 3.0 ports, an HDMI port, one USB 2.0 port and obvious a headphone/microphone jack to hook up your peripheral devices.
Pros
Dual-boot friendly (with Linux as secondary OS)
Smooth keypad and multi-gesture touchpad.
Travel-friendly.
Fast charge feature (up to 50% in 45 minutes)
Anti-glare, bright display with good color gradation.
Cons
Booting time is more than a minute.
Short battery life.
Lenovo Ideapad S145 Intel Core I3 8th Gen 15.6-inch
The Lenovo Ideapad lineup is known for its amazing portability and hutch-free multitasking ability. This laptop operates on low-end 8th generation dual-core Intel i3-8145U with a CPU clock speed ranging between 2.1-3.9 GHz. As you can see, it has a higher clock speed than its previous generation processor.
It simply means keeping multiple tabs open won't slow down your computer. Along with a better-than-average processor for the money, it houses 4GB RAM and 1 TB hard disk to keep the machine running smoothly without lagging or freezing.
There's a hybrid SSD slot where you add an NVME SSD and unleash the true speed of this laptop.
It is perfect for everyday computing tasks like video playback, creating documents, web browsing, video calls, and photo editing. It features an integrated Intel graphic card which is mainly suitable for light games. You can also play a couple of graphically demanding titles on lowest settings. If you are a PUBG-fan like us, it is a good news. You can play the PUBG lite version on it without any annoying hanging issues.
The 15.6-inch Full HD display is equipped with anti-glare technology to ensure crystal clear view in brightly lit environments. The resolution of 1920X1080 with 2 million pixels provides impeccably detailed images topped with great color gradation. Movie buffs, video streamers and gaming nerds on a limited budget will be getting a decent deal for the money.
Along with all the basic ports and optical drive found in mainstream 15-15.6″ laptops, it also boasts of a 4-in-1 card reader to make data transfer a breeze. The machine weighs around 1.85 kgs, making it one of the lightest laptops on our list so far.
If you happen to travel a lot with bare minimum luggage, Ideapad S145 would be worth a shot. Our only real beef with this laptop is that it uses a 2-cell battery. It will drain out in 3-5.5 hours, depending on your usage.
Pros
Feather-light and space-saving design.
Hybrid SSD slot for instant performance boost.
Run low demanding game titles without lag.
Excellent for multitasking.
Great display for the price.
Cons
Uses a 2-cell battery, hence, low battery backup.
ASUS VivoBook X507UF
This one brand almost never disappoints. Be it high-end laptops for high-quality video editing, hardcore gaming or medium range 15.6″ machines for regular computing tasks, Asus has something in store for everyone.
Engineered to work like a beast high on adrenaline, this incredibly tech-rich device draws its strength from the 8th Gen Intel Core i5-8250U processor. Core i5 processors are several times more powerful than its previous generation processors, making it suitable for running graphic-rich game titles as well as video editing.
While it doesn't compare to i7 or i9, at this price, this is the absolute best you can get. To support the mighty processor, Asus has armed this beast with an 8GB DDR4 RAM (expandable up to 16 GB) along with NVIDIA GeForce MX130 GDDR5 2GB VRAM for a buttery-smooth, lag-free gaming performance. If you want to further push the possibilities, install an M.2 SSD in the built-in dedicated slot for beginner-level 3D rendering.
The 1TB 5400 RPM 2.5′ hard disk drive is enough for storing hundreds of movies, thousands of pictures, songs, and other files. Apart from absolutely brilliant specs, VivoBook shines in the aesthetics department as well. Sophisticated silver casing vibes well with black (non-backlit) keypad.
Honestly speaking, the keypad quality has some room for improvement. For a laptop this well-built, we were sincerely hoping for a backlit keyboard but we guess that would be asking too much of Asus, considering how Asus has already managed to put top-end core specs in the mid-range laptop.
The battery quality is slightly better than what we have mostly seen so far on this list. On low to medium configuration, it should last you approximately 8-9 hours. Except an optical drive, it comes with all the mainstream ports you'd find in most models in its budget group. This includes a Type-A USB 3.0, two USB 2.0, one HDMI port and a microSD card reader for convenient data transfers.
Pros
8th Gen Intel Core i5-8250U processor.
Ideal for medium demanding computing tasks such as running graphic-rich games titles and video editing.
8 GB RAM, expandable up to 16 GB.
NVIDIA GeForce MX130 GDDR5 2GB VRAM to boost gaming and video playback performance.
8-9 hours of battery life.
Low-weight, compact, aesthetically-pleasing design.
Cons
No keyboard backlight.
Keypad quality isn't as great as the rest of the specs.
Dell Inspiron 3595
If you are a student or someone who is looking for a portable and budget-friendly laptop for entertainment and odd jobs, Dell Inspiron 3595 is worth taking a look. Despite some major cost-cutting to keep the price down, Dell has smartly managed to put in an AMD A6-9225 processor paired with a 4GB DDR4 RAM for lag-free and reliable performance.
The integrated AMD Radeon R4 operates at a frequency range of 800 MHz speed and is suitable for playing low-demanding old games like FIFA. While it doesn't really come anywhere near modern-day graphic chipsets, it's a passable for a student and office work-oriented laptop. The battery isn't that great either. You will get maximum 4-6 hours of backup, depending on your configurations and applications. One of the biggest selling points of this laptop is its portability. You can carry it on flights, to the library, cafe or even subway and complete your work projects on the move.
Pros
AMD processor is a reliable processor for low demanding tasks.
Runs low-demanding old classics like Max Playne 1, 2 and FIFA without any freezing problem.
Impeccable portability.
Highly affordable.
Decent display.
Cons
Short battery life.
Can't handle even slightly demanding jobs without frequently slowing down.
Lenovo Ideapad 330
This 15.6″ platinum gray beauty is also geared towards students, office workers, and regular users looking for a bigger screen to watch movies or even live stream 4K videos. The 180-degree hinge on the lid is a nice touch as it protects the display from accidental damage while enhancing the maneuverability.
This one houses a 7th Generation Core Intel I3-7020U processor which is pretty standard for laptops in this range, as you have probably already figured out by now. The display quality is marginally better than what you find in most low-budget laptops.
With 4 GB RAM, 1 TB hard disk, 1×1 AC Wi-Fi for fast internet connection and buffer-free video streaming, Ideapad aims to ensure a truly fulfilling user experience. To our very surprise, it also includes a USB-C type port to hook up modern gadgets, a very rare feature for a budget laptop.
The battery life of maximum 5 hours isn't really worth writing home about. But then again, you shouldn't expect too much from the battery of a low-priced Intel core i3 laptop.
Pros
Stylish and robust design with a 180-degree hinge to maximize the lifespan of the screen.
USB-C type port.
Smoothly runs basic computing functions.
Good for less demanding game titles as well.
1×1 AC Wi-Fi for buffer-free 4K video streaming and super-fast browsing experience.
Cons
Poor battery life.
No optical drive.
The Bottom Line
So that was our take on the best 15-inch laptops that tick (almost) all the boxes. We have made sure there's something for every budget and computing needs on our list. From affordable models for basic applications to high-end, feature-rich, technically-sound models, our list has something for everyone.
It's a very common misconception that you can't find an affordable yet spec-rich, brilliantly designed 15-15.6″ laptop for moderately CPU-heavy tasks. Models like Asus VivoBook are here to set a new benchmark for laptops in this segment.
Instead of the low-torque core i3 processor which is the most common processor type in small laptops and notepads, it has leveled up the game by housing a mighty 8th Gen Intel Core i5-8250U.
You can surely find way better models if you are okay to shell out a couple of more grands. But for its current retail price, VivoBook is nearly impossible to beat. Period.