Today, people have options. After all, we are not living in the 1980s anymore. But then, laptop shopping is not as glamorous as it looks from the surface because more shopping choices naturally leads to more confusion. It's like finding a hidden mouse in a fully stocked grocery shop. Don't worry; we have done all the grinding over here. So, allow us to introduce you to the best 14-inch laptops available nowadays. People who want to go for smaller laptops can look for 13 inch laptops and those who want to have bigger display can check list of 15 inch laptops.
Top 10 14-inch Laptops – Best Rated Laptops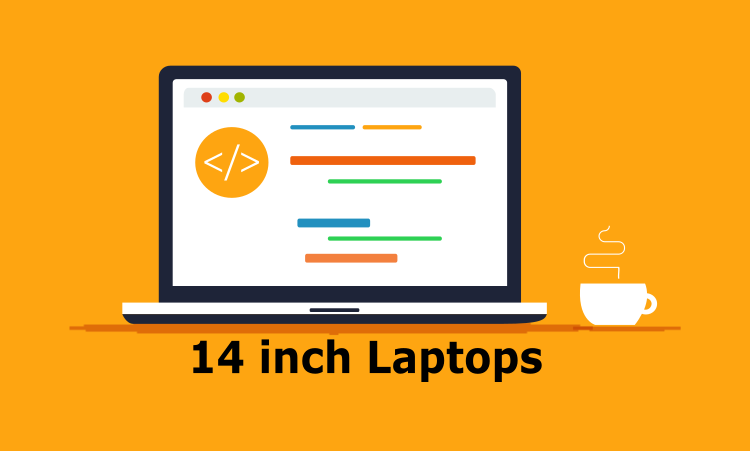 1. Asus VivoBook 14 M409DA Ryzen 5 Laptop
If you are after a budget 14-inch laptop that performs better than its equivalents, you should take a shot at the Asus VivoBook 14 M409DA Ryzen 5 Laptop without missing a heartbeat.
This laptop is nice, sharp, lightweight, and a true workhorse, especially in its price range. The built-quality is fantastic too. So, you won't witness new scratches on the laptop every now and then. As you can tell by the product's price, you ca''t play heavy games on it. But the fact that you can play any game at all on such a budget laptop is an incredible thing on its own.
Everything considered, this laptop delivers a powerful performance punch, making it a suitable laptop choice for both home and office use.
Distinctive Features
The Asus VivoBook 14 M409DA Ryzen 5 Laptop comes preloaded with Windows 10 operating system.
It has an AMD Quad Core Ryzen 5-3500U processor inside of it, which allows the device to perform graphically much better than its rivals. Moreover, it doesn't have an extra number pad on it, which means that this machine makes full use of the available real estate.
The battery life is also at par with other laptops in the same price bracket. You can easily get around 4-5 hours of use from each charge. Additionally, it has an anti-glare coating on the screen to reduce eye strain.
Even though it's not a high-end model, it features an SSD drive, which should tell you that this laptop makes use of less power to function.
Furthermore, the laptop's keyboard is good enough to boost your typing speed naturally. Moreover, the fingerprint sensor on this laptop makes it a breeze to lock/unlock the device without having to remember the passwords.
Better still, this laptop takes far less time than other equivalent models to restart once switched off. Seriously, the booting time is less than ten seconds. The screen resolution is impressive as well, enabling you to view images, videos, and text with more sharpness and clarity. Not to mention that this best 14-inch laptop is easy to carry due to its small size.
Pros
Laptop weighs only 1.60 kg
Comes with 8GB RAM (upgradable)
Has slots for storage expansion
Fingerprint sensor works very fast
Hinge mechanism looks promising
Good enough viewing angle
Battery charge time is short
Wi-Fi and Bluetooth compatible
Price point is pretty reasonable
Cons
Lacks a backlit keyboard
Little thicker in person
2. HP 14 Core i3 7th gen 14-inch Laptop
The HP 14 Core i3 7th gen 14-inch Laptop is a good laptop for students and office goers who are not interested in dropping a lot of cash towards laptop purchase. Keep in mind that HP hasn't cut corners to keep the cost of this laptop low.
With HP 14 Core laptop, you get i3 7th gen processor, 8GB RAM, 256GB SSD, original Windows 10, Jet Black, and MS Office, all combined in a lightweight unit.
As you can tell, this isn't any other dinosaur-dated lackluster laptop that's loaded with faulty features to make it an affordable commodity.
Good product configuration aside, the laptop looks great too due to its sleek and smooth product design. The best part is that it boots up within a few seconds with no lag. In fact, it doesn't lag, even when you are multitasking, which you don't often witness in other budget laptops.
Distinctive Features
The construction quality of this HP 14 Core Laptop is up to the mark. As a result, you won't feel scared to carry it around.
The battery life is satisfactory as well. On medium brightness, you can expect the battery to last for 6 to 7 hours without any issues. Moreover, the battery can be recharged to 100% in less than an hour. Not to discount the fact that this thing also supports 5k videos. Both the Bluetooth and Wi-Fi reception are fantastic as well.
Plus, this device doesn't heat up like other budget-friendly laptops sold nowadays. Additionally, the makers provide a one-year warranty on this HP laptop. So, why pay for technical issues, when the company has your back covered?
Bear in mind that all the extras, such as the MS Office, Windows 10 come with lifetime validity, of course, without any charges. So, the value for your laptop money is definitely there.
The best part is that this device is fast enough to run many programs at the same time (of course, not games).
The speakers are also great for the product's price range. For home use, college use, or normal office routine work, you would be hard-pressed to find an equally good laptop in its price range. By all accounts, the makers really need a pat on their back for developing such as well-rounded laptop at a budget price.
Pros
System is reasonably good (boots fast)
Has a premium look to it
Pretty good battery back up
Camera quality is very decent
Phenomenal performance for the price
Works without the annoying fan sound
Light and travel-friendly laptop
Carrying bag is supplied for free
Cons
Not suitable for gaming
Backlit keyboard is missing
Laptop packaging needs improvement
3. Dell Vostro 3480 14-inch HD Laptop
To derive great value proposition for your laptop money, the Dell Vostro 3480 14-inch HD Laptop should be a no-brainer choice.
Right from the price, design, weight, and product specs, Dell has been able to hit the nail with this affordable HD laptop.
For instance, the display is good, the performance is fast, and the battery life is better than average.
Of course, the product's price is another impressive thing about this Dell laptop that has attracted a lot of value-seeking audience towards this product. Frankly speaking, the Dell Vostro 3480 Laptop is one of those electronic devices out there that will work well beyond your expectations. It truly serves its intended purpose very well for its price range.
Distinctive Features
At its core, the Dell Vostro 3480 14-inch HD Laptop has intel i3 8th generation processor, which is ideal for day-to-day computing activities, such as web browsing, MS Office work, and other college, or office projects.
Additionally, it comes with 4GB RAM, 1tb hard disk, and Windows 10 to deliver smooth and fast performance on any given day of the week. Consequently, this thing doesn't lag when you open multiple apps/tabs. Of course, the performance of this laptop can be enhanced further by simply upgrading the RAM to 8GB. Yes, this laptop offers scope for RAM up-gradation up to 16GB.
Keep in mind that no other laptop manufacturer dares to offer such product configuration at this product's price bracket.
Better still, the keyboard on this device is not of poor quality or substandard like other budget-friendly 14-inch models out there.
It also has good speakers and camera for regular use. The most intriguing thing about Dell is the team's highly caring and professional customer support team, which can't be matched by any other rival company. Truth to be told, Dell strives to do everything possible to keep their customers happy, at all times.
Pros
Easy to use, carry, and store
Has sufficiently good keyboard
RAM can be extended up to 16GB
4 to 5 hour of battery life
Fantastic screen viewing angle
No heating issues like other brands
Highly responsive/fast fingerprint sensor
McAfee security is included for free (15 months)
Cleaning gel and manual are thrown in for free
Cons
Lacks dedicated keys for both Page up/down
4. Lenovo Ideapad S340 Intel Core i3 10th Gen Laptop
For those who can afford to stretch their laptop budget a bit more than usual can roll the dice on the Lenovo Ideapad S340 Intel Core i3 10th Gen Laptop without any second thoughts.
Even though it costs more, it's a trending product in its category, which should tell you how remarkable this laptop really is. To begin with, it's blessed with good looks. Furthermore, it's built with backlit keys, and it has a battery backup of 7 plus hours.
Moreover, this laptop shuts down and boots in less than five seconds. It can even play and stream HDR and 4k content. Better still, it doesn't have a noisy fan like other comparable products. It's also really nice and small, allowing you to easily haul around.
Distinctive Features
With Intel Core i3 10th Generation processor, 8 GB RAM, FHD IPS, and 256GB SSD, this Lenovo laptop is designed to rock right out of the box.
It also comes pre-installed with Office 365 student 2019 lifetime version.
Moreover, the battery on this machine doesn't take light-years to charge. Unlike the competition, it charges fast, even when you are simultaneously working on the laptop. As you can tell, this laptop comes with all the necessary hardware and software to deliver a powerful performance without any hiccups. Not to mention that the laptop is covered by a genuine one-year warranty against manufacturing defects.
What's also worth bringing to your notice is that this laptop weighs only 1.55kg, which should tell you that it's one of the most portable 14-inch laptops available today.
It's so thin and sleek that it may seem to you that the laptop may have been dieting for a while. Moreover, the sound on this laptop is theatre-like. Credit for this goes to the Dolby Audio that optimizes the sound of this device like nobody's business. Thus far, the majority of the reviews for this Lenovo laptop are also positive. Seriously, people have been recommending this laptop to others without any hesitation because of how good it is.
Pros
It's a well-crafted lean machine
Screen quality is simply awesome
Audio quality is up to the mark
As advertised, the display supports 4k
Comes with adequate ports and CD drive
Nice and attractive keyboard layout
Thin, light, and easy to hold/carry
Cons
Product packing is not so good
5. HP 14-inch Core i5 8th Gen FHD Laptop
The HP 14-inch Core i5 8th Gen FHD Laptop is a nice mid range laptop that's highly suitable for web browsing, light programming, normal editing, or studying notes.
The laptop's product specs will tell you that it's a few notches better than other laptops available in its price segment. Yes, this thing performs much faster than other comparable laptops because of the included SSD drive.
Believe it or not, the boot time is less than 5 seconds. Productive tasks aside, you will also be able to play basic games on this laptop. Not to mention that this HP FHD 14-inch laptop consumes less power, produces less heat, and runs whisper quiet.
Moreover, the Windows Defender on this device is good enough to keep your laptop protected from objectionable stuff.
Distinctive Features
Talking about the storage and ports, you get 4GB RAM, 256GB SSD, 1 USB 3.0, 2 USB 2.0, 1 headphone jack, 1 Ethernet, and 1 SD card reader.
Also, the i5-8265U processor on the machine is highly power-efficient, allowing this laptop to perform better than other laptops with i5 8th gen processor.
To save power, the device can also be put on Suspend mode when it's sitting idle. The battery life of this HP FHD laptop is fantastic too. At full charge, you will be able to watch Netflix on full brightness for 5-6 hours at a stretch. As marketed, this laptop truly works like a charm.
To sweeten the deal on this laptop, the makers have included a one-month free subscription of McAfee. Keep in mind that you won't have to go out of your way to get Windows 10 installed on this laptop. It comes with an already activated Windows 10 Home Operating System.
The laptop also carries a solid one-year warranty.
Furthermore, most reviewers have commented that they have received the product on or before the promised day.
In all seriousness, this laptop truly lives up the HP's brand name from all fronts. Therefore, you can consider this lean machine without any reservations, knowing that your days won't be filled with grief afterward.
Pros
Due to SSD, it performs like a rocket
Surprisingly good boot up time
Minimal weight for easy carrying
Hardly any lag during normal use
Laptop body is not easily scratchable
Texture surface offers a good grip
Suitable/comfortable for daily use
Good brand backing and warranty
Cons
You get only 720p resolution
Memory slot not expandable to 16GB
6. AVITA Cosmos NS14A1IN502P 14-inch Laptop
A relatively new entrant in the laptop industry, the AVITA laptop has garnered a lot of eyeballs from value-seekers in a relatively short amount of time.
Featuring a good metallic body and HD screen, while being lightweight and durable at the same time, this 14-inch laptop is a beast in its own rights. Seriously, it has an awesome product configuration to it, and it performs really fast like other laptops in its price spectrum.
It can handle slightly heavier processes too. The Wi-Fi also works as advertised by the makers. The best part is that the slim laptop carries a two-year onsite warranty to put your mind at ease.
Distinctive Features
The AVITA Cosmos NS14A1IN502P has a 7th Gen Intel Core i5-7Y54 processor, 8GB RAM, and 256GB SSD inside of it.
The sides of this laptop bear a charging port, mini HDMI port, headphone jack, USB, and card slot.
Moreover, the laptop looks premium both from the front and the sides. On the top, the makers have etched AVITA for branding purposes, which isn't an eyesore at all.
The laptop also has a larger than usual track pad to improve functionality. As marketed, the track pad responds really well. As a result, you won't have to click too many times and waste your time in the process.
Bearing a very functional design, it's also easy to carry the laptop on the go. This sleek laptop will effortlessly fit into your smaller laptop bags.
The screen is sharp and clear too. The viewing angle is accommodating as well. You will truly enjoy watching videos on this well-made laptop.
Moreover, this machine won't heat up, even over continuous use. Above all, the battery on this AVITA laptop will last for 4-5 hours. If you are clear about your expectations and uses from this laptop, there's no way you will be grief-stuck from the deal.
Pros
Windows 10 is preloaded
Looks similar to a Mac book
Highly functional design
Features full HD screen
Doesn't overheat during use
Less price than other similar models
Cons
Processor is a bit old
Lacks an exhaust fan
7. Acer Swift 3 SF314-57 14-inch Notebook
The Acer Swift 3 SF314-57 is a good all-round laptop that's worth every dime you spend on it. As marketed by Acer, it looks beautiful, and it delivers a solid performance, which means that it's good both from the inside and outside.
Basically, it does everything that you would expect from a top-grade laptop in its price range. Of course, the device won't cook breakfast for you. Basically, you will have to keep your expectations real so that you don't end up with buyer's remorse. It's fine for YouTube, Netflix, and everything, but don't expect to do highly demanding tasks on it.
Distinctive Features
Featuring an aluminium body, this machine weighs only 1.19 kg. To give it more character of its own, it also has a nice textured finish to it, which you often see in high-end laptops.
Given the material used in the build, it's not too tall or thick. On the contrary, it's pretty thin, sleek, and stylish, making it easy for you to carry around without any fuss.
The port choices on this device are also decent for a notebook-style laptop.
Moreover, this laptop is fast enough to let you log in less than 5-6 seconds. Keep in mind that Windows 10 is available on this device.
Other product specs are also spot on. For instance, the makers have used a standard keyboard on this laptop, leading to comfortable typing with less errors, even at high speed. The keyboard travel is just right to offer a very satisfying feel when typing on it.
Plus, you can expect 12-13 hours of use from each charge, which is absolutely phenomenal. And, it charges back to full 100% in less than a couple of hours.
Better still, the temperature of this machine stays under control, at all times, which means no heating issues, even over prolonged use at a stretch.
Pros
Compact and lighter laptop model
Nice and impressive built quality
Doesn't have sharp edges
Comes with DDR4 RAM and 512 SSD drive
Offers full HD 1920 x 1080 display
Looks fantastic in steel grey color
Cons
High-end model, so it's a bit expensive
8. HP 14 Core i3 7th gen 14-inch Thin and Light Laptop
For anyone looking for a remarkably good entry-level laptop for routine use, the HP 14 Core i3 7th gen Laptop is worth all the attention.
Designed with no flaws or manufacturing defects, this slim machine is apt for the needs of students, office persons, and home users. It will meet one's requirements for both entertainment and work purposes without any difficulty.
Also, this laptop is perfectly sized for a 14-inch model. The keyboard layout and the sound quality are great as well. Moreover, this device arrives in top condition due to the rugged packaging. The laptop set up process is a walk in the park too.
Distinctive Features
With 4GB RAM and i3 processor, it may not be an ideal device to do a lot of multitasking. But then, the laptop offers room to upgrade its memory. You can add an 8GB RAM to enable the laptop to support most tasks without hanging in between.
The booting time of this laptop is also satisfactory. Not to mention that the anti-glare screen on this device causes less strain on the user's eyes, allowing one to be productive for longer hours than usual, of course, with reduced strain.
For the most part, the laptop runs very smoothly with very little heating, even over extended use at a stretch.
Even though it's not a gaming laptop, it can also handle basic games without any issues. Of course, this machine doesn't work at a tortoise speed.
Given the product specs, it performs most tasks at a reasonably fast pace.
Above all, this laptop weighs only 1.59 kg. Therefore, you should have no trouble carrying it around. Most people who have expressed their views on this laptop have stated that they truly love this 14-inch laptop for what it is, which should tell you that this all-rounder laptop will truly live up to its promise.
Pros
Can survive a bit of rough use
Charges fully in 45 minutes
4GB RAM for improved performance
Windows 10 is a part of the deal
High-performance storage of 1TB drive
Better than average speaker quality
Good for both school and office use
HP support is also impressive
Cons
Not meant for intense gaming or coding
Final Words
Hopefully, you are armed with enough information to make a decision right away, which, of course, won't cause you investment grief, because these 14-inch laptops are truly a cut above the rest. Happy laptop shopping!