Nowadays, many brands are strongly competing for the best 24-inch monitors in Indian market. For viewing, working, or for any other necessary purposes, a 24-inch monitor is most convenient, even though larger 27-inch monitors are very common. Especially among professionals requiring ultrawide screens and even some prefer bigger panels for media consumption. It is subjective decision but still 24 inch screen size is what the majority consumers go for.
The distance between you and your screen plays an important role for deciding screen size as well as resolution. As most of the users sit pretty close to their screens, 24 inch is the perfect size and anything bigger than that, might be problematic for their neck and spine.
Top 10 24-inch Monitors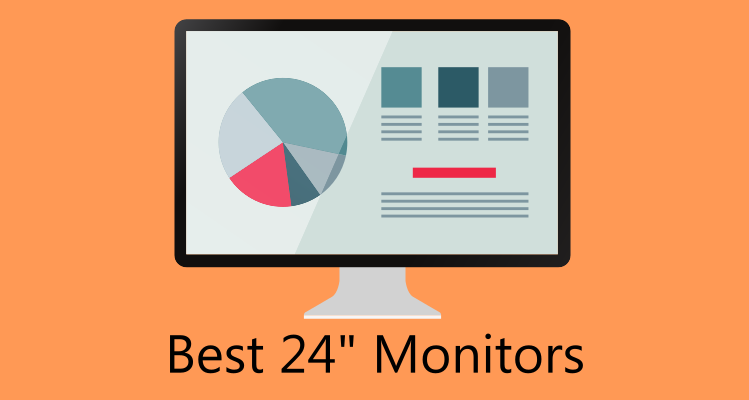 In this list you will get to know the best available 24″ monitors in market. And hopefully select the perfect one for you. So let's get started:
1. Dell P Series 24-inch Full HD (1080p) LED Monitor P2419H
Dell's P2419H is a modern display for workplaces that will not break the bank. It does the job with its Full HD resolution and 24″ screen size to deliver sharp to read text and visuals.
The In Plane Switching technology helps you enjoy wide viewing angles and good color reproduction. The elegant, thin design enhances the aesthetics of your preferred workspace. Dell provides blue light filter feature along with the anti glare technology support; so that there are no disadvantages in the long run.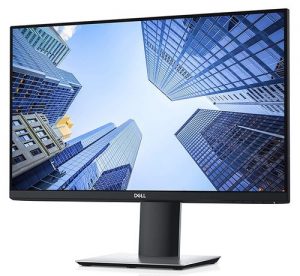 This monitor has a maximum brightness of 250 nits, contrast ratio of 1,000:1, 178° viewing angle, and a color depth of 8 Bit. You can tell the difference of the color reproduction when you examine this display in person.
You could rely on this one for major multimedia consumption along with color grading and stuff with the help of the 97% sRGB color gamut coverage.
Power cord comes included in the deal with these connectivity ports: HDMI 1.4, DisplayPort 1.2, and VGA. You do get sufficient USB 3.0 ports too for modern day requirements and fast data transfer.
Summing that up, there is nothing to complain about this 24-inch monitor for the price and features it comes with.
Pros
Ergonomic design
Anti glare IPS Panel
Rich connectivity options
Wide viewing angles
Cons
No built-in speakers
No headphones jack
2. Samsung 24 inch IPS Bezel Less Flicker Free Monitor (LF24T350FHWXXL)
Samsung is a well-known brand in the world of TV and monitors. This model LF24T350FHWXXL is a quality 24-inch monitor from Samsung, which comes with a minimalist and elegant design.
The 3-sided borderless panel provides your working space with a clean and modern look. This could be a very good option for multi monitor setup on a strict budget to follow. With the wide viewing angle support and impressive color reproduction, you could sit at almost any angle to enjoy vivid and immersive visuals.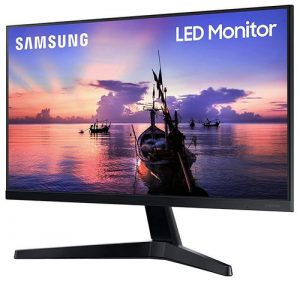 In order to reduce the image tearing, AMD Radeon FreeSync keeps the display and card rate refresh in line. Consume essential media and enjoy games uninterrupted.
The advanced visual comfort system eliminates any strain that might occur on your eyes due to operating for long hours. Flicker-Free technology constantly eliminates distracting and tiring flickering displays, while Eye Saver Mode eliminates blue light released. Basically, this is an easy choice for anyone who has to keep themselves focused for long hours.
The refresh rate of 75Hz offers more fluid scenes. Nothing is lagging or ghosting, regardless of whether you play story modes or first person shooters.  It's made possible by the low response times and freesync support paired with the flicker free technology. Both HDMI and D-sub ports allow for full versatility to connect several devices straight to your monitor. It's an easy to recommend monitor for under INR 10000 budget. This one does what it is expected to do at this price.
Pros
Thin Bezels
AMD FreeSync
IPS Panel
5ms Response time
75Hz Refresh Rate
Cons
Stand does not support height, swivel and pivot adjustments
Not wall Mountable
3. Lenovo 23.8-inch FHD Ultra Slim Near Edgeless IPS Monitor (Q24i-10)
The Lenovo Q24i-10 monitor offers the ideal balance between sleek elegance, robust entertainment, and gaming. Features such as AMD FreeSync allow for immersive gameplay, and you can have hours of fun without straining your eyes, thanks to TÖV Eye Comfort technology.
The Lenovo Q24i-10 offers a broader kit of all the same conveniences that are provided by Lenovo 27q. This IPS monitor is 23.8″ and comes with 1920x1080p resolution. Its similar to the QHD sibling, however, the Q24i is 6.9mm thick and has Near Edgeless bezels. As it's VESA mount compliant, you could either pair a monitor arm for numerous benefits that come along it. Or, you can mount it on your wall if you want to.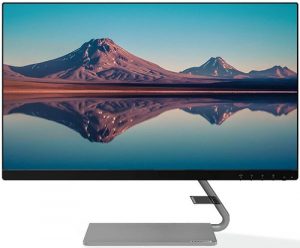 It has a built-in cable-holder and a stunning iron-gray stand on the same stand as the 27q. The very first time you get to look at this monitor in person, you might fail to keep your eyes away from that unique stand design.
It comes with 75Hz refresh rate so that you're above that standard 60Hz. To boost this up nicely, it features 4ms of response time and AMD Freesync support. This ensures that you get the smoothest possible experience at 75Hz.
In addition to the specification, TÜV Rheinland Eye Comfort Certification is one of the leading sales features of the Q24i Monitor. TÜV Rheinland Eye Comfort Certification eliminates the material, blinking, and reflection of blue light. It also provides consistent image clarity from multiple angles, requiring a high-quality IPS or VA panel. TÜV Rhineland experts are testing safety and quality monitors in Europe, the United States, the United Kingdom, and Hong Kong to apply international test findings.
Lenovo Q24i-10 supports a wide range of 16.7 million colors for vivid and vibrant visuals. 16:9 ratio enables widescreen viewing. This will make your movie watching or game sessions more engaging and immersive. Built-in audio will help you to keep your desk clutter-free and very minimal without the need of having any external speaker system. As the built in speakers are decent and does the job.
There are HDMI, VGA, and audio ports integrated for connectivity to make sure you can easily connect any pc or laptop. Overall, it is an exciting 24-inch monitor which blends aesthetics and performance pretty well.
Pros
Elevates your whole setup aesthetics
Nice color reproduction
Blue Light Filter for eye care
IPS Display with 75Hz refresh rate
Cons
Not wall mountable
Built in speakers are decent
4. Acer Nitro 23.8-inch Full HD IPS Gaming Monitor (VG240YS)
Acer's VG240YS is the first gaming monitor in this list. With its all plastic build the brand has made it possible to get those features for a impressive price tag. Regardless of the plastic build it does not feel too cheap. The design is elegant and really captivating in person. The 23.8″ is not entirely different than a 24″ panel, however it provides even better pixels per inch.
Acer offers wide 178° viewing angles with accurate and rich colors, which cover the standard sRGB color space and 8-bit color depth (6-bit + FRC), based on the IGZO TFT IPS panel from PANDA.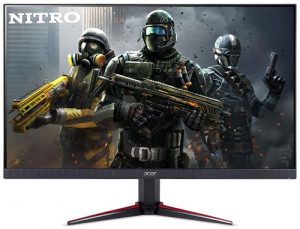 Other panel requirements include an IPS standard display at this price line with the 1000:1 typical contrast ratio. The maximum brightness of 250 nits may appear low on paper. However the screen is bright enough for room with ample light.
It does not takes much of your desk space so that you get to use the most of your table. Furthermore, the bezels on the screen are small compared to what you might end up with any other gaming monitor in this price bracket.
The backlight of the Nitro VG240YS is not modulated in PW at any luminosity level. With the help of this characteristic, you can work for long hours at ease.
This monitor supports AMD FreeSYNC in both HDMI and DisplayPort with a 48-144Hz variable refresh rate (VRR). FreeSync dynamically alters the monitor's refresh rate to the GPU framework rate within the VRR range, eliminating screen tearing and stuttering with almost no input lag (~1ms) penalty.
NVIDIA does not certify it as a G-SYNC compatible monitor but you could always use the adaptive sync to make sure you do not compromise with your experience due to a different graphic card. Overdrive could not be used when freesync is enabled. However, the extreme overdrive option produces noticeable ghosting due to which normal overdrive is recommended.
Two HDMI 2.0 and a single DisplayPort 1.2 input is what you get in the connectivity options with this model. All together, it is a very good option to consider if you're looking for a 24 inch gaming monitor.
Pros
AMD FreeSync
Value for money
0.5ms response time
Ergonomic design
Cons
Can't use overdrive mode when FreeSync is enabled
Speakers are average
5. LG 24-inch Full HD AMD Freesync IPS Monitor (24ML600M-W)
A remarkable amount of output is packed into its basic design; this is your classic looking monitor which would not let you down. The given stock stand does not include any height, tilt, swivel or pivot adjustment support. So, you might have to adjust according to the fixed position of this display.
The AMD FreeSync technology prevents image tearing, works with Dynamic Action Sync and Motion Blur Reduction. It offers crisp and appealing quality which makes it unique in its price range. The IPS panel has Full HD resolution, 5ms response time (1ms with Motion Blur Reduction), with a refresh rate of 75Hz. It makes a panel worth considering before finalizing the best one.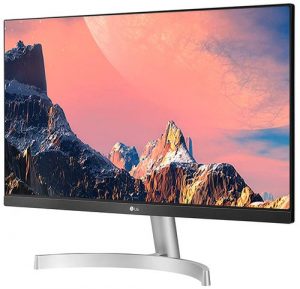 The LG 24ML600M-W is a 24″ FHD IPS, has nearly borderless configuration on three sides(except bottom), AMD FreeSync, dual HDMI ports, and an aspect ratio of 16:9.
This monitor has 178° vertical and horizontal viewing angles, as with most IPS monitors. The screen should be ideal for most brightness conditions with a contrast ratio of 1000:1.
The stand on which this display sits is enclosed in plastic, but the actual frame supporting it is made of metal, so keeping this panel intact would not be difficult. It weighs approximately 3kg.
The connectivity options included with this 24-inch monitor are one VGA input, two HDMI inputs, and a 3.5 mm audio output port. These may sound limited but are justified for the price. Considering all of it, this monitor suits well for readers seeking something easy to operate without worrying much about technical terms. When you add the reliability the brand provides, it becomes a worthy deal.
Pros
Budget-Friendly
Nice IPS Full-HD Display
Wall Mountable
AMD FreeSync
On-Screen Controls
Flicker-Free
Cons
No Gsync support
No DisplayPort
6. Acer 23.8-inch IPS Full HD Ultra Slim LED Monitor (SA240Y)
SA240Y is UltraThin monitor with a smooth frameless view with ZeroFrame design. This is not just about that sleek design as apart from that the stock design includes the tilt adjustment functionality. It's a simple and practical design, which makes it easy to use.
The Full HD resolution delivers crisp and consistent picture clarity. This model comes with a 16.7 million colors to display, it can be used for both productive tasks and entertainment. Acer SA240, which has an IPS display resulting in high visual quality with wide viewing angles and accurate color reproduction. This one has a contrast ratio of 1000:1 and a peak brightness level of 250 nits.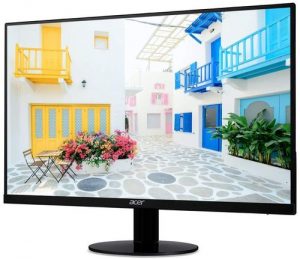 This monitor also has AMD FreeSync, which is available on most of the monitors in this price range. FreeSync helps to get the best visual experience. This will eliminate the screen tearing and stuttering as long as your FPS is within the 40-75 dynamic refresh rate range. FreeSync enables the display to automatically and continuously adjust its refresh rate with the graphics card's capability. To allow this, you just need to turn it on manually in the OSD settings.
The SA240Y comes with two 2W speakers for audio, which will complete the package for it's buyers. This monitor comes with several in house features from Acer, which are very useful ones. Acer Flickerless technology prevents screen flicking. And it's ComfyView technology lowers the amount of illumination on your panel in different environments to enable more convenient usage experience. AcerVisionCare combines many technologies to reduce eye pressure and to make the watching process more convenient.
This model comes with a VGA and 1 HDMI port for connectivity options. They are pretty limited but sufficient for basic everyday usage. For the price, it's offerings are truly justified.
Pros
Budget-Friendly
Eye Care technology
Flickerless
2W in-Built Speakers
FullHD IPS Display
AMD FreeSync
75Hz refresh rate
Cons
Speakers sound average
No Display Port
7. HP 23.8-inch Ultra-Thin Edge to Edge LED Backlit Monitor (T3M79AA)
Coming from a reputed brand of this industry, this monitor has been on the best selling charts for a while now. And it surely is a deserving one. This is a general use monitor which can be used for browsing, watching movies or even as a TV. This monitor comes with a bezel less frame which will surely deliver immersive experience. HP has used high strength and lightweight metal which made it one of the thinnest LCD displays from the brand at the time of the release of this model.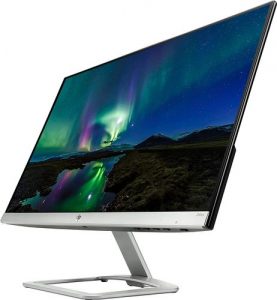 This monitor comes with several inbuilt features like HP enhance+ improves the image quality by reducing the noise and making the picture look crisp. HP My Display Smart Software helps you to partition the screen in order for several device windows to be open at once(split screen).
This monitor has a 72% color gamut coverage which is decent for basic usage. With a contrast ratio of 1000:1, it displays rich colors appropriately. While 250 nits brightness might sound low, it won't bother you if you are a simple user without direct sunlight on your panel. The monitor comes with an anti glare layer on the panel making sure you get rid of the glares and reflections from any shiny object or light falling on the panel.
HP 24es comes with a VGA and 1 HDMI(with HDCP support) connector for connectivity department. All together, this monitor is worth to check out before making your purchase.
Pros
Minimalistic Design
Easy Installation
IPS Display
Vivid and accurate colors
Cons
No Display Port
No FreeSync support
8. LG Ultragear 24-inch 144Hz 1ms Full HD Gaming Monitor (24GL650F)
LG UltraGear 24GL650F is an excellent 1080p, 144Hz TN display with outstanding gaming potential. The response time is excellent and leads to consistent motion, a black frame injection to minimize motion blur, a slight input lag, and a quick refreshing rate. Stock stand offers height adjustment which is a plus to have. It provides good overall image quality, decent viewing angles, outstanding grey uniformity, and fantastic precision out of the box.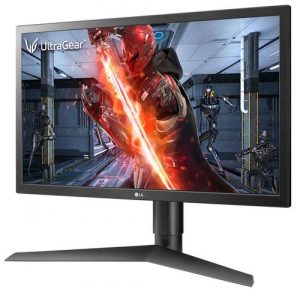 Unfortunately, it doesn't appear as fine in low light instances comparatively with other monitors since there is a poor contrast ratio. Black is not much deep and rich. Since this is a TN panel, it gives you the joy of fast response times and high refresh rate but it comes with a cost of color reproduction and viewing angles. However, this is not like the normal TN panels and performs better than them. But still it is not comparable to an IPS in terms of color accuracy and viewing angles.
The LG 24GL650F has the same sleek style as the other UltraGear monitors, which makes it more fun than gaudy choices. The monitor has a clever, matt black finish that feels good to touch in some subtle areas of the screen, along with the streaks of color. The plastics used are thick and robust, and the monitor does not contain any cosmetic imperfections. It is also stable once supported on a desk, so no accidents or something similar should be involved.
There is enough brightness levels of 300 nits which are sufficient for even setups facing direct sunlight. The contrast ratio is 700:1(minimum) and 1000:1(typical). These are decent for everyday usage but not great for vivid deep color reproduction.
This monitor comes with AMD FreeSync, which will help give you a smoother experience while gaming. Although, it does not comes certified officially with Nvidia G-sync. Adaptive Sync is the way to go if you have or are planning to use an Nvidia graphic card with this monitor. With a response time of 1ms, competitive games can be played very easily without any drop in performance in modern day eSports.
This monitor comes with 2 HDMI ports, 1 Display Port and a Headphone out port. They are sufficient for modern requirements. It packs a lot of value for sure. You should check it out before making your final choice.
Pros
1ms Response Time
144Hz Refresh rate
Anti Glare coating support
AMD FreeSync
Ergonomic Design with versatile stock stand
Cons
Average Color Reproduction
No Gsync SupportTN Panel
9. BenQ GW2475H 24 inch IPS Eye-Care Full HD 1080p Monitor
If you are looking for a new monitor, then BenQ must have come to your mind as it is one of the most reputed monitor brands in the Indian market. This one has a sleek design with textured finish. Stand is basic and does not let the monitor wobble easily. It lacks adjustability options but that is acceptable at the price point.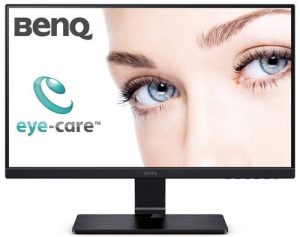 A good pixel density is made possible with Full HD resolution on a 23.8″  BenQ GW2475H panel, ensuring details are transparent and vibrant with best possible amount of screen space. In addition, there is a splinter-free backlight on the GW2475H's display, and an active filter against harmful blue light. Four modes are available, including multimedia, web surfing, bureau and reading.
BenQ IPS monitor GW2475H also has a 5ms fast reaction time (GtG) that makes sure that moving objects in video games and films are not prominently visualized and tracked. You can set the 'high' or 'premium' option for the best response times for gaming from the OSD (On-Screen Display) menu. This model of BenQ provides broad 178-degree viewing angles that guarantees uniform and accurate color, luminosity and contrast ratio throughout that wide range.
The special brightness intelligence technology is what makes the BenQ GW2475H stand out from its competitors in the market. Brightness Intelligence technology incorporates an embedded sensor to tweak the monitor brightness automatically through environmental illumination. Not only this makes sure of efficient consumption of electricity but is also better for eye care. The sensor's sensitivity can be adjusted in the OSD menu, or the feature can be turned off anytime you want to. Additional features include pre installed presets known as films, video, photos, sRGB, eco, default and consumer; accessible from the monitor settings.
It also has a nice cable management system, which is useful to hide the cables form back side of the stand. Vesa mount is also compatible, which is a big plus to mount this on wall or connect a monitor arm.
Connectivity options include HDMI 1.4, VGA, and DisplayPort 1.2 that are not commonly available at the price range. A headset jack and two 1W built-in speakers are also available in this model. This is an amazing deal for anyone looking for a 24-inch monitor for normal usage involving multimedia consumption, programming, etc.
Pros
Slim Bezels
Wide Viewing angles
Flicker-Free
Low Blue Light
Built in Speaker
IPS Display
Cons
Stock stand does not allow to make much adjustments
Speakers are average
10. HP EliteDisplay 23.8-inch IPS Anti Glare Full HD Monitor (E243)
The E243 is a compact, matte silver model with a slender frame and versatile monitor. The LED-Backlit IPS monitor with Full HD resolution shows crisp and rich visuals. It is boosted with a refresh rate of 60Hz and a response time of 5ms. It is not recommended for professional gaming, but it is ideal for business and other workplace environments.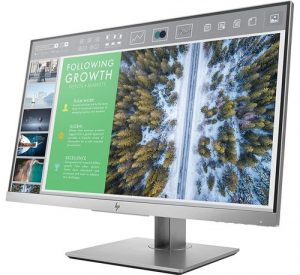 The luminosity, colours, and contrast can be managed using the given buttons in the bottom right with a peak brightness level of 250 nits. The 3-side micro-edge bezel gives a modern look to the monitor and immersion to you.
The ergonomic architecture makes a seamless joint for multi-monitor display. When it's dark, you can use the blue light filter feature to reduce strain on eyes. Pivot adjustment is supported making your excel sheets and programming easy to operate. The base weighs good to make it sturdy; eliminating any possible wobble. The build quality makes sure of the physical longevity of this product.
The monitor provides a healthy daisy chain alternative and contains the necessary cables to pair a new monitor, including a power supply, with the first monitor. So, you don't need to plug it separately if you want to use two displays. It's VESA mount compatible. You could easily find your best viewing angle with the adjustability options provided by the stock stand.
There are plenty of connectivity options, 4 USB ports, 1 HDMI port, 1 DisplayPort Out, 1 USB C with power delivery (65w), 1 VGA, 1 3.5mm audio, and one-off, one LAN connector, 1 High-Speed USB port. If you pack it all together, it's a fair deal with good value included.
Pros
Built-In Webcam
Elegant Design
Anti-Glare Panel
5ms Response Time
Thin Bezels
Cons
No Built-in Speaker
Wire Management system is not good