Gaming at 4K resolution has always been quite the task as it requires not only a powerful system but also a good monitor to output the image.
Now is a better time than ever to game at higher resolution especially due to the advancements in display tech and great budget offerings from different brands.
Higher detail levels in a game makes it more realistic, immersive and engaging. Gaming with bigger displays at lower resolutions is not ideal as the pixel sizes become big enough. You could easily make out individual pixels when you sit close enough to the monitor due to the lower PPI (Pixels Per Inch) which leads to less immersive gaming experience. However, when you have a higher resolution like 4K (3840 x 2160) there is a significant increase in the pixel density which is noticeably especially when you sit close to the monitor.
Console and PC gamers together embrace the increased details provided by 4K resolution. It is harder to go back to lower resolutions like 1080P once you try 4K gaming. The detailed visuals in combination with higher frame rates lead to almost perfect gaming experience apart from the 8K gaming that lies far in the future.
In this list, we cover the best gaming 4K gaming monitors in the Indian market for every price range. So, do not worry about being left out due to your budget constraints.
All that said let's get on with the top 4 monitors for gaming.
Top 10 4K Gaming Monitors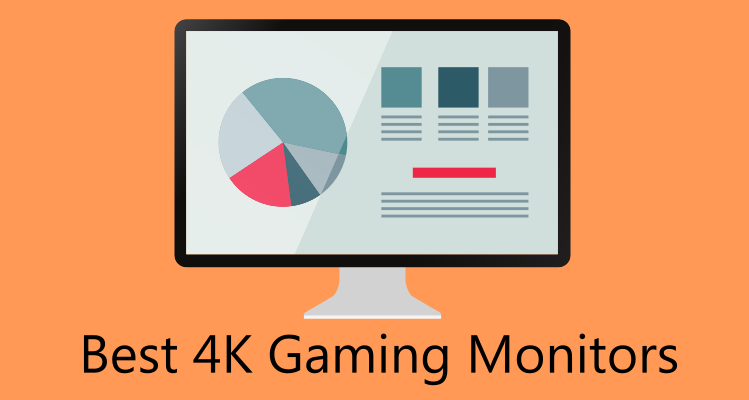 1. BenQ 28-inch UHD 4K HDR Console Gaming Monitor – EL2870U
The EL2870U from BenQ is one of the budget 4K monitors around. It is the most recommended 4K gaming monitor for people on a budget as it comes with a lot of features at a reasonable price. BenQ is also a reputed brand with gaming monitors which is a selling point over other brands. The stock stand only allows for minor tilts and does not allow for any other adjustments. This is easy to fix by attaching monitor with a VESA mount.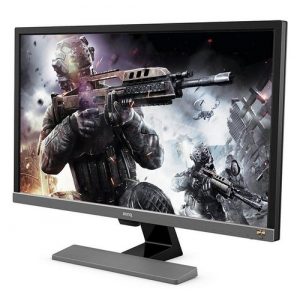 The design is pretty outdated as it comes with quite thick bezels which some might find annoying. It is an industrial looking monitor without any frills.
EL2870U uses a 28-inch LED TN panel similar to the Asus PB287Q. This means you get very low response times of a TN panel at 1 ms which is great for gaming but you compromise on viewing angles with a bit of off axis colour shift.
It supports HDR10 for media consumption with AMD FreeSync support for tear free gaming. 300 nits of brightness should be fine for indoor use and the contrast ratio is at 1000:1 which is good for a TN panel but it might not be enough for HDR content. The monitor is also colour accurate covering 100% sRGB.
On the connectivity front it comes with HDMI 2.0 and DP 1.4 for connecting with multiple devices. The built-in 2W x 2 stereo speakers do the job fine for casual listening sessions. BenQ also provides 39 months of warranty.
The BenQ EL2870U is a good option to go with if you are planning to start 4k gaming and cannot spend a lot.
Pros
Good contrast level
HDR10 support
100% sRGB coverage
1 ms response time (GTG)
AMD Freesync support
Good brightness levels
Cons
Subpar viewing angles
60Hz refresh rate
Outdated design
2. LG 27 inch 4K-UHD (3840 x 2160) HDR 10 Gaming Monitor – 27UL500
The 27UL500 is on the bestselling list for a reason, which is the simplicity and value it provides. Though the primary focus of the monitor is not gaming it does the job well for casual gamers as well as designers and editors. It has a minimalistic design that is appealing with little branding at the chin.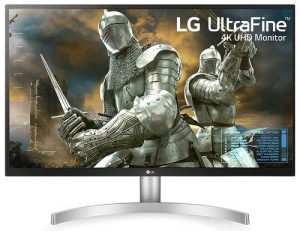 Stock stand just allows minor tilt and no height, swivel and pivot adjustments. Those might be insignificant if you plan to use the 100×100mm VESA mount. The U-shaped base might be a problem as it tends to wobble a little.
For the display, it has a 27 inches 60Hz IPS panel. You do get the HDR 10 support and around 99% of sRGB coverage for colour accuracy. LG even has provided the factory colour calibration so that you get the intended profile out of the box. It also comes with black stabilizer and different colour profiles for different genres of games.
It lights up pretty bright typically at 300 nits but could go as low as 240 nits whenever you want. The lowest response time is 5ms which might result in ghosting and smearing in fast paced games. The 3H anti glare coating is supposed to minimize the reflections from external light sources. For tear free gaming experience at 60fps you have AMD Freesync support too.
LG provides 2 DisplayPort, 1 HDMI and 1 Audio jack with this monitor and the warranty period is 3 years. It is a pretty well-rounded 27-inch monitor for casual gaming and content consumption alike. One should definitely consider this before making their final decision.
Pros
IPS panel
AMD Freesync support
Amazing minimalist aesthetics
HDR 10
98% sRGB and 10-bit colour depth
Factory colour calibrated
Decent brightness level
Intuitive OSD
Cons
Wobbles little bit
60Hz refresh rate
High response times
3. Acer Nitro VG280K 28 inch UHD 3840×2160 Resolution Gaming Monitor
Acer returns once again with its nitro brand of gaming monitors and does a pretty good job of providing nice specs for the money. Design of the monitor is excellent. The design does not look cheap and can be mistaken for a more expensive monitor. It comes with extremely thin bezels on all three sides except for the chin when the acer branding is placed. It has blue accents instead of red accents from every other monitor which is a breath of fresh air. But the plastics used look kind of cheap.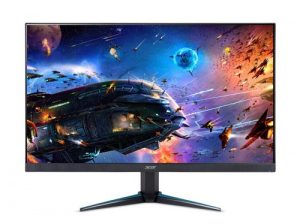 The stock stand unfortunately does not allow for any adjustment except for a bit of tilt but the triangular orientation allows it to stay stable on the desk without any wobble.
The Nitro VG280K uses a 28-inch 4K LED IPS panel with 60Hz refresh rate unlike the TN ones that some budget monitors provide. Acer also advertises the panel to have 4ms response time but the panel might suffer from ghosting and trailing in fast paced games as it is an IPS panel.
Other than that, it is a great panel for content consumption and gaming as it has excellent viewing angles with pretty good colour accuracy but acer does not state the official colour accuracy of the monitor. The screen has a matte coating which reduces the reflections from external light sources by diffusing them.
The brightness and contrast ratio are good at 300 nits and 1000:1 respectively. The monitor also comes with HDR 10 support for visuals with AMD freesync support for gaming.
Connectivity is very good with 2 x HDMI ports and a display port. HDMI cable is provided with the monitor in the box and the warranty period is three years. 2W x 2 stereo speakers do the job fine for casual media consumption. The Nitro VG280K is an excellent choice for the people looking to buy a IPS panel at a lower cost without any major compromises.
Pros
IPS panel
AMD Freesync support
Excellent Design
HDR 10 support
Decent brightness levels
Decent response times for IPS at 4ms
Cons
Limited adjustability from the stock stand
60Hz refresh rate
Colour accuracy could have been better
4. HP 27-inch 4K-UHD (3840 x 2160) Height Adjustable IPS Monitor (5ZP66AA)
The HP 27f is really a value for money sort of 4K monitor. It has a very classic and minimalist design which a lot of people might be looking for and might be an important reason for the purchase.
It has impressively thin bezels even for the price and the monitor has quite a minimal design with silver bottom edge having HP branding. The monitor base supports minor tilt and gas piston design for height(130mm) adjustments. But sadly, there is no pivot or swivel adjustments. The base is compact and does not cover much of your desk space.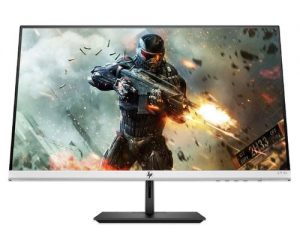 Coming to the panel, it's a 27-inch 4K UHD Backlit LED IPS display with 5ms response time and 8bit FRC providing 10-bit colour depth. It comes with a standard 60Hz refresh rate but can be overclocked up to 75Hz. Response time of the monitor is 5ms which is average for an IPS panel but there might be some amount of ghosting in fast paced games as the refresh rate is also just 60Hz.
To ensure a smooth gaming experience it has AMD Freesync support. It has 300 nits of brightness which is enough for indoor environments. The contrast ratio is also average for an IPS at 1000:1.
The monitor does not come with any sort of HDR support or any additional features.
Connectivity options include 2 HDMI and 1 Display port. HP 27f is a no frills 4K gaming monitor that is intended to serve its purposes quite well. The monitor comes with three years of warranty. Good functionality combined with the reliability of HP's excellent after sales support and reliability makes the deal even better.
Pros
5ms Response Time
10-bit color depth
AMD freesync support
Ample brightness levels
Height and tilt adjustable stock stand
Cons
60Hz Refresh rate
No swivel and pivot adjustments
No built-in speakers
5. LG Ultragear 27 inch 4K-UHD Gaming Monitor (27GN950)
LG's Ultragear range of monitors come in at the higher end of the price spectrum as they offer pretty much every spec a gamer would want with high quality displays. The Ultragear range of monitors is one of the best sellers in the gaming monitor segment. Speaking of design, the monitor has red accents throughout along with the RGB lights arranged in circular orientation at the back to provide subtle illuminations on the desk or the wall.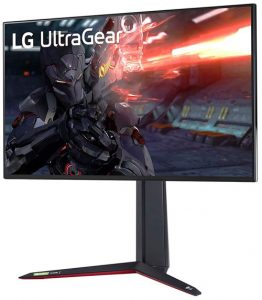 The stock stand provides height, pivot and tilt adjustments but unfortunately no swivel which is disappointing at this price. At 27 inches the screen size is big enough for an immersive experience with high pixel density.
LG uses a 27-inch 144Hz Nano IPS panel with up to 1ms response time but the 1ms response time is a bit of a stretch. LG uses some techniques to interpolate it and is not the native response time of the IPS panel.
Along with the G-sync and Free-sync 2 compatibility the monitor also comes with a lot of other features such as HDR support which you might find useful.
The peak brightness level is around 400 nits which is decent for indoor usage but might be on the lower side for HDR content. 98% of DCI – P3 colour gamut coverage makes it a pleasure for media consumption and is also a great feature for professional colour grading. The contrast ratio is quite low at 3000:1 due to which blacks may appear as grey at moments.
There are no built-in speakers and the ports include HDMI x 2, DisplayPort, USB 3.0 (1 up/2 down) and Headphone Out. LG provides three years of aftersales warranty.
Summing up, this monitor is a one stop solution and is arguably the best 4k monitor for gamers and professional content creators alike. As, it does everything very well without any major compromises.
Pros
Nano IPS technology support
144hz Refresh Rate
1 ms Response Time
G sync compatible
AMD freesync 2 support
VESA HDR 600
Cons
No swivel adjustment supported
Low contrast ratio (1000:1)
No built-in speakers
6. LG 24 inch (60.45 cm) Gaming 4K UHD LED Monitor – 24UD58
The LG 24UD58 is the cheapest 4K gaming monitor from the brand but it is a surprisingly good monitor for costing significantly lower than other LG monitors. The design is clean and simple with decently thick bezels around all three sides with a thicker chin having the LG branding. The bezels are not as thick as Acer Nitro VG280K but are respectable for the price and the build quality is plastic all around.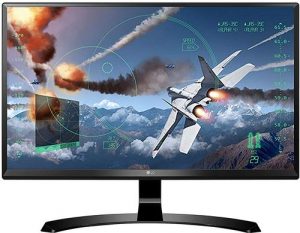 It has U-shaped stock stand and with it comes the problems of limited adjustability and screen wobble. You could also mount the monitor to the wall as it has VESA mount support.
LG 24UD58 uses a 4K UHD IPS panel at 60Hz. At this point you would have known the advantages and disadvantages of IPS monitors especially in the cheaper offerings.
The response time of the monitor is at 5ms which is certainly on the lower side but it has very good colour accuracy at 99% sRGB coverage. That makes it excellent for media consumption when combined with its wide viewing angles and 10bit colour depth. The 24UD58 is an excellent option for content creators on a budget.
It also has HDR support with a lot of other features like game mode and black stabilizer for enhanced blacks. It also supports freesync for tear free gaming. The one area where LG compromises on is the brightness. The brightness is only around 250 nits which is manageable but you might have problems when you view the monitor under direct external light sources. The 3H anti glare coating helps a bit in the regards by diffusing external light sources.
Connectivity is great with 2 x HDMI ports, a display port. It does not come with inbuilt speakers but LG provides an audio out port and a headphone port for speaker and headphone connectivity. LG provides three years of warranty even for their budget offerings.
The 24UD58 is a good choice for those who need a decent 4K monitor for gaming that does not break the bank and the preferred brand is LG.
Pros
IPS panel
Different display modes
AMD Freesync support
HDR 10 support
99% sRGB coverage
Good viewing angles
Cons
Low brightness (Only 250 nits)
Ghosting
Limited Adjustability
7. Acer Nitro XV273K 27″ 4K 3840×2160 IPS Gaming Monitor
The Nitro XV273K is a great alternative to LG's Ultragear monitors as it offers similar features but costs less. Nitro series from Acer is always known to provide some of the best value for money options. Starting with the design it is a plastic build with a sturdy tripod-like metal base, it includes gamer accents like quirky design at the back with some red accents near the base.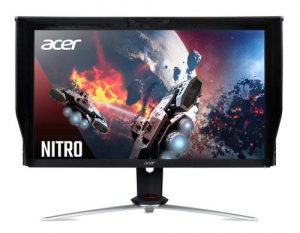 The stand itself provides basic tilt, height and swivel without any pivot adjustments. There are RGB lights located down facing the edge. The design as a whole looks impressive.
Display clocks in at 27 inches and is an IPS panel having 144hz refresh rate and theoretical 1ms response time. It has 99% sRGB and 92% DCI-p3 coverage for accurate colour reproduction and is an excellent option for gamers and content creators alike.
Acer claims 350 nits as the normal brightness level and 400 nits as the maximum achievable brightness value and the decent contrast ratio is at 1000:1. For high dynamic range certification, this has VESA Display HDR 400 certification. It handles motion impressively with Nvidia G Sync compatibility and AMD freesync support.
The connectivity options include 2 HDMI and 2 DisplayPort. The built-in 4W x 2 stereo speakers make it a complete. The Nitro XV273K is an excellent choice for those who want a great 4K monitor for playing games but does utilize all the features that LG Ultrasync offers.
Pros
144Hz Refresh rate
1ms response time
VESA Display HDR 400
Dual 4W Built in speakers
AMD Freesync Premium support with G sync compatibility
Cons
Stock stand supports only tilt (-5°to 25°), swivel (-20°to 20°) and height (3.94″) adjustments and no pivot
OSD is unintuitive
8. Asus 28-inch 4K LED Display Gaming Monitor – PB287Q (Black)
Asus PB287Q is a budget offering from the brand with an extremely low GTG (Grey to Grey) response time at just 1ms natively.
IPS panels generally have very high response times however TN panels can easily reach low response times as the technology allows it to. The PB287Q from Asus has a very basic looking design. All-black plastic build with moderate sized rectangular base. Bezels are not too thick to eliminate the immersion of the large screen.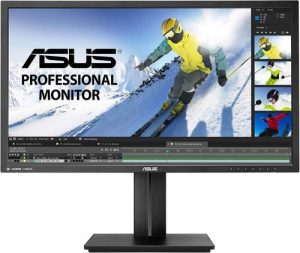 Asus's stock stand supports a good range of height, tilt, pivot and swivel adjustments making it possible to mount it at the perfect position. You can also easily mount it on the wall with the 100×100mm VESA mount support.
Moving to the panel, you get a 28 inches LED UHD 4K TN display. This TN panel is not that cheap TN panel you commonly see in low budget monitors, it's a better one. There is little bit compromisation in viewing angles and colour reproduction is not the best but still holds up for general media consumption and browsing. The maximum refresh rate is 60Hz and response time is 1ms (Gray to Gray).
This model has Asus SPLENDID video intelligence technology. It supports a peak brightness of 330 nits. Double your productivity with the Picture-in-picture and Picture-by-picture modes of this monitor where the monitor displays outputs from two sources side by side. It also comes with 2W x 2 stereo speakers which should serve fine for casual listening sessions.
The input/output ports include HDMI, HDMI/MHL, DisplayPort and 3.5mm Mini-Jack (for HDMI & DisplayPort Only). This is an excellent monitor for those who are not planning to spend a lot but looking for a good display with low response times.
Pros
Ample brightness level
Stock stand allows height, tilt, swivel and pivot adjustments
Wall mountable (100×100mm)
1ms response time (GTG)
Picture-in-picture and Picture-by-picture modes
Headphone jack
Cons
Subpar viewing angles
60Hz refresh rate is achieved with DisplayPort and only 30Hz is supported with HDMI