Worried about whether you can get a gaming laptop under 60000 or not? This list will surely help you a lot.
Nowadays, the gaming industry is booming exponentially in India and gamers are arising from every corner of the country. People are getting aware that gaming is not just a waste of time. This is the category in which major tech enthusiasts are excited for. Some consumers require laptops because of portability being a necessity for their work. Otherwise, professional gamers prioritise personal gaming computers because they can compromise with the lack of portability. Finding a good gaming laptop in 60000 could be a very complex and challenging task because this budget is the starting or beginning tier of gaming laptops. But do not worry as you have reached the perfect destination.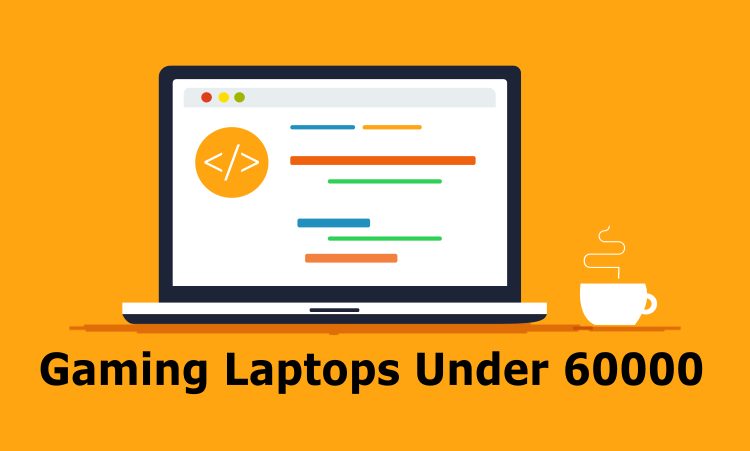 This brings us to know that you should not be expecting much from gaming laptops of this budget, like you should not expect 16GB RAM from this tier. But if the available 8GB RAM is expandable then that is a great plus. Although they do what they are meant to and provide the perks that come with a laptop. You should definitely expect a dedicated GPU because what is a gaming laptop without a video card in it.
This list is not arranged in any manner/order and each pick has its own value irrespective of its serial number (first should not be considered best of the list).
Prices of the recommendations may vary at the time of your purchase but in general these laptops lie around the 60000 INR mark. You can surely catch them on sales or use discounts to get them for that amount if you are unable to get them at that moment under budget. All listed laptops come from well reputed laptop brands in Indian market.
So, now that you have the requisite information about what you should expect and get. Let us not wait any other minute and dive straight into the list of best gaming laptops in India for about 60,000.
1. Lenovo Legion Y540 81SY00U6IN Gaming Laptop
The last but surely not the least recommendation of this list is the Lenovo Legion Y540. The brand is popular and trusted among the consumers. By just looking at the mesmerizing design of this gaming laptop, anyone would want to own one. The Raven Black colourway has iconic aesthetics which look good and at the same time do not catch fingerprints easily. It has 25 millimeters thickness and weighs 2.3 kilograms. This is slightly heavy and thick for a normal user, but it is moderate for gaming laptops as they pack many hardware components.
You will surely love using this laptop for your everyday gaming and media consumption, due to the 15.6 inch Full HD 60Hz IPS panel with anti glare technology support which removes any reflections that may occur due to direct light falling on screen. This display has a peak brightness level of 250 nits which is enough for indoor conditions. It covers 45% NTSC color gamut which is pretty decent for overall usage except professional color grading.
The legion provides white backlit keyboard having less than 1ms response time and 100% anti ghosting. Usually, this response time is used for displays, but this is impressive to have it for a keyboard. This would definitely help you with your typing speed and reflexes while gaming. Its trackpad is decent and does the job effectively.
Coming to the computational units, you get a quad core 9th Gen Intel Core i5-9300HF processor and Nvidia GeForce GTX 1650 with 4GB of memory. This duo is very capable to fully utilise your 60Hz refresh rate for most games with low to medium settings. The laptop overheats sometimes which can be resolved with a simple tip, just lift the base of the laptop to some inclination using laptop stand such that it has best possible air-flow maintained throughout the use. Nonetheless, Lenovo has installed a coldfront cooling system with dual channel thermal mechanism having 4 thermal vents and dedicated heat syncs.
You get 8GB 2666MHz RAM which is definitely not the best, but it is upgradable upto 32GB which will definitely benefit all the users in the long run. For permanent storage options, it has 512GB SSD serving you blazing fast read and write speeds. The storage will be sufficient for the majority of users but others do know exactly how to deal with less storage.
In order to give loud and clear audio, the legion Y540 has dual stereo speakers by Harman Kardon. As video conferencing is a necessity nowadays, you get the HD(720p) fixed focus camera which is decent for the price.
The power adapter that comes along with this model, is pretty heavy too. This needs mention as some users carry it with them the whole day long. With a 52.5 watt hours of pre installed battery, the company only claims 4 hours of battery life. However, in reality it is more than that and could easily last about 5 hours while gaming and approximately 9-10 hours with casual browsing.
Overall, this gaming laptop is a killer deal with these specifications and features. You should absolutely look out this one before finalizing your next companion.
Pros
8GB RAM upgradable upto 32GB
Fast speed SSD storage
Nice immersion with slim bezels
Dual stereo speakers by Harman
Backlit keyboard with quick response
Cons
Overheats sometimes
Slightly heavy for a normal user
Webcam is on the chin (subjectively influential)
2. Lenovo Ideapad L340 Gaming laptop
The next recommendation of the list comes from a brand that anyone would list if you ask for the top laptop brands in India. This tells about the consumer's trust on the brand and responsible behaviour of the company till now. The IdeaPad series is one of the best sellers of Lenovo and provides exciting features at a reasonable price. The model we are looking at, has been priced very low with respect to our budget. It comes with the metal body which is tough and capable of resisting small accidental bumps or knocks. The L340 is 24 millimeters tall and weighs 2.2 kilograms. Making the portability factor neither a pleasure, nor un-doable.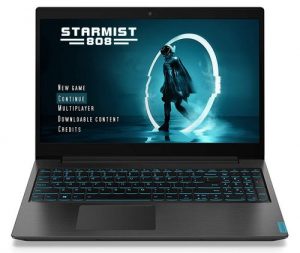 The keyboard in this laptop is good with less key travel and noise. However, the touchpad is kind of average and does the job.
Moving up to the screen, it has 15.6 inch FHD IPS display with anti glare technology support and Lenovo's eye care mode which uses the blue light reduction. The display will surely serve you well with all of your necessities.
With the quad core 9th Generation Core Intel I5-9300HF processor, the need for upgradation would not arise anytime soon. It is paired with 3GB Nvidia Geforce GTX 1050 graphics card which belong to the 10th series cards that are not easily found in laptops these days. This CPU and GPU combo is very capable to perform basic gaming side by side with simple productivity tasks. Heating will not be an issue, due to the built in dual-action fans and special cooling system.
For memory, it has 8GB DDR4 RAM and 1 TB of hard disk drive providing smooth experience without any stutters and ample storage for modern requirements.
The pre installed battery gives you approx 9 hours of battery life with normal usage and approximately 5 hours while gaming.
Overall, this laptop is fairly priced and puts significant value to your table.
Pros
Strong 180° hinge
Impressive build quality
Backlit keyboard
Anti glare display
Special cooling system
Cons
Old GPU
No optical drive
Keyboard catches dust and oil smudges easily
3. Acer Nitro 5 AN515-54 Gaming Laptop
Another very popular gaming laptop series due to its great offerings including spec sheet, good service, reliability and obviously the price. This laptop has managed to be one of the best sellers of the price range. The stealthy obsidian black colourway along with those metallic chassis and plain back without any logo enhance the build considerably. It comes with 26 millimeters thickness and 2.3 kg weight which is the usual case with gaming laptops being heavy and thick due to the included hardware. The appearance could look similar to GF63 in photos, but they are very different in person.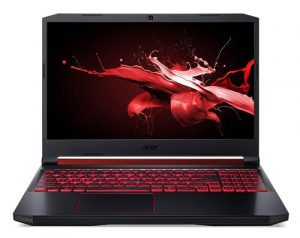 You get a usual 15.6 inches FHD IPS display with 60Hz refresh rate. It has wide viewing angles and nice color reproduction. The red accent on the keyboard and trackpad looks very nice and does the job of backlit in dark areas. So, operating in the night should not be a problem. The keys are tactile, responsive and have less key travel while the touchpad does the job still the buttons feel average sometimes.
For processing, you have Intel's 9th gen core i5 9300H processor that will surely boost up some fps in the gaming performance. Moreover, the Nvidia Geforce GTX 1650 is there to keep up with the modern gaming titles. The duo is capable of productivity and gaming expected at the price. This model comes along with additional 16GB optane memory.
Acer gives 8GB of DDR4 RAM in this model of their Nitro series. The option of RAM upgradability upto 32GB is a huge plus for video editors who require more than 8GB RAM for their 4K and high bitrate videos.
To store all your important data the Nitro 5 has 1 TB of 7200 rpm hard disk drive, which is not as fast as a high speed SSD but definitely better than your standard HDD with lower read and write speeds.
With the laptop, you get Waves MaxxAudio Sound Technology featuring MaxxBass, MaxxVolume and MaxxDialogTM which promise better audio quality than the standard dual speakers present usually in laptops of this price segment.
For lasting long, the Nitro 5 has 55 watt hours battery which can easily last about 10-11 hours without gaming or demanding task, while gaming you can expect approximately 6 hours of backup.
All together, this gaming laptop is value for money laptop that can serve well as a gaming as well as productive laptop.
Pros
8GB RAM upgradable Upto 32GB
High speed HDD
Maxx audio system provides great output
Nice battery life
One year International warranty
Cons
Easily catch oil prints and dust
Average webcam
Hinge is not up to the mark
4. Acer Aspire A715-75G-50SA Gaming Laptop
Here, you get the Acer aspire 7 which has some great offerings under our budget. This gaming laptop is well under the budget of 60000 making it accessible to those who have a strict budget to follow. If you prefer standard classy looks rather than some typical designs made for gaming laptops, but need the benefits that come with a gaming machine. Then this could possibly be the right choice for you. The Aspire 7 has hard quality plastic in its build which is well built and does not feel cheap at all. It weighs heavy at 2.15 kilograms and is 23.25 millimeters thick.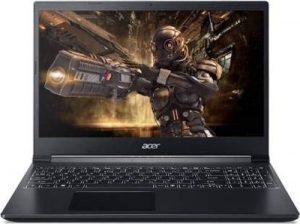 It has standard 15.6 inch FHD IPS display with 250 nits peak brightness level. This screen would never be an issue between you and your tasks, like media consumption, casual browsing or any other program except the professional color gradings which may need a dedicated color calibration. The Aspire 7 has a backlit keyboard too, along with the responsive trackpad together giving a satisfying feel for the price.
To give you a lag free experience while operating the laptop, it has core i5-9th (9300H) processor. This will take care of all your cpu intensive tasks at ease. This is paired with NVIDIA Geforce GTX 1650 graphics card with 4 GB of GDDR6 memory, making this combination powerful enough to use the 60Hz display.
Moving up, this has 8GB of DDR4 RAM to pair with the processing units. This memory is upgradable upto 32GB which is amazing if you do heavy tasks like 4K video editing and stuff like that which demand too much RAM.
For storage option, you have only one but sufficient 512GB SSD, so that you get the fast boot ups and smooth operating system experience along with awesome read and write speeds for all the files you store in it. Other than that, if you still require more storage for your necessities then you are always advised to carry some sort of external storage device with you.
Unfortunately, you do not get any superspeed port with this gaming laptop, still there are necessary ports for common present day usage.
If you sum it up, then this laptop is providing amazing value for money and definitely worth looking at.
Pros
8GB RAM, expandable upto 32GB
Backlit keyboard
Nice trackpad
Decent battery life
Fast speed SSD storage
Cons
Slightly thick chin and forehead
Average speakers
Weigh heavy
5. HP Pavilion FHD Gaming Laptop 15-ec0101AX
The first pick is from a well known brand in the Indian laptop market with millions of customers who trust the brand. The brand always manages to stand on the expectations of its consumers and this one is no different. This gaming laptop has edgy design which suits a gamer and comes at 2.4 cm thickness along with 1.98 kilograms. With the pretty sturdy build, this beast never gives you slack and cheap feel.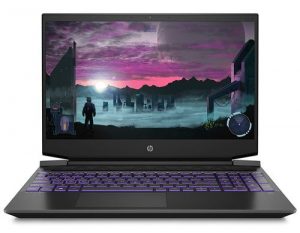 Coming to the display of the pavilion, you get a 15.6 inch Full HD IPS WLED backlit micro edge panel which serves you optimum immersion to get lost in your favourite titles. It even has an anti glare technology support so you would not have to worry about direct lights on your screen from disturbing you while operating the machine. The panel used has a maximum brightness level of 250 nits. For color reproduction details, this display covers 45% NTSC color gamut.
The backlit keyboard makes sure you are not interrupted with night time. And its trackpad is precise too, together giving you a very responsive feel.
Moving forward to the processing units, there is Ryzen 5 4600H processor and Nvidia GeForce GTX 1650 graphics card. They provide you enough raw processing power to crush any basic software for your daily needs. The processing unit would not out-date anytime soon.
In the memory and storage department, HP provides 8GB of 3200Mhz DDR4 RAM (upgradable upto 16GB) and 1TB of 7200 rpm hard disk drive.
For clear online meetings, it has a high definition HP true-vision webcam with dual array digital microphone.
Dual speakers for audio by Bang and Olufsen give clear and loud enough output. Other than that, it has 1 SuperSpeed USB Type-C (5Gbps) and 1 SuperSpeed USB Type-A (5Gbps) port that got you covered with high speed file transfers.
All inclusive, this gaming laptop has a lot to offer for a reasonable price. You should definitely check it out.
Pros
Powerful processor
Backlit keyboard
Anti glare technology support
B&O speakers
Ample storage option
8 GB RAM (upgradable upto 16GB)
Fast transfer ports
Cons
Average battery life
No SSD
6. MSI GF63 Thin 9SCSR-1040IN Gaming Laptop
Conversation about gaming laptops in India must include MSI, as they always serve some of the best selling gaming laptops in India. The GF63 has straight up classic looks fused with gaming touch. Its metallic chassis and aluminium hair brushed premium aesthetics suit it well. This MSI laptop has 2.7 kg weight and 25 millimeters thick, which pulls it in the category of slightly tough to handle laptops.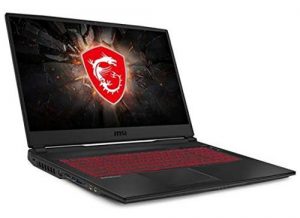 It offers a 15.6 inches Full HD IPS panel with 60Hz refresh rate and narrow bezels. This display has the standard 250 nits of peak brightness levels which are not the best but it is too much to ask for with the budget. Wide viewing angles are supported in addition with good color reproduction. Normal media consumption and browsing would not be problematic.
You get the 9th gen coffee-lake Intel core i5-9300H processor along with Nvidia GeForce GTX 1650 ti GPU having 4GB memory. This pair can get you through all the daily productivity tasks and gaming with the modern titles very easily. The 60Hz refresh rate is appropriate as the combo is not made for high refresh modern gaming and a higher refresh screen would have been an overkill.
With 512 GB SSD storage and 8GB of RAM, the memory department is not disappointing either. The RAM is un-upgradable for those who are concerned about that, and you will have to compromise if you can. Its storage is okay but not sufficient for present day requirements and external storage options are recommended.
Other than that, the battery does not suck at all and provides decent backup that averages about 8 hours. The GF63 is an easy to recommend gaming laptop in general. It has its pros and cons, which makes it subjective.
Pros
Looks good
Computationally very powerful for the price
Backlit keyboard
Good display
Cons
Heavy and chunky
Un-upgradable 8GB RAM
7. HP Pavilion Gaming Laptop 15-ec1024AX
Here, you have another value for money laptop that is capable of satisfying a user for overall use including gaming and productivity. Starting with the build quality, it has stealthy matte black design with HP brand logo at the back having purple accent which gives an awesome look that is hard not to stare at. In hand, it feels sturdy and well built. The edges of the screen separate at the bottom which gives unique gaming like touch to it. With 24 millimeters thickness and 1.98 kilograms weight, this gaming laptop is lightweight and thinner than the competitors.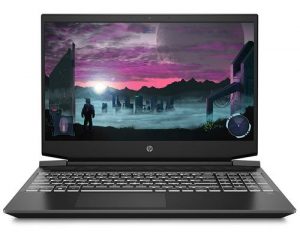 Coming to its display, it offers a 15.6 inches FHD IPS panel with anti glare technology support and 45% NTSC color gamut coverage making it an amazing deal for media consumption and creation. The peak brightness level of this model is 250 nits which is not the best but sufficient for indoor environments.
You would be amazed to know that this budget gaming laptop offers an AMD Ryzen™ 5 3550H processor with Radeon™ Vega 8 Graphics which is a beast in terms of gaming and productivity tasks. To pair with this beast comes the NVIDIA® GeForce® GTX 1650 Graphics Card (4 GB GDDR5 dedicated memory). Just make sure if your laptop has selected the GPU out of the box for graphic needs, because in some laptops there was Vega 8 selected by default. And after that you are all set with a very powerful CPU and GPU combo to support you with all your daily tasks.
The Pavilion features HP TrueVision HD Camera with integrated dual array digital microphone that would make your online meetings look and sound good. Working in a dark environment is not really a problem with the backlit keyboard in the pavilion. It really has one of the best touchpad and keyboard which are accurate as well as uniformly responsive.
Proceeding to the memory units, you get one 8GB DDR4-2400 SDRAM stick which is upgradable upto 16GB for those who want to upgrade this RAM, while for others this could be very sufficient. For permanent storage options, this machine has 1TB of 5400 rpm SATA hard disk drive which can take care of storing all the huge files you want to store for your needs.
For ports, you get 1 USB 3.1 Gen 1 Type-C™ (Data Transfer Only, 5 GB/s signaling rate), 1 USB 3.1 Gen 1 Type-A (Data Transfer Only), 1 USB 2.0 Type-A (HP Sleep and Charge), 1 AC smart pin; 1 HDMI 2.0, 1 headphone/microphone combo and 1 multi-format SD media card reader. No optical drive is included which is subjectively influential and not many people will be affected much.
To fuel it up, a very impressive 52.5 watt hours battery comes installed which would definitely provide about 10-11 hours with normal usage and approximately 6 hours with gaming.
The Bang and Olufsen speakers really produce very clear sound if compared with what you would get with some other laptop of this price segment. Although it is not super loud even after the provided HP audio boost but sufficiently loud unless you are a volume junkie. Overall, the audio output is one of the best you could find in the given budget.
On the spec sheet and physically, this gamin laptop is absolutely amazing and worth every penny of its price tag. There is no ideal product in the tech world; and you always have to look out for what you can compromise with, to get the best pick for you.
Pros
8GB RAM upgradable upto 16GB
Relatively Lightweight
B&O dual speakers (not very loud but definitely clear)
Good display
Backlit keyboard
Decent battery backup
Plenty storage with 1TB HDD
Cons
No optical drive
Minimal heat issues arise sometimes
No SSD
Thanks a lot for your precious time, if you have reached this far in the list then surely you have the required knowledge of the best available options gaming laptop in 60000.