Do not feel left out because of the budget, no matter what type of laptop you are searching for, we hopefully got you covered here.
Budget of Rs 60000 for laptop is in the upper mid section but still the mid-tier laptop budget. The competition between companies for this price bracket is very intense. Companies are focussing more on the laptops included in this category as they contribute a significantly great amount in their sales.
Today, we have made this list which is not ranked in any ascending or descending order on any basis rather this is made with picks which target different users with different preferences and uses, each one is best in their specific category.
In addition to this, the pricing may vary at the time of your purchase but the laptops have approximate price around 60000 and if they are slightly high then you might wait and catch it up in sales and with offers to hit that 60000 or below mark. For budget conscious users, there are some good laptops available under 55000.
Let us not use any more of your precious time and dive into the list.
Top 10 Laptops Under 60000 – Best Picks
1. Mi Notebook Horizon Edition 14 Thin and Light Laptop
Xiaomi recently entered in Indian Laptop market. This model is one of their flagship models. The first thing that you'll notice is that it is very light weight (1.35kg) and thin (17.15mm). The horizon is named after its display being so thin. And in reality too when you see it, it's really very slim. The bezels do not feel chunky at all and let the screen to size ratio create that immersion for you.
It looks very classic with its metal body consisting of aluminium and magnesium that does not look like the cheap plastic ones. As the name suggests, it has a 14 inch FHD display that has an impressive 91% screen to body ratio. Xiaomi did not put any branding at its back and in this way it might be more appealing to some users who do not like it.
The keyboard might feel small but will surely deliver a nice experience once you adapt to it. It is not a backlit keyboard which can annoy during night and the touchpad does the job however feels cheap at the same time.
This one lacks a fingerprint sensor if that is a deal breaker for you.
With the Intel Core i7-10510U processor this laptop would not disappoint you with the processing power.
The 8GB RAM is honestly sufficient for normal users but if you want to upgrade to 16GB then this might be an issue for you as it does not support any dual channel Ram slots and this one is soldered which further limits you to the provided ram stick only. The laptop has a lot of processing power with that Intel CPU but the limiting factor is that un-upgradable Ram.
The 2GB MX350 graphics card by Nvidia can serve you well with light gaming if you want to.
Also, the SSD gives this laptop some fast speeds which will enhance your overall user experience. However, the 512GB storage is less and needs to be upgraded as it gets used up pretty quick while using. Therefore, you might need to consider an external SSD/HDD.
The other thing is that this laptop does not come with a built in webcam rather Xiaomi has provided a webcam separately that you can attach whenever you need. This is a plus if you like that forehead to be thinner but a major drawback as it has to be carried along wherever we require it. Anyone can easily forget and if you do then you are all stuck.
You cannot charge this laptop with the usb type C support and it also lacks thunderbolt 3 which imposes a responsibility of carrying that bulky adapter with you if you need to charge on the go.
Overall, it is a laptop below 60000 that has a solid build quality and decent value. Even if there had been an upgradability support for the RAM, it could have been a lot better deal as it is limiting the potential that could come in play.
Pros
Thin and lightweight
One of the best build quality
Impressively fast SSD
Good battery life
Cons
Lacks built in webcam
No backlit keyboard
Trackpad is poor
8GB of un-upgradable RAM
2. HP 15 AMD Ryzen 7 15.6-inch FHD Laptop
Here, we have a laptop from a reputed laptop brand in the Indian market for many years which brings reliability for consumers. This HP laptop under 60000 has some different offerings for us for the same budget.
It has a nice spec sheet on paper. The powerful 2.3Ghz Ryzen 7 3700U won't let you down for normal usage along with that SSD having read and write speeds.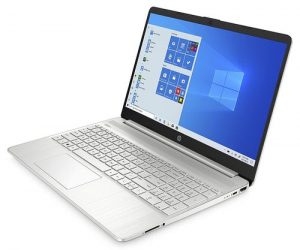 The display is a 15 inch FHD one but it does not have good viewing angles and brightness levels if that is a deal breaker for you. It could still be a manageable flaw that may leave you unaffected.
It has got a moderately light weight of 1.77 kg. The build quality is also average and not very great. The vega 10 GPU lets you perform normal gaming at ease but it is obviously not meant to be a gaming laptop. The brand assures the longevity of its products which is what contributes in major sales, due to the trust among consumers.
The 8GB RAM is again not advisable for modern and upcoming years but here is a catch that this one is upgradable with another slot available in this laptop. So this is an easily fixable problem if it arises for you.
Next up is the fact that battery backup is good and can easily last upto 7-8 hours with optimum utilisation. The booting time along with the read and write speeds of that 512GB SSD impart a very good experience. The storage may be low according to masses although it is the thing with every other laptop in this price range and you are always advised to have an external storage option with you while operating at this much storage.
Overall it's a nice option to go, for students looking for programming laptops or for office work or generally any user with normal usage along with light gaming. With that said let's move on to the next pick.
Pros
No major overheating
Free office suite
Fast SSD
Expandable RAM slot
Nice speakers
Cons
No backlit keyboard
Average brightness level (not advisable for outdoor conditions)
Poor viewing angles
No fingerprint sensor
3. Lenovo IdeaPad Flex 5 AMD Ryzen 5 4500U 2-in-1 Convertible Laptop
Another laptop we have here on the list is the Lenovo IdeaPad Flex 5 and this is a 2-in-1 convertible laptop.
The specs on this one are amazing, trust us you are getting a lot for what you pay.
Starting with the thickness and weight of this laptop in 60000 I would say that it is pretty light at 1.5kg and 1.79cm thin which is great. There is plastic used but it is good quality ABS plastic and feels sturdy too. It does not feel cheap at all if that is what is worrying you.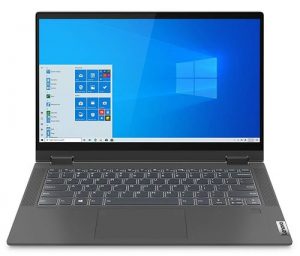 It has a 14inch FHD IPS type touchscreen with the anti glare technology included in the purchase. You can simply switch on and off to the tablet mode with rotating the screen backwards and just allowing the pop up in the laptop.
The processor is Ryzen 5 4500U and do not get confused as this is a 4th Gen Ryzen 5 processor which is better than the 3rd gen one. This one is better than any intel i7 that you are offered by the competitors within this price segment. You can do heavy video editing stuff too if you want to without any problems for sure.
There is a very good Lenovo pen which is basically a stylus that is included in the deal and is a great plus to have as usually brands charge extra for providing services like these. But you may want to get some extra tips and more battery life in that pen however that would be too much to ask for 2-in-1 laptop in 60000.
The battery life on this thing is amazing considering the various functionality it provides. It is better than most average laptops in this price range. All thanks to the Ryzen 5 4500U, which has 6 cores and is based on the latest 7nm architecture which even improves the efficiency causing less tdp expenditure. It also supports quick charge with the brand claiming that it can go upto 80% within an hour.
You  get 8GB of DDR4 3200Mhz RAM inside which is upgradable to 16GB on this laptop which is a huge plus to have.
There is a USB type C port that allows you to charge your laptop too which is impressive as then you can charge it with various sources and do not need to carry that heavy adapter everywhere along you.
Built in 720p camera, is average although it is not as good as you may find with others in this price range.
All inclusive, it is an excellent deal for the price you are paying. And we would definitely recommend to you this laptop without any doubt.
Pros
Anti glare screen
Backlit keyboard
Fingerprint reader
Lenovo active stylus
Nice and loud speakers
Very good battery life
Cons
No dedicated GPU
Slight flex in body due to plastic
Built in camera's quality is average
4. HP 14s core i5 10th Gen 14-inch FHD Laptop
Again we have encountered HP in our list with the 14s this time. This one is different from the list which is what we will realise as we move further in this section.
Starting off, with the 14 inch IPS Anti glare panel that is claimed to have 45% NTSC and 250 nits of brightness level. The screen is good and has optimum viewing angles and brightness level as this may not be perfect for outdoor conditions but is enough for indoors.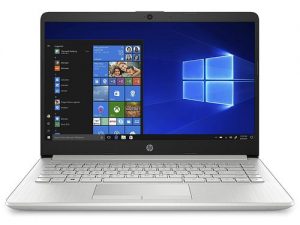 The battery life is average and not that great with respect to what the competitors offer at this price point.
Coming with a nice build quality, this laptop justifies its price in this department. It weighs on the lighter side with 1.43 kg (approx).
The storage option is what takes it ahead of its competitors with that 256GB of SSD for your operating system to boot fast and 1TB of HDD as major storage priority. You do not need to look for and extend your budget with an external SSD/HDD to increase your storage.
This laptop lacks a GPU yet it is not supposed to have one either as it is not a gaming laptop and it has the processing power needed for other tasks.
It has a backlit keyboard for you so that you do not struggle with guessing which alphabet you are typing at night. Microsoft office 2019 comes in the deal with the essentials except the Outlook which is subjectively influential.
The ports are sufficient which should not be any sort of issue to use.
To make an overall conclusion, this is an easy to recommend laptop, for students, or users with normal works and not dedicated gaming.
Pros
1TB HDD pre installed
Nice build quality
Sleek design
Pretty lightweight
Anti glare panel
Cons
No dedicated GPU
Average speakers
Poor built in camera
5. Dell Inspiron 5406 2-in-1 14-inch FHD Touch Laptop
Our next recommendation is a Dell 2-in-1 laptop which has great offerings under our budget. It has a very plush build quality and does not fail to give that premium feel. This laptop is mainly focussed on convenient portability and normal productive usage. It has a fairly standard looking design with that 14 inch touchscreen.
The keyboard layout feels very good and classic. It has a blazing fast 256GB of SSD which cannot suffice your storage needs but can make sure that your operating system is using those good read and write speeds to give you quick boot ups and overall fast experience.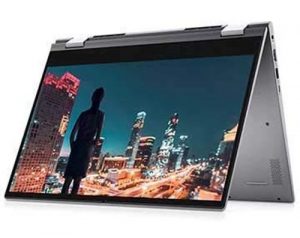 The display has wide viewing angles which is a must for 2-in-1 type of laptops. The hybrid form factor of this type of convertible laptops has an edge over the regular machines for sure.
The latest 11th gen Intel i3 1115G4 is sufficient for productivity and light entertainment purposes. It should not let you down in any manner for these purposes.
It has the following color options, which are Platinum silver, Refreshing dune and Titan grey. The keyboard and trackpad are good but neither great nor poor.
It has a blend of portability, versatility, raw processing power and aesthetics. This may be the option for you if it ticks all your priority blanks.
After all, this is a good option to go for if you require something for office work and sometimes entertainment purposes.
However, if you need something that is more promising with a dedicated GPU or more storage then you are not wrong to ask such specs at this price. You can simply choose any other option from this list. The thing is that this laptop is targeted for only some users that demand convenience to perform light tasks.
Pros
11th gen Intel processor
Supports Wifi 6 (802.11 AX wireless protocol)
Aesthetically pleasing
Colour options available
Active pen included
Nice battery life
Cons
4GB Ram
Very less storage
No dedicated GPU
Average speakers
Hinge is not durable
6. Lenovo Thinkpad E14 14-inch Full HD Thin and Light Laptop
We have Lenovo again on our list but it is not a 2-in-1 this time. This laptop in our opinion provides the best value in this list, you may agree with after hearing it all.
To begin with, we have a build quality that we can trust without thinking twice as it has passed through 12 military grade and 200+ quality checks. It is claimed to handle accidental knocks, drops and even spills although we would not advise you to try specifically to test the claim. This is pretty thin and lightweight too if that is a option you need to tick in your list.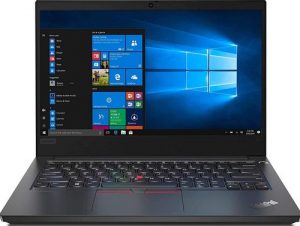 Then we have a quad core Intel i5-10210U 10th gen processor that can handle your productive work and light gaming that does not demand a GPU, easily. You get windows 10 home with lifetime validity but that is not that big of a bonker as most laptops in this price range are already offering it.
It comes with a 14 inch FHD display with anti glare technology. This may not be the best display for color calibration and editing projects but does its job for normal media consumption and other entertainment purposes. Brightness levels vary with units but simply cannot be recommended for outdoor environments.
This ThinkPad has a 8GB of DDR4 RAM which is sufficient for normal usage but if you want to upgrade you can do it upto 16GB which is again a plus.
Now, we have the storage department where this laptop truly shines, with 128 GB of SSD for the smooth and fast experience operating system. And 1TB of hard disk drive that provides you plenty of storage possibility however it is obviously not as fast as SSD. But still it all together will provide you fast boot ups and ample storage for today's consumption perspective.
It has a 180 degree hinge support which is very crucial because in some models it really does not go any further after 115 degrees which is certainly not acceptable.
Amazing battery life that makes sure you do not get stuck with your work progress for long hours sessions. It can last easily about 10 hours with normal usage and about 7-8 hours with media consumption.
Fingerprint sensor is not left out on this one with a very secure unlock requiring only one proper touch. Also, it lacks SD card and DVD drive which may or may not affect you depending on your preferences. We would advise you to get an external SD card port if needed. And DVDs are usually not used as they are replaced by USB drives but if you prioritise it then there will definitely be an aftermarket external solution available for you. Basically concluding that these are fixable flaws and should not be a deal breaker by any means.
So, adding all together, this makes up the best value for money laptop for students looking for programming machines, office works and light to moderate video editing too. Majorly everything except dedicated gaming with heavy and demanding modern titles. Rest all, should be fine.
This ThinkPad is a highly recommended laptop for 60000 from our side due to the immense value you get and everything is checked except the GPU. It should not affect you as this is not a gaming laptop and if you need a dedicated GPU to game on then you probably are on the wrong path as it is not meant to be one.
Pros
Fingerprint reader
Tough build quality
Amazing battery life
Impressive cooling system
Wifi 6 support
Total of 1 TB + 128 GB storage
Anti glare screen
Backlit keyboard
Cons
No dedicated GPU
Lacks SD card port
No DVD drive (subjectively influential)
7. ASUS ZenBook UX430UA-GV573T 14-inch FHD Thin and Light Laptop
It is not possible that you are a tech enthusiast and explore the Indian market every now and then and you have not heard the name of Asus. This is a well reputed brand in the Indian laptop market which does not need to tell every consumer that they can trust upon their products. This laptop is not different either.
Its unique selling point is its aesthetics as well as the build quality that will surely make you fall in love with it. Although this is highly subjective, still I cannot let this fact be unacknowledged. It is almost not possible that this laptop is being used with its thin design and gold colour and no one notices you with this machine.
The Zenbook comes with a metal body having thin bezels. It has a very thin(15.9mm) and feather weight design.
A backlit keyboard that lets you operate at night with ease is provided with just 1.4mm key travel.
This laptop features a 8th Gen Intel Core i5-8250U processor which may not fight neck to neck competitively in the price segment today. However, it will still serve your basic needs without any issue.
If you are a person who remains unaffected by the latest technology unless the old one is fulfilling your needs well, this laptop may be the perfect option for you. Otherwise, you will feel as if you are forced to compromise in performance for those looks and build quality.
Laptop has 8GB of DDR3 RAM which is okay but definitely not sufficient for the upcoming years if you update your programs every now and then. Although, this may be non influential if you use normal programs and not the heavy modern ones.
However, it is a non upgradable one so you might need to rethink before considering this one if that impacts the kind of work you are planning to throw at this one.
We have 256GB M.2 SSD for storage option which might be less but you can always plug in an external SSD/HDD anytime to remain unaffected by this.
To fuel up this laptop, it comes with 3 cell lithium polymer battery that keeps it running sufficiently long. That concludes the good battery life this one has. Although, the company claims upto 9 hours but it depends on your usage.
This Zenbook has some of the best speakers at this price point certified by Harman Kardon.
You get windows 10 home having life time validity if that is what you are worrying about.
All inclusive, this laptop is very satisfying if you talk about functionality of your needs still it certainly does not meet the greed for the latest hardware in the market. You can buy this laptop now too if you are looking for the above mentioned features in a laptop and it would definitely not be a unwise purchase as couple years down the line you may need to change the latest hardware too. Who knows what would happen and get released till then, instead we should appreciate that this laptop still holds up and fulfills every need expected by it.
Nonetheless, it is totally your final opinion to choose what you like from the list. But this option is a viable one too.
Pros
Astonishing design
Amazing color
Feels plush
Backlit keyboard
Anti glare screen
Lightweight (1.3kg)
Good battery life
100% sRGB (claimed)
High quality speakers
Cons
No dedicated graphics card
Less storage (fixable flaw)
Prone to fingerprint marks
Un-upgradable 8 GB DDR3 Ram
8. Lenovo IdeaPad S340 Full HD IPS Thin and Light Laptop
Another one here from Lenovo just proves how it has acquired with three out of eight picks making this list. This one is the Lenovo IdeaPad S340.
Let us start with the build quality that is fairly nice and a well done job by the company. No problems in that department. Overall, it has a standard looking laptop design. So, nothing to complain about here. It is on the lighter side with 1.6kg weight and being 1.79 cm thin. These are some basic measurements that we often see in every thin and light laptop these days.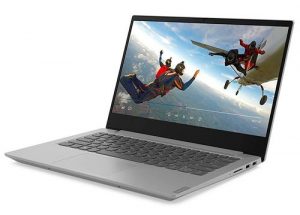 Moving to the screen, we have a 14 inch FHD IPS panel with anti glare technology. This display is really well and provides nice viewing angles along with good color reproduction.
The 10th Gen Intel Core i5 (i5-1035G1) powers this laptop. Being 10th gen is a plus in the perspective of not getting outdated soon. This time we have a dedicated NVIDIA MX230 2GB GDDR5 graphics card unit. So, light to moderate gaming is very much possible with the full use of that 60Hz panel.
Next up, we can see the (4+4) type dual channel RAM making up 8GB RAM that has more performance than a single 8GB stick. However, the majority will be okay with no upgradation needed still, the others may need to compromise as this is un-upgradable. So, it is a boon and a curse from two perspectives and it is your decision, with which side you go.
It features a 512 GB SSD that is ample for normal usage but you know how to deal with less storage if you have read it till here (by external sources). The built in webcam is nothing to be proud of and it neither is very poor to function. It is an average performing camera but is a plus to have considering the features we are getting for the price of 60000 in this laptop. If you are willing to extend budget, you can get better laptops under 65000.
The IdeaPad has decent speakers for the price and nothing much to complain about.
Battery life is good too and could last about 7-8 hours with normal consumption, still it depends on your usage.
All together, this laptop is a good combination of CPU power and GPU power that provides you an amazing work experience with some gaming included in the deal too. The SSD will make sure you are having a smooth and quick user experience. It is a very good laptop to serve any student, productive user that needs little entertainment too. And tagged by the reliable laptop brand can assure that you are not going wrong with it.
Pros
Nvidia mx230 2GB dedicated gpu
Backlit keyboard
Well optimised built in camera
8GB Ram but dual channel (4+4)
Anti glare IPS
Cons
Average battery life
Color reproduction not one of the best
Webcam is standard